Bharatnatyam with bachata
Gen Y is not content sticking to one genre, be it melody or mudras. On World Dance Day, meet some of the mix 'n' match brigade. . .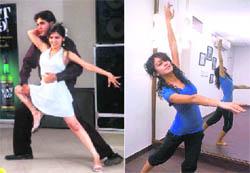 There was Ms Variety learning bharatnatyam while the Bachata beats resonating across the shared wall enticed her too. Then, Ms Experiment while training for hip-hop felt the need to tango. Another Mr Restless, obsessed with guitar, couldn't keep from drums for long. Human nature! The more the merrier, want everything, one thing's not enough, wanna do it all, yeah that too, what about the other one?


(Left) Amita Bhatt (Above) Puneet Jewandah
From being a sickness reliever to a stress buster, dancing works for these tricity folks for different reasons…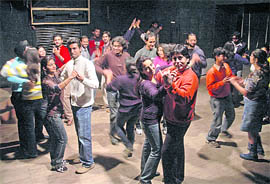 happy feet
Dance can mean different things to different people. As the world celebrates World Dance Day today, we talk to tricity folks for whom it holds a very special meaning in their lives. For Harmeet Kaur, a trainer with IBM, dance became the very way to redefine life: "I decided to take up dancing after almost a 30-year gap. I had seen and learnt dance from my parents, who were fond of ballroom dancing, in my childhood.


Youngsters shake a leg with Anubhav (front, in red shirt) of Planet Fitness-8



Talk of the titans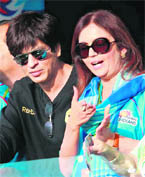 Mumbai Indians' owner Nita Ambani chats with Shahrukh Khan, owner of Kolkata Knight Riders during their team's IPL match at St. George's Park in Port Elizabeth. Photo: PTI
For a cause
Actor Mahima Chaudhry attended the Global Action Week, a programme meant to educate street children
Mahima Chaudhry, who has been consistently volunteering for the programme, said that she would open her own NGO for the uplift of the underprivileged children. "I had come for this programme last year too. I really enjoyed attending it.
Launch pad
UK-Indian actor lands role in Bollywood film Veer
Parveen Bhairon, an Indian-origin actress from Coventry is thrilled to land a role in Salman Khan starrer Bollywood film Veer. She is the latest British Indian actor to feature in an Indian film after Katrina Kaif and Upen Patel.
In the right company
Seven years after launching Vivek Oberoi as Chandu in Company in 2002, Ram Gopal Varma has shown faith in the actor again. He has cast him in the lead role of rebel-turned politician Paritala Ravi in his ambitious venture Rakta Charitra and says the film will re-launch both of them in Bollywood.


Miss-ty moments
Girls enjoying a cool tryst in the summer heat on the PU campus. Lifestyle photo: Pradeep Tewari
In a row
Two of Hollywood's most well known faces, Jennifer Lopez and Jennifer Aniston have come to loggerheads over their upcoming films, both focussing on single women wanting to be mothers.
Meryl Streep to be honoured at the Rome Film Festival
Streep honour
Academy Award winning actress Meryl Streep will be honoured with the lifetime achievement award at the Rome Film Festival to mark her outstanding career.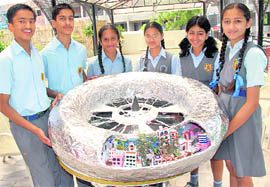 Spaced out!
They are the six musketeers—of Class X and some heavyweight vocab, National Space Settlement, NASA, life support system by now sits firmly in their scheme of things. While their counterparts can continue being hassled about boards, tuitions, grades, the current pack of six in question, has been invited to 28th Annual International Space Development Conference organized by NASA in Orlando, Florida. Some feat, to begin with!


Praise & prize
The Film Society Gala Tribute to honour actor Tom Hanks with the Chaplin Award saw a starlit red carpet
Perfect performer: Tom Hanks and his wife, Rita Wilson, at the Film Society Gala Tribute
Pretty woman: Actress Julia Roberts arrives at the award ceremony Photo: Reuters
Play right
This city-bred girl is game for all: sports, stage as well as studies
Perfection, thy name is Alipt Sandhu. Sometimes, truth is stranger than fiction but facts speak loud enough to make you to believe it. Be it academics, theatre or sports, the city's golden girl Alipt is born to lead and scale the horizons of success in these realms.
Colours of a legend
On the birth anniversary of Raja Ravi Verma, the revolutionary painter of the 19th century, three winners of a nationwide art competition, Rang Rasiya - Freedom of Art Movement, honouring this legendary painter would be announced. The competition was a pan-India initiative that endeavoured to provide a platform to young and budding artists. The three winners would be decided after a two-day exhibition of 75 finalists.
For students, pressure doesn't end with exams. It begins again with half-a-dozen application forms and all that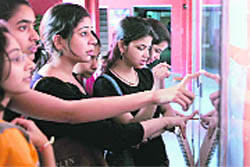 Did anyone just mumble examinations? Things worse, far worse, exist. If semesters were a torture, what would you call admissions, interviews, entrance, group discussions, counseling? How would you rate deadlines, admission dates, endless forms, acknowledgement receipts, draft numbers, attestation formalities, cut off list? Get the drift? It's an altogether different SOS. The pressure of procedure, if not the performance, kills. Cope up! How? Here.

One tone
In arms with law
We are tired of counting the number of 'again' attached to youth violence. Two students were seriously injured in a group clash at Swami Devi Dayal Engineering College last week. At least five rounds were fired and sharp-edged weapons were used. We ask youngsters what can work to put a stop to all this: counseling or clauses?

Street flavours
With the Food Street becoming popular among the youth, loyalties seem to have shifted, at least for now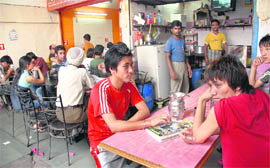 The Food Street, with all its flavours and frivolity, came as savior for some and shocker for others. What others, if you may wonder? Count in the Student Center stalls, all the dhabas surrounding bus stand and the tuck-in corners of the city that provided for the midnight hunger needs of the students all these years. But now they have found a new love, the food street. It serves to the taste buds of one and all, suddenly becoming a chart topper with city youngsters, an after party must visit and an abode for the 'midnight children'.

Lessons for life
Having a bad teacher in the reception year can harm a child's entire education, according to a new study. Researchers at Durham University found that the effect of having an exceptionally poor - or an unusually good - teacher in the first year at primary school was still detectable six years later.
Drinking beer? Yes, papa
About a quarter of Aussie parents believe that it is acceptable to let their kids drink before they reach legal age. According to The Generation Next Parental Research Study, 24 per cent of parents believe 16 is an appropriate age for their children to start drinking under adult supervision.