LS Elections
Rising crime hardly an issue
Chandigarh, April 30
In the rat race for doling out populist promises and raking national issues to score brownie points over one another, candidates, particularly those of mainstream parties, seem to have forgotten the rising crime graph.
Flu can't keep Punjabis away from phoren land
Chandigarh/Ludhiana, April 30
Wait and watch seems to be the policy adopted by foreign-bound Punjabis even as reports indicate a considerable fall in air passenger traffic in countries affected by the deadly virus that has claimed 160-odd lives so far.
CSIO transfers medical technology to Kolkata firm
Chandigarh, April 30
The Central Scientific Instruments Organisation (CSIO), here has transferred the technology for the manufacture of three healthcare equipment to a Kolkata-based private firm. The equipment include anesthesia ventilator, sodium-potassium analyser and surgical microscope.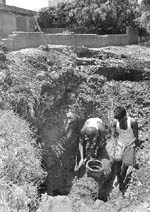 Water scarcity hits Panchkula, Mohali
Panchkula, April 30
With the onset of summer, the city residents have started feeling the pinch of water scarcity in the town. While the residents of the first floor were already feeling the fall in pressure of water supply, people living on the second floors have been deprived of supply since last many weeks. In fact, the water supply is plagued with multiple problems, including power cuts, tubewells without generators, depleting groundwater and old pipelines, which gives way to leakages as soon as the water pressure is increased.


Employees of HUDA repair a water supply pipe at Sector 16 in Panchkula. A Tribune photograph
Bansal promises affordable houses
Chandigarh,April 30
The city residents are politically-aware and can see through the game plan of the Opposition, said Congress candidate Pawan Bansal in reply to the Opposition's diatribe against him and the party here today.
Want votes? Resolve issues, say traders
Chandigarh, April 30 The Chandigarh Beopar Mandal today urged candidates contesting from the local parliamentary seat to give a commitment for taking up their issues in return of their votes.
Ad war hots up
Mohali, April 30
As the election to the Anandpur Lok Sabha seat draws closer, the war for advertisements among major political parties has hot up. The SAD-BJP combine and the Congress have put up hoardings and illuminated billboards on the road separating Phases 7 and 8. Using an effective media of roadside hoardings to communicate with the targeted section of voters, the parties have bought the most sought-after locations in the city for their ad campaign.




Illuminated billboards of political parties have come up on the road separating Phases VII and VIII in Mohali. Tribune photo: Vicky Gharu
UT gets its act together
Chandigarh, April 30
The Chandigarh administration has taken precautionary measures for the prevention and control of swine flu in the UT.
Twist to firing incident
Mohali, April 30
The two-day old case of local property dealer Gulraj Singh Randhawa being allegedly shot at has taken a murkier turn.
Cops ruin plan to gobble up Rs 23,000
Chandigarh, April 30
A prompt action by traffic police personnel "ruined" the plan of two youngsters for gobbling up a bank recovery amount worth Rs 23,000 by enacting a robbery drama.
No change in HUDA plots prices
Panchkula, April 30
On the expected lines, the Haryana Urban Development Authority has decided not to increase the prices of its plots during the current fiscal. The price fixation committee in its meeting headed by the HUDA chief administrator decided that in the wake of recession, particularly in realty sector, there was no logic in increasing the prices this year.


Haryana School Education Board
Class X, XII results out
Panchkula, April 30
A student of Sarthak Model School, Sector 12, Ruchi Gupta, secured 92 per cent marks and stood first in Class X examinations conducted by the Haryana School Education Board.
A day of awards at KV
Panchkula, April 30
Kendriya Vidyalaya No. 2 celebrated its annual day here today. Ganesh Stuti, save environment, Rajasthani dance, qawali, a tableau on the changing scene of education, etc. were put up by the students.
Credit transfer system to study in Australia
Chandigarh, April 30
A seminar on study in Australia through the Australian unified pathway programme (AUPP) was held here today.
Thefts at PU hostels
Suggestions only in papers
Chandigarh, April 30
Despite repeated theft incidents in Panjab University hostels, authorities are still sleeping over their proposal of upgradation of security system on the university campus.
Placement drive at engg college
Banur, April 30
SISCON technologist conducted a placement drive in Shaheed Udham Singh College of Engineering and Technology, Tangori, for the final year students of B.Tech.
Workshop to improve analytical skills
Mohali, April 30
The department of pharmaceutical management of National Institute of Pharmaceutical Education and Research (NIPER) is organising a two-day workshop on data analysis beginning from tomorrow.