M A I N N E W S
Swat deal practically dead: Taliban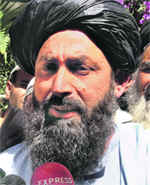 Mir Izaat Khan, spokesman of Sufi Muhammad, talks to reporters in Timergara on Friday. — AP/PTI photo

Islamabad, May 1
The peace agreement in Pakistan's restive northwestern Swat valley is "practically dead" and the Taliban are awaiting the final word from a hardline religious cleric who brokered the deal to "bury" it, a militant commander has said.
"Our peace agreement with the North West Frontier Province government has practically been scrapped but we are waiting for a word from (Tehrik-e-Nifaz-e-Shariah Muhammadi chief) Maulana Sufi Muhammad for taking a decision," said the militant commander who uses the alias Tahir. The peace deal, brokered by Sufi Muhammad in February, has come under strain after the military accused the Taliban of violating it by resorting to kidnapping and killing security personnel and civilians in Swat.
The agreement envisages the enforcement of Shariah or Islamic law in the valley, a once popular tourist destination located 160 km from Islamabad. However, Prime Minister Yousuf Raza Gilani has repeatedly said the deal is linked to the restoration of peace in Swat.
Taliban commander Tahir told 'The News' daily by phone that there was "no dearth of arms and ammunition" among the militants. Some other Taliban commanders from Swat also told the newspaper that they were waiting for Sufi Muhammad to decide their future strategy.
They said they would abide by any decision taken by the cleric. The source said Mehsud was extending all help to the Taliban in Swat, Bajaur and Dir. He was helping the ultras in devising strategies.
The Taliban have "no dearth of modern arms and ammunition" which they stored in huge quantities before the peace deal between the NWFP government and TNSM was signed.
Meanwhile, 82-year-old Awami National Party leader Muhammad Afzal Khan, the only political leader who did not flee Swat, was yesterday airlifted to Peshawar for medical treatment. — PTI