M A I N N E W S
Mulayam needs to look after his backyard
Low literacy levels, sex ratio
Ajay Banerjee writes from Mainpuri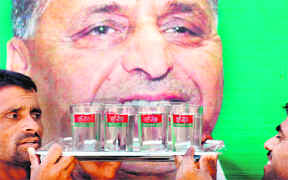 Two SP workers hold a tray bearing the party insignia in Mainpuri. — Tribune photo by Mukesh Aggarwal

Just 300 km south-east of Delhi on the six-laned National Highway to Kanpur is Mainpuri, the stronghold of Samajwadi Party boss Mulayam Singh Yadav. Here, the former Chief Minister of Uttar Pradesh and the former Defence Minister of India is just plain "Netaji". In separable in the area, are the blood-red coloured caps synonymous with the SP; the party insignia, a cycle, and a photo of Yadav's "political guru" Ram Manohar Lohia.
The constituency has some 4-lakh votes of his Yadav brethren and a win for Yadav is almost assured. Politically, Yadav's calculations may be paying dividends. He has augmented his vote bank in Mainpuri by accepting Kalyan Singh, despite a threat of alienating Muslims. Kalyan, belongs to the Lodh community that has some 1.60 lakh votes. At a rally here on April 29, he made it known that Kalyan's votes would not harm the SP.
Yadav's political clout at the national-level with 35 seats in the outgoing Lok Sabha and the ability to stay in reckoning nothwithstanding, the constituency of Mainpuri needs a more focused attention to improve social indicators.
The Tribune culled out numbers from the official figures of the district for the year 2008. The female literacy is poor 51.4 per cent. The sex ratio is abysmal. At 857 women for every 1,000 males this one of the worst figures in the country. In the year 2009, as India celebrates its "arrival" on the world stage, more than 50 villages in the pocket borough of the party that saved the ruling UPA combine over the nuclear deal, have not even seen electricity.
In the past two years Central funds under the rural electrification programme have helped power supply reach nearly 150 more villages. Central Projects to link villages with roads under the Prime Minister Gram Sadak yojana" are languishing as the contractor doing the work in phase V of the project did not finish work. The developed states are already implementing phase VI.
Just weeks ago the constituency shot to fame when the young woman District Magistrate, Ministhy Dileep, An IAS officer, ordered the shutting down of all gun shops- some 70 in number. Yadav did not like it and issued a veiled threat to the DM, the EC hauled up Yadav. The gun shops have now been re-opened, but to deposit the licenced arms that arms holders are needed to deposit under election commission of India guidelines. The DM refuses to comment saying" the matter is over".