Where are children's films?
Summer vacation is an ideal time to release films made for children, but filmmakers, even those who have a fairly good track record of handling subjects of children's interest, are keeping a low profile. Derek Bose explores the reasons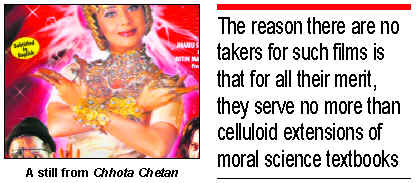 Summer vacations are round the corner and children are relatively free from the pressures of classroom attendance and the anxiety of examinations. To any producer making children's films, there cannot be a better time for hitting the cinemas. In fact, films like Haathi Mere Saathi, Rani Aur Lalpari and Parichay became superhits because their release dates were timed to coincide with the summer vacations of schools. But that was all in the past.
This time around, Bollywood has nothing new to offer to the kids. Filmmakers like Vishal Bharadwaj (Makdee, Blue Umbrella), Santosh Sivan (Halo, Tahaan), Mani Ratnam (Anjali) and Kittu Saluja (Chain Kulii Ki Main Kulii), who have a fairly good track record of handling subjects of children's interest, are keeping a low profile. Even makers of animation films like Bal Ganesh and the Hanuman series have nothing lined up for release any time soon.
This should be rather surprising because within industry circles the general belief is that children's cinema (along with mockumentaries and martial arts films) is the way to go for the future. At the same time, recent box-office records have shown that this is one of the high-risk areas of filmmaking. Kids are no longer keen on watching films meant for them in theatres. Television takes care of these interests at home. Left to themselves, most of them would rather watch a Ghajini or Jaane Tu`85Ya Jaane Na on the big screen than say, a Taare Zameen Par. Nobody — parents or kids — is feeling the absence of children's films in theatres.
Either kids nowadays have become too big for their boots. Or else filmmakers are being too presumptuous about what constitutes a "child's point-of-view". There is a third possibility also. As a distinct genre, children's films could well have lost their relevance. After all, what's the definition of a children's film? Is it the one that is made expressly for an audience comprising children? Or is it the one that is made about children regardless of the audience? This distinction is crucial, as many exceptional films featuring child actors — from Salaam Bombay to Slumdog Millionaire – are clearly not targeted at children.
To further confound matters, Bollywood has its own notions about childhood. Anybody between four and 14 is considered a child. (In the government's eyes though, childhood lasts till 18 years, as per the film censorship rules.) The interests, likings and sensibilities of a four-year-old and a 14-year-old are supposed to be the same. There is no cognisance of what society has come to acknowledge as young adults, teens and, more recently, the tweens. Besides, what could arouse the curiosity of a 12-year-old till about a decade ago is old hat for a nine-year-old today.
However, the level of maturity children in villages is relatively low. Given such a variegated audience profile, how does a children's filmmaker come up with a story that would appeal to a wide cross-section of children?
This is exactly the question the state-run Children's Film Society of India has been asking for years. Set up in 1955 with an aim to produce films that provide "healthy and wholesome entertainment to children", it has been able to build a fabulous archive having works of masters like Mrinal Sen, Satyen Bose, Tapan Sinha, Shyam Benegal and Sai Paranjpye. Some recent productions include Vinod Ganatra's Lukka Chuppi, Batul Mukhtar's Lilkee and Dhvani Desai's Manpasand — all international award winners. But do they ever hit theatres? How many kids are even aware of their existence?
The reason there are no takers for such films is that they serve no more than celluloid extensions of moral science textbooks. Lessons on duty and sacrifice, stuff from mythology and of course, the Panchatantra tales are regurgitated many times over. This didactic approach is not peculiar to the Central Board of Film Certification (CBFC) alone. Even today, most producers of children's films think kids need to be constantly "educated". For instance, last year's Amitabh Bachchan-starrer, Bhootnath takes off on a promising note as a "kiddy comedy", but midway breaks into a sermon on family values, the importance of love and forgiveness and so on. No wonder the film fell flat.
Today's kids seem to resent being treated as kids . They are conscious of their individuality and position and anybody violating that space becomes an instant threat. Treat them as equals and you can win them over. This is something that the makers of children's films have failed to understand. They still believe that rather than taking kids along with the film, its message must be pushed down their throats.
Yet another common misconception of our filmmakers is that a film peopled by kids automatically qualifies to be a children's film. By the same token a film that does not have kids in the cast cannot be considered a children's film. Little do they realise that several all-time international hits with kids, including the works of Charlie Chaplin and the Spiderman, Batman and Superman series, do not have child actors at all in the lead roles.
Among Indian films, parallels can be drawn with Raju Hirani's Lage Raho Munnabhai and Rakesh Roshan's Krrish. This is, however, not to discount the appeal of all-kids' shows (see box) like Chhota Chetan, Mr India and Koi`85Mil Gaya. The best part about all these films is that they are appreciated as much by children as by grown-ups. But the same cannot be said for a Taare Zameen Par or The Terrorist, even as kids are the main protagonists.
Indeed, making a film for children is no child's play. It is as complex as understanding the mind of a child. There are no set rules or magic formulat hat a filmmaker can go by. For, only a child knows what holds his interest. Adults can only presume about it.
In the West, some film studios are taking the easy way out by producing 'high-school musicals'. Somehow, this concoction of teenage romance and angst, laced with an overdose of song and dance, seems to be working wonders with kids in the West at the moment. Chances are Bollywood would soon come up with rip-offs of this new version of children's films.
But then, ultimately Pappu knows best.
High Five
Here are five memorable Hindi films that have been on every child's wishlist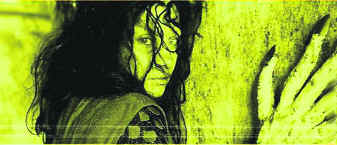 Vishal Bharadwaj's Makdee, with its peppy songs, was quite a hit with children. It also won the Grand Prix at the Children's Film Festival-2003 at Chicago

Safed Haathi (1977)
Director: Tapan Sinha
This cult film chronicles the story of two orphaned children, Shibu (Ashwani) and his elder sister, Rani (Gayatri Sharma), who live with their abusive maternal uncle (Sadhu Meher) and aunt (Mala Jaggi). Things take a turn when Shibu befriends an albino elephant in the nearby jungle, and through this elephant, named Airawat, finds a pot full of gold coins. The mama and mami come to know of this and they inform the Emperor (Shatrughan Sinha), who is determined to capture the elephant.
Chhota Chetan (1984)
Director: Jijo Punnoose
This remake of a Malayalam hit, My Dear Kuttichathan is best remembered for the stunning performance of its child actors and spellbinding 3-D effects. But it is more about a friendly ghost, who takes the form of a boy, Chetan. Three kids enter a haunted house and happen to release the ghost. What follows is a breathtaking journey into the world of fantasy and make-believe with gravity-defying feats, sword fights, objects flying at your face and the works.
Mr India (1987)
Director: Shekhar Kapur
After a serious Masoom in 1983, Shekhar Kapur made this fun film, obviously inspired by Hollywood's Invisible Man. It is about an immensely affable and playful Arun Verma (Anil Kapoor) who gets hold of a magical contraption that enables him to turn invisible, except in red colour! He is pitted against Mogambo (Amrish Puri), the villain Bollywood has since loved to hate. Their antics, along with a host of children and Sridevi, make for a delightful cinematic experience.
Makdee (2002)
Director: Vishal Bharadwaj
The film revolves around twin sisters Chunni and Munni who are diametrically opposite in character. Chunni is the mischievous one, causing much grief to Munni till a witch of the highest order shows up. Shabana Azmi plays this dreadful chudail to perfection, replete with scary make-up, hair in disarray, chipped tooth and lodged on a throne in a haunted house. But the real star of the film is Shweta Prasad, cast in a double role of the twins. It won the grand prix at the Children's Film Festival at Chicago in 2003.
Krrish (2006)
Director: Rakesh Roshan
This film, supposedly a sequel to Koi Mil Gaya, is India's answer to Hollywood's super-hero films like Superman and Spiderman. Hrithik Roshan plays a simpleton blessed with extraordinary powers that enable him to glide like a bird at will. His agenda is to banish evil from earth and rescue his father from a bunch of goons. A sequel, Krrish-2 is in the making.
— DB