MUSIC ZONE
Saurabh & Gaurav
Bob Mould ó Life And Times (Anti)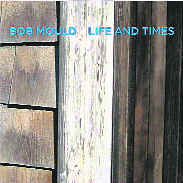 Life And Times, Mouldís newest release following last yearís inspired District Line, has the alt-rock pioneer exploring safer territory in adult alternative pop, a genre traditionally ascribed to bands like Weezer, Counting Crows and Gin Blossoms. Mould returned to the same writing process that yielded his 1989 solo debut, Workbook, pruning back prose stories into rhymed couplets and melodies, putting the focus directly back on the essence. Heís alternately philosophical, apologetic and harsh, and he combines all three on Iím Sorry Baby, But You Canít Stand in My Light Any More. Mould ends an emotionally wringing collection with Lifetime, a particularly unflinching song with white noise crackling and expanding behind the synthesiser keys driving the tune. Amid the ringing chimes of acoustic guitars, the lovely, aching melody begins with accusations but then, in a theatrical turnabout, ends with apologies and confessions. His lyrics focus mainly on the turbulent relationships of his past. The heavy mood is alleviated somewhat by a pair of tracks near the middle that most clearly recall Mouldís first band, both late period (MM17) and early (Argos, the most punk he ever sounded). Bad Blood Better begins with synthesised strings and cringe-worthy lyrics describing a somewhat macabre morning after. Both The Breach and City Lights effortlessly balance his Americana leanings with that unmistakable desire to rock out when the chorus comes around. The outcome is a convincing chat between the two sides of Mouldís personality: the graying theorist and the brash child.
Best track: Iím Sorry Baby
Worst track: Spiraling Down
Rating ***
Camera Obscura ó My Maudlin Career (4AD)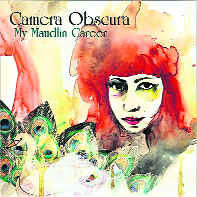 On the title track of Camera Obscuraís fourth album, My Maudlin Career, Tracyanne Campbell sings, ďThis maudlin career has come to an end/ I donít want to be sad again.Ē As usual, sheís being sincerely ironic. The tongue-in-cheek reference to the proto-feminist novel by Miles Franklin, My Brilliant Career (probably more widely known in its 1979 film version) gives a certain idea of the laidback, scathingly self-aware humour on display. The Sweetest Thing begins with some Beach Boy-style harmonising (partly provided by Swedish singer Nicolai Dunger) but ends up in more classic Motown territory. After The Sweetest Thing, the album slows down considerably. Slow, somber ballads about impostors (You Told a Lie), one that equates the breaching of a relationship to murder (Away with Murder), one about a lover that reminds Campbell of James Dean (the simmering and reminiscent James), and one that finds Campbell asking an old lover if he missed her (Other Towns & Cities). The slow burning Forests and Sands, is one of the sweetest tracks on the record. Its country-infused guitar plucking and echoing vocals lend a great deal of weight to Campbellís guileless blues. Honey In The Sun has a similar feel but with a much more minimalist sound that only features Campbellís anguish over a forlorn guitar, with an occasional bittersweet violin thrown in for maximum effect. The overall character is more insightful than on every other Camera Obscura project, and perhaps too mawkish around You Told A Lie and Away With Murder. The following Swans, with a great opening hook and nursery rhyme feel is more typical of the feel good If Looks Could Kill.
Best track: Forests and Sands
Worst track: French Navy
Rating ***
Allen Toussaint ó The Bright Mississippi (NS)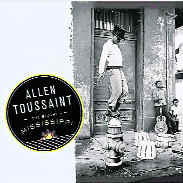 Allen Toussaint is a jewel in the music world, not merely the most distinctive of soul songwriter/producers, but a virtuoso piano stylist with an unparalleled knowledge of the musical development in every genre. The Bright Mississippi is a very personal landmark. Produced by Joe Henry, Toussaintís first solo album in over a decade sees this celebrated writer instead paying tribute to the work of others, revisiting tunes penned by jazz greats like Sidney Bechet, Jelly Roll Morton, Django Reinhardt, Thelonious Monk, Duke Ellington, and Billy Strayhorn, backed by a band, including clarinetist Don Byron, trumpeter Nicholas Payton, guitarist Marc Ribot, and bassist David Piltch. In a diversion from prior Toussaint albums, only one of the 12 tracks here features his vocals, Long Long Journey, with lyrics by Leonard Feather. On an album where every track is a gem, the two Ellington tracks, Day Dream and Solitude, stand out, both perfectly capturing the air of melancholy that is distinctive to the Duke. Opener Egyptian Fantasy takes a composition from Sidney Bechet, a New Orleans resident, and toys with its pace, turning the entire thing into a brassy mid-tempo funeral march. Joined by the likes of pianist Brad Mehldau, guitarist Marc Ribot and trumpeter Nicholas Payton, Toussaint opens the door on the past with music of extraordinary colour and life, vivid in its propinquity and worthy of its glorious heritage.
Best track: Day Dream
Worst track: Raising Sand
Rating ****
Album of the month
Depeche Mode ó Sounds of the Universe (EMI)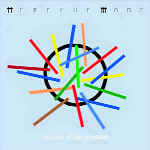 Sounds of the Universe kicks off with the spiky, twisted and gorgeous Wrong, an epic blast of synth-pop on the scale of Violator or Black Celebration. Depeche Mode achieves a tricky balance on the album: Its 12th full-length outing fits neatly into its discography while sounding contemporary and building on the trioís lean electro-rock. In Chains might be a reserved counterpart to I Feel You, but the theme of redemption is picked up more pertinently in Hole To Feed, co-written by Gahan. Most of the tracks are inflamed with similar human emotion, using icy cool electronics as dramatic contrast to the feeling within Little Soul, which percolates with vintage synth effects and the twang of Martin Goreís full-bodied acoustic guitar. Gahanís singing, meanwhile, is as strong as ever, always the perfect vehicle for Goreís lyrics, and the glue that holds together even the discís most diffuse songs. Thereís the statutory techno spiritual stomper In Sympathy and the uptempo Come Back, which flashes Mary Chain guitar. They lighten the mood a bit on Fragile Tension, a synth-driven track whose bright melody is paced just right with the songís outlook. The album is a stirring encapsulation of all of Depeche Modeís different sides and qualities, reminiscent of all those other great album tracks lurking throughout the groupís catalog.
Best track: Little Soul
Worst track: Spacewalker