The doosra view
Abhijit Chatterjee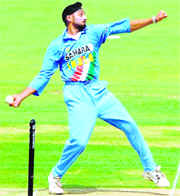 Pakistani off-spinner Saeed Ajmal is in the eye of a storm as he, too, has joined the "illustrious" list of bowlers who have been reported for a suspect bowling action by match officials after sending down a doosra. The complaint against Ajmal came during the one-day series between Pakistan and Australia at the neutral venue of Dubai. And Saeed is definitely no rookie and has played international cricket against four countries so far, India, Sri Lanka, West Indies and Bangladesh.

The bowling action of Harbhajan Singh came under the ICC scanner in December 2004 when he was reported both by the on-field umpires as well as the match referee Chris Broad while playing in a Test match against Bangladesh in Chittagong.

Real Madrid fans unsure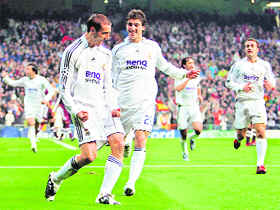 The fans of Spanish giants Real Madrid are unsure about their team getting ahead of leaders Barcelona in the race for the Liga title. Real are just four points behind Barca after last Sunday's 4-2 win away to third-placed Sevilla, and Barca have to visit Real's Estadio Bernabeu on May 9. Two years ago Real dramatically overturned Barca's lead and snatched the title away from the Catalans on the final day.
Real Madrid players have failed to generate confidence in their fans about their team getting ahead of leaders Barcelona in the race for the Liga title

MAIL
IPL in South Africa, a big folly
I do not agree with the views expressed by IPL Chairman Lalit Modi (A League Apart. Saturday Extra, April 4), that holding the event in South Africa would be a big challenge. According to me it is a big folly. I fail to understand where was the compulsion and need to shift the event, which could have been postponed by 40 days. After all National prestige is involved in it. Besides this crores of rupees that India could have earned have gone into the coffers of South Africa.




A combination of a sequence of five pictures shows the bowling action of Pakistani bowler Saeed Ajmal during their third one-day match against Australia in Abu Dhabi. Saeed Ajmal has been reported for a suspected illegal action following the second one-day international against Australia. — Reuters