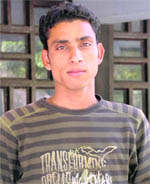 Shankar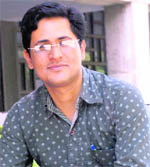 Harpreet Singh
With recession eating into many jobs, more and more youngsters from the private sector are eyeing the life of a bureaucrat
When was the last time did you heard someone in your circle show interest in and opt for a government job? Well, you might just hear it more now. Might sound strange, but recession is possibly doing one good thing: It has made the civil services more attractive than it ever was.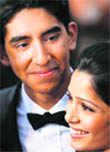 Slumdog Millionaire stars Dev Patel and Freida Pinto have made it to US magazine People's list of 100 Most Beautiful People
Slumdog Millionaire actor Freida Pinto and Dev Patel have added another feather to their already laden cap by featuring in People magazine's list of 100 most beautiful people, which was topped by Christina Applegate. Pinto, a former model, who became an overnight sensation thanks to her turn in the Oscar-winning film has already featured in a similar list, compiled by Vanity Fair magazine.

No Problem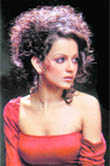 Only Anil Kapoor was convinced that I could do a comedy, says Kangana
After a string of films where she portrayed a troubled woman, Kangana Ranaut is all set to change audience perception about her with a comedy film No Problem and she thanks Anil Kapoor, who is producing the comedy, for giving her the opportunity. "I had decided whenever I do my first comedy it would have to be either with Anees Bazmee or David Dhawan. Everyone thought I was wrong for the part in No Problem. No one was convinced I could do comedy, not after playing all those traumatised roles. But Anilji convinced everyone that I could," Kangana said.

Trademark win
Abhishek Bachchan wins best brand ambassador of the year title
Bollywood star Abhishek Bachchan has received the best brand ambassador of the year award at NDTV Techlife Awards 2009 for the IDEA and Motorola campaigns. "It is a great honour to win the title of best brand ambassador for the IDEA and Motorola campaigns," Abhishek said in a statement.
Right time, right place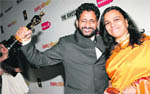 Oscar winner Resul Pookutty says all one needs is an opportunity to be successful
Resul Pookutty, Oscar winner for best sound mixing of Slumdog Millionaire said if someone is given the right opportunity, success in the film industry could follow on its own.

Day in, day out
Kareena works for 36 hours without a break
The fans usually just look at the fame and interesting lifestyle that the film stars have and tend to overlook the hard work put in by them. Recently Kareena Kapoor, one of the most successful actors in filmdom, had to shoot for 36 hours without a break.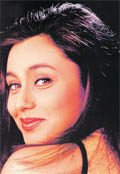 Bodylicious
Rani hopes to set screen on fire in Hadippa
Rani Mukerji hit the gym with a vengeance for a toned look for Hadippa with Shahid Kapur. The actor is quite happy with the outcome and feels that, like Aamir Khan, she will also set the screen on fire with her new avatar. "She is not believing that it is her body. She even jokes and calls herself the female version of Aamir (Khan) in Ghajini now. She was even telling me that like his body set the screen on fire, her looks in Hadippa will leave no stone unturned," celebrity trainer Satyadev Satya Chaurasia said.
Melting moments
This summer, beat the heat with a large chunk of fat-free ice cream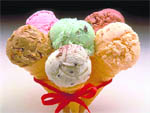 Come summers and how can we not make mention of a sinful delight— ice cream. More than a pleasure, almost a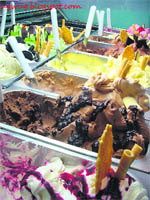 wonder drug, ice cream is the perfect way to beat the summer heat. But in this calorie conscious time, where everyone is trying to loose an extra inch, who wants to savour the creamy cream—ice cream. However if ice cream is made from low fat or fat free milk products plus fresh fruits or nuts, sans artificial sweeteners then who minds some scoops of sinful indulgence. Having started the concept of Gelato ice cream in city, Monica Sood from Monica's and owner of Gelatos' in Sector 8 says, "People are more than health conscious these days. And catering to the need of the consumer, I introduced Gelato's, some two years back in the city."
French wine on Indian thali
The Flambe Sizzler Food festival brings a combination of Indian delicacies marinated in French wines and herbs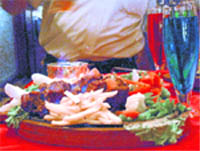 usion assures variety. It scores over the original, for it has the quality to cater to a large number of people. Fusion of music, art and culture has been doing it since years and now food will follow the league. At the Flambe Sizzler Festival at Moti Mahal-17, we will get to see something similar, where in, the Indian food will be marinated with French herbs and wines before being cooked in a continental way. The seven-day fest will have on the platter more than 20 dishes of sizzlers.
Bon Appetit
Fabulous fried rice


Fried rice is one of those lovely comforting foods that everyone in the world seems to like. It makes a complete, quick and easy, all-in-one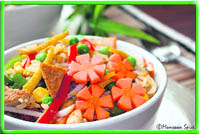 meal, combining an array of vegetables or meats of your choice. The resulting colourful medley is a visual treat and it's also a perfect ploy for serving bits of leftovers in disguise! When it comes to the Indian avatar, I'm afraid I'm a shameless traitor. I absolutely adore the South Indian version, preferring it over our own, simply because I'm partial to curry patta, heeng, mustard seeds and the robust depth lent by smoked, dried red chillies.
Launch PAD
Seedhi baat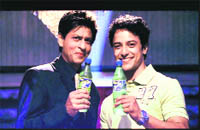 Sprite launches its latest consumer initiative during the DLF IPL, and rolls out a special edition 'Sprite Kolkata Knight Riders' bottle. They have also launched "Kholega Toh Milega' digital initiative in association with Kolkata Knight Riders (KKR) and Nokia to leverage the key passions of consumers - Cricket & Mobile phones. As part of the initiative, consumers just need to drink Sprite and look out for a unique 9 digit code under the crown / behind the label and SMS the code to 58558.


Booked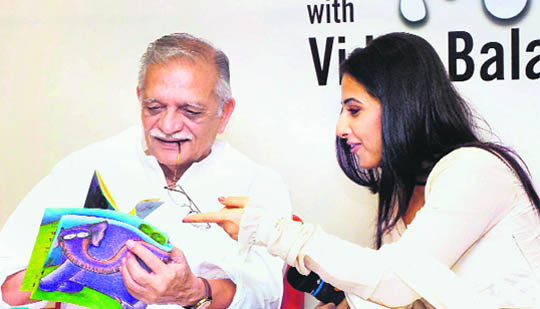 Noted lyricist Gulzar alongwith bollywood actor Vidya Balan at the launch of his book in Mumbai. Photo: PTI