ART & LITERATURE
'ART & SOUL
ENTERTAINMENT
TELEVISION
GARDEN LIFE
NATURE
FOOD TALK
CONSUMER RIGHTS
FASHION
HOLLYWOOD HUES
BRIDGE
ULTA-PULTA
EARLIER FEATURE
TRAVEL
RELATIONSHIPS
DREAM THEME
TIME OFF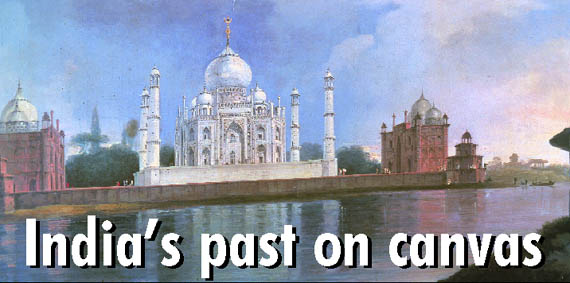 The first-ever painting of the Taj Mahal by any artist (1782).
National Gallery of Modern Art, New Delhi
William Hodges was the first artist whose works introduced the Indian landscape, architecture and life to the West. Pran Nevile writes about this pioneer who was smitten with the beauty of our country
FROM time immemorial India has attracted adventurers, traders, travellers, missionaries and scholars, many of whom have left highly informative and fascinating accounts of the country and its people. They have described the religious beliefs and rituals as well as social customs and manners of the diverse communities in different parts of India.
Climate's clarion call
The rising sea level due to climate change is no theoretical threat to the thousands who live in the 12 sea-facing islands of West Bengal, writes Joydeep Gupta
THE rising sea has drowned two of Jalaluddin Saha's small homes in Baliwara in West Bengal and threatens a third. Last monsoon, surging water ruined his crops and he and his family ran for their lives. His livestock drank the brine and died.
Sultan of
Courage
Jassa Singh Ahluwalia, whose birth anniversary falls on May 3, was a fearless military general, a shrewd politician and a patriot. Under his leadership, the Sikhs inflicted heavy defeats on Muslim invaders, writes Mohinder Singh Ahluwalia
Nawab Jassa Singh Ahluwalia was a legend in his own lifetime, which inspired people of Punjab to fight against the tyranny and injustice of invaders and ruthless rulers. He was an embodiment of courage, bravery and self-sacrifice.
Channel for the aged
The need of the hour is to create a special TV channel for the elderly. The anchors will have to talk about the ailments, legal problems and financial hassles facing the aged, writes Chaman Ahuja
Loneliness and passing time are the pivotal problems of the aged. In view of the handicaps of physical immobility and financial disability that prevent old people from seeking the company of friends, what is needed is some kind of surrogate companion at home.
Boxing queens
Young Muslim girls in the Khidderpore area of south Kolkata have taken to boxing. The sport not only earns them recognition but is also a source of income, says Ajitha Menon
ZAINAB Fatima (14) shocked an eve-teaser in the busy Khidderpore market area in south Kolkata by knocking his teeth out with a mighty punch. The onlookers at this predominantly Muslim locality, however, cheered the girl and walked on. The eve-teaser was unaware that Zainab and her three sisters are trained boxers, spending hours in rigorous training at the Khidderpore School of Physical Culture.

From the timeless tranquillity of the desert to the silvery beaches and lively bustle of souks, Dubai offers a joyous mix of tradition and modernity, discovers Nonika Singh
DUBAi, which has wrongly been dubbed as a safe haven for mafia, is in reality one of the safest city for tourists. Even close to midnight there is no danger of being mugged, whether in the city or far away from Dubai in the sand dunes for a desert safari.
'Classical dance in need of young blood'
Worried about the state of classical dance forms, many experts and maestros feel that there is an urgent need to make them popular among youth for their preservation, writes Jayasri Viswanathan
INDIAN classical dance forms could be a rage among art lovers abroad but exponents here say much more needs to be done to make the rare classical forms of art popular with the younger generation.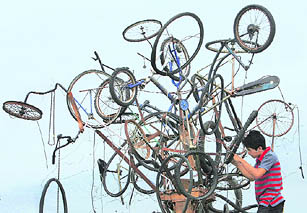 A bicycle tree built by a fine arts student out of junk material in front of the Cultural Centre in Manila for the Earth Day celebrations held recently. — Reuters
Old for new
Many Bollywood heroines are being paired with relative newcomers who are many years younger to them, writes Derek Bose
THESE are desperate times for Bollywood heroines. In the absence of work, they are signing whatever film comes their way, regardless of its storyline, role, the director, production house, cast or crew. Notably, many leading women are willing to be paired with relative newcomers many years younger, just in order to keep themselves busy. Or so it would seem.
Bharat's pride
M. L. Dhawan on Manoj Kumar, recipient of Dadasaheb Phalke Award, 2007
ACTOR, director and producer Manoj Kumar, who is being conferred upon with the coveted Dadasaheb Phalke Award, was born as Hari Krishan Goswami. He changed his name to Manoj Kumar at the age of nine after watching his idol Dilip Kumar in Shabnam (1948).