M A I N N E W S
Sonia hardsells Manmohan in Punjab
Says only Cong can provide stable and strong govt for taking development projects to logical conclusion
Pradeep Sharma
Tribune News Service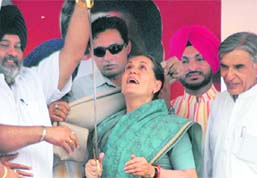 Congress president Sonia Gandhi holds up a sword presented by her supporters at a party rally in Chandigarh on Sunday. Also seen in the picture is Chandigarh candidate Pawan Kumar Bansal. — Tribune photo by Vinay Malik
Chandigarh, May 3
Hard selling an "honest and capable" Sikh Prime Minister Manmohan Singh in Chandigarh and Punjab, AICC President Sonia Gandhi today claimed that only the Congress could provide a stable and strong government at the Centre for taking the development projects to their logical conclusion.
"The need of the hour is a stable and strong government at the Centre. Given its track record, the Congress can provide a government which does not discriminate among people. Only the Congress can provide a government under the leadership of Manmohan Singh, which is firm and visionary," Gandhi said addressing an impressive rally in support of Pawan Bansal, Congress candidate from Chandigarh parliamentary constituency.
Alleging that the rivals of the Congress were levelling allegations as they were bereft of any meaningful issues, she stated that the voters had given other parties opportunities to rule at the Centre and the states. "However, they have frittered away the opportunities with the result that they have been unmasked and exposed before the people," Sonia said in her 13-minute crisp speech.
Even as the BJP-led NDA government saw "shining India", all sections of society, including farmers, women and youth, were fed up under its regime. The electorate voted the Congress to power in 2004 and "we made an honest and capable person like Manmohan Singh as the Prime Minister," she said apparently eyeing the Sikh votes in the city and Punjab.
Hitting back at the NDA regime on the terror issue, she alleged that it was during the BJP-led regime that terrorists were escorted to Kandahar like "guests" . In the backdrop of the diplomatic offensive mounted by New Delhi, Pakistan was forced to accept before the international community that the accused in the Mumbai terror attacks belonged to that country, she said while promising that India's security interests were safe in the hands of the Congress.
Making a fervent appeal to the voters to keep communal forces at bay, the AICC President asserted that the Congress was committed to fighting those forces which were bent upon dividing the country.
In an apparent bid to woo the farmers, whose land was acquired by the government for various projects, Gandhi claimed that the Congress was committed to providing adequate compensation to the farmers.