M A I N N E W S
30 killed as bus falls into Chenab
Dinesh Manhotra
Tribune News Service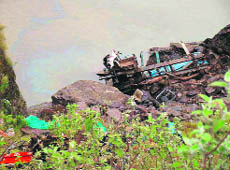 Badly mangled portion of the mini-bus lying on the bank of Chenab at Bhanderkot.
Udhampur, May 4
Thirty persons, 16 of them teachers, were killed after the minibus they were travelling in fell into the Chenab near Bandarkot village here today.
As the bus was on its way to Palmar from Kishtwar, a majority of the teachers from Government Higher Secondary School, Palmar, had boarded the ill-fated vehicle.
Among the dead was one Pinki Sharma of Poochail (Kishtwar), who was anxiously awaiting her first salary. But destiny had something else in store for her. Pinki was appointed as a lecturer in education two months ago. Another three teachers were killed in the accident before they could have got their first salary.
In all, Government Higher Secondary School, Palmar, reported the death of 10 of its teachers while principal of the institution, Jagdish Raj Bhagat, was battling for his life at Government Medical College, Jammu.
Then there was one Anil Sain, the only brother of three sisters. He, too, had been appointed as a teacher recently, but was killed before he could have drawn his first salary.
Notably, the school is famous in Kishwar district for its excellent academic record. Unlike other parts of this mountainous belt, the staff of Palmar school were known for their punctuality and discipline.
Among the dead were also three sisters, Kanta Devi, Neetu Parihar and Kirna Devi, who were on their way to Palmar to attend the death anniversary of a relative.
Meanwhile, a pall of gloom descended over Kishtwar town as the majority of the victims were from here. As soon as the news of the accident spread, people rushed to the spot and started rescue operations. The local shopkeepers, too, downed their shutters and observed a total bandh.