Who wants a life of boycotts?
Aditi Tandon writes from Srinagar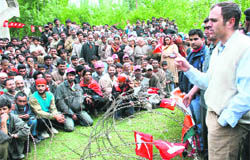 J&K CM Omar Abdullah speaks to supporters during an election rally in Ganderbal. — Reuters
Last year when the tourist season picked up after a long, unprofitable spell in Jammu and Kashmir, Pervaiz Bhat, a Srinagar resident, bought himself a new Sumo. He borrowed a bank loan of Rs 2 lakh that he thought was not much of an investment for a fresh start.
A year later, he is parked, like other drivers, at a dilapidated taxi stand in Bohri Kadal Chowk, the crossroad that leads to all the volatile localities of Srinagar's old city that the Hurriyat loves to flaunt as their "support base", especially before elections.
Very close to this chowk is the historic Jama Masjid, where black banners greet you. They lament the closure for three consecutive Fridays of Kashmir's biggest "ibadatgah" (prayer house) and seek protest of elections.
But that bothers Bhat little. For him, the fact that he couldn't pay Rs 5,000 insurance premium for his Sumo in two months is more worrisome. That explains his dejection with the routine of boycotts in the valley: "It's only here that the Hurriyat enforces its election boycott calls. Go beyond the old city and you see a different Srinagar, where people go about their lives normally, making money, feeding their families. But here, that's a dream," says Bhat.
Taxi drivers across the city talk of how their earnings have dipped by 80 per cent over the last year, how the five flights landing at Srinagar barely fetch tourists and how the shikaras go empty even on Sundays. "Who wants to come to a city of curfews and boycotts," asks Fayyaz Ahmad, another driver from Khanyar. "It's not about the Hurriyat. It's about non-performance and about livelihoods," he says.
But the pro-Hurriyat campaigners of the old city couldn't care less. Only yesterday, about 30 persons were injured in clashes between the CRPF and anti-election campaigners, who, some people here don't even recognise.
Thanks to the boil, the area was clamped down for five days only to open briefly today before it slips back into curfew tomorrow when Hurriyat's 50-hour bandh call in Srinagar comes into force. The call ends after the polling deadline for Srinagar parliamentary seat on May 7.
There are people that want to vote, but are deterred due to constant interruption of movement that bothers them psychologically. Like Javed Bhat, a local shopkeeper, explains: "We feel like strangers in our own homes - monitored all the time. No one trusts us."
There are others who support the Hurriyat, like Aijaz Ahmad in Khanyar, who points to the graveyard where, he says, thousands are buried. "We can't let these people's sacrifices be forgotten," he says.
"No one wants a life of undeclared curfews," says Shamima, who, like other women, spent the day stocking bare essentials in the wake of tomorrow's curfew. But she hasn't seen the benefits so far. Roads in Sheher-e-Khas are rutted as always, a garbage dump had stood in the middle of Bohri Kadal Chowk for years, and youth are yet to get Rs 1,000 monthly stipend which Omar Abdullah promised last November when he was seeking election from Ganderbal assembly.
Omar has become the CM, but the stipend has not become a reality. The NC now blames the delay on the model code of conduct.