SWINE FLU: a pandemic in waiting?
Dr Varsha Gupta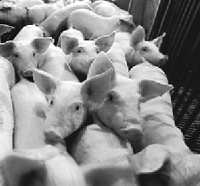 Swine flu, also known as swine influenza, refers to flu-like illness caused by strains of influenza virus, which causes infection in pigs (swine).
Humans do not normally get swine flu, but human infections can happen.
In the past, transmission of the virus in humans was limited, but now there are reports of swine flu viruses having been spread from person to person.
There are different types of influenza viruses. Pigs can be infected by avian, human as well as swine influenza viruses.
When influenza viruses from different species infect pigs, these can swap genes and new viruses that are a mix of swine, human and/or avian influenza viruses can emerge. The exact origin of this new strain remains unknown.
The Center for Disease Control has determined that this swine influenza A (H1N1) virus is contagious and is spreading from humans to humans. However, at this time, it is not known how easily the virus spreads.
The WHO has decided to raise the current level of influenza pandemic alert to phase 5, which is a strong signal that a pandemic is imminent.
The human influenza viruses spread with respiratory droplets, when an infected person coughs or sneezes near a susceptible person.
A contact with respiratory-droplet-contaminated surfaces is another possible
source of transmission.
Since this is a novel influenza A virus in humans, transmission from infected persons to close contacts might be common.
All respiratory secretions and bodily fluids (diarrhoeal stool) of swine-origin influenza A (H1N1) cases should be considered potentially infectious.
The symptoms of swine flu include fever, cough, sore throat, body aches,
headache, chills and fatigue. There are also reports of diarrhea and vomiting
associated with swine flu.
The affected countries with laboratory confirmed cases are Austria (1), Canada (34), China, Hong Kong Special Administrative Region (1), Denmark (1), France (1), Germany (4), Israel (2), Netherlands (1), New Zealand (4), Republic of Korea (1), Spain (13), Switzerland (1) and the United Kingdom (13).
To diagnose swine influenza A infection, a respiratory specimen (nasopharyngeal swab/aspirate or nasal wash) would generally need to be collected within the first four to five days of illness.
On the testing front, four institutes have been designated for handling blood and saliva samples to check for swine flu: the National Institute of Communicable Diseases (NICD) in Delhi, the National Institute of Virology (Pune), the National Institute of Cholera and Enteric Diseases (Kolkata), and the Regional Medical Research Centre (Dibrugarh). India has received a protocol (a detailed plan of a test) from the Centers for Disease Control and Prevention (CDC) in Atlanta, US.
For the treatment and/or prevention of infection with swine influenza viruses, the CDC recommends the use of antiviral drugs (oseltamivir or zanamivir).
There is no vaccine to protect humans from swine flu. Vaccines against the H1N1 strain are being developed and could be ready as early as June 2009.
Simple preventive steps to protect your health: Cover your nose and mouth with a tissue when you cough or sneeze. Throw the tissue in dustbin after you use it. Wash your hands often with soap and water, especially after you cough or sneeze. Alcohol-based hand-cleaners are also effective. Avoid touching your eyes, nose or mouth. Germs spread this way. Try to avoid close contact with sick people. Masks should be worn as a priority by health-care workers and caregivers, when in close contact (within approximately 1 metre) with sick patients. If you get sick with influenza, you stay home from work or school and limit contact with others to keep from infecting them. Swine influenza viruses do not spread by food; so one cannot get swine influenza from eating pork or pork products. Eating properly handled and cooked pork products is safe.
The writer is Professor, Department of Microbiology, Government Medical College and Hospital, Chandigarh.