Voting Rights
Cops seek relief from personal appearance
Mandi Ahmedgarh, May 7
Enthusiasm for exercising their right to franchise through postal ballot paper seems to be fading among the Punjab police personnel due to the complex procedures and commitment towards the duty roster.
Blood Banks - III
Transfusion officers usually missing
Ludhiana, May 7
Despite having been included under the Drug and Cosmetics Act, blood remains a neglected subjected where the inspection by the district health department is concerned. The officials concerned fail to check anomalies at private blood banks in the city.
Tricksters at it again
Rs 5.6 lakh stolen from trader's car
Ludhiana, May 7
After remaining "subdued" for almost four months, the gang of tricksters is active again. In a fresh incident, a member of the gang decamped with Rs 5.60 lakh from the car of a businessman while he was locking his shop last night.
After DSP, ASI's car stolen
Ludhiana, May 7
After the theft of the official vehicle of DSP (traffic) Gurdeep Singh from his house four months ago, the vehicle of another traffic cop was stolen here today.


At The Crossroads
Uzbek poet of diverse feelings
When strangers meet, they find language a big barrier. They try to get across to each other by gesticulating, but it is a difficult process. Still perseverance brings good results. Then even silence becomes communicative.
No service tax on lottery tickets
Dealers feel elated over SC's ruling
Ludhiana, May 7
With the Supreme Court directing that no service tax will be levied on the sale, promotion and marketing of the lottery tickets, its dealers in the city are an elated lot.
Passengers harried over anomaly in reservation
Ludhiana, May 7
When Dr KK Sharma, a retired senior horticulturist and a resident of New Maya Nagar locality in the city, boarded Hemkunt Express on a confirmed sleeper reservation ticket for a trip to Haridwar earlier this week, little did he realise that his journey would turn out to be a virtual nightmare.
Partial compliance of District Magistrate's orders
Admn to act tough against violators
Mandi Ahmedgarh, May 7


Taking cognizance of the partial compliance of orders promulgated under Section 144 of the Cr.PC by the Ludhiana District Magistrate in view of the model code of conduct, the district administration has warned to take action against those violating the orders.
Quota, industry top Ramgarhia's agenda


Ludhiana, May 7
ehar Singh Ramgarhia, Bahujan Samaj Party (BSP) candidate from Ludhiana, has fortified his campaign by launching door-to-door canvassing to lure voters in the urban as well as rural areas. Projecting the "newfound party ideology", Kehar Singh said the party's decision to give 10 per cent reservation to the economically weaker sections in upper classes was a progressive step for contemporary India.
Galib builds bridges to woo voters
Ludhiana, May 7
Gurcharan Singh Galib, Shiromani Akali Dal candidate in the forthcoming Lok Sabha elections, has picked railway overbridges at different level crossings in the city as his top priority work if he is elected to Parliament.
Second rehearsal concludes
Mandi Ahmedgarh, May 7
The second rehearsal of the staff put on poll duty in connection with the forthcoming Lok Sabha elections was conducted under the supervision of assistant election returning officers at Payal, Samrala and Raikot subdivisions.
20 polling booths sensitive
Khanna, May 7
About 44 polling stations have been constituted in the Machhiwara block for voters of 107 villages and a few urban areas.
Youth Cong chief's arrest draws flak
Ludhiana, May 7
Former state chairman of the legal cell of the Punjab Pradesh Congress Committee PD Sharma, district chairman Dharamjit Singh Khera, convener Ashok Bhakri, District Bar Association secretary Kamaljit Sharma, former secretary Rajneesh Gupta and Ramesh Lakhanpal criticised the police for booking District Youth Congress president Dimple Rana and other Congress workers in false cases.
Mafia reports to CM, alleges Tewari
Ludhiana, May 7
Congress candidate Manish Tewari today alleged that sand mafia, liquor mafia, cable mafia and bus mafia had direct access to Chief Minister Parkash Singh Badal and his son Sukhbir Singh Badal.
Farmers' body condemns politicians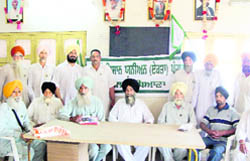 Jagraon, May 7
The Bharti Kisan Union (Ekta), Punjab, today refuted the claims of development made by all political parties.





Nirmal Singh Bhumal, district president of the Bharti Kisan Union (Ekta), along with workers during a press conference at Jagraon on Thursday. Photo: Rakesh Gupta
Pvt schools defy orders, remain open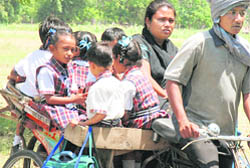 Ludhiana, May 7
Despite of the government's orders to close educational institutions and government offices on May 7 and 13, it seemed that only the government schools followed the orders as most of the private schools remained open today.



Students of a private school go on a rickshaw in Ludhiana on Thursday. Tribune photo: Himanshu Mahajan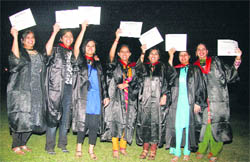 200 BEd students get degrees
Ludhiana, May 7
The convocation and prize distribution function of DD Jain College of Education, Ludhiana, was organised here today.




Students of DD Jain College in a jovial mood after receiving degrees during a convocation and prize distribution ceremony in Ludhiana on Thursday. A Tribune photograph
New home science course begins
Ludhiana, May 7
College of Home Science at the PAU has started BSc (Hons) home science, a six-year programme, for matric pass students.
PAU to celebrate National Technology Day
Ludhiana, May 7
The PAU Centre for Communication and International Linkages, in collaboration with the Punjab State Council for Science and Technology, is organising National Technology Day on May 21.
Painting competition
Ludhiana, May 7
A drawing and painting competition for Classes VI and VII was organised at BCM Senior Secondary School, Chandigarh road. Principal DP Guleria congratulated the winners.
SGPC willing to rehabilitate Pak Sikhs
Khamano, May 7
The Shiromani Gurdwara Parbandhak Committee (SGPC) will rehabilitate Sikhs fleeing Pakistan due to 'jajia' levied by the Talibans. Akal Takhat's Jathedar Giani Gurbachan Singh said this while talking to the mediapersons at nearby village Ranwan after inaugurating the new building of Gurdwara Gobindarh Sahib.


Three booked for duping woman
Mandi Ahmedgarh, May 7
Three members of a peasant's family of Kilaraipur village have been booked under Sections 420 and 120 B of the IPC for allegedly duping a woman of Kalarh village. They had extracted Rs 24 lakh from her on the pretext of sending her to Canada. They had even solemnised a fake marriage at a religious place at a Jhamatt village in Ludhiana district in 2003.
2 minor girls rescued, abductor held
Ludhiana, May 7
The Sahnewal police nabbed a kidnapper from the Delhi railway station and rescued two minor girls from his possession while he was trying to take them to Bihar in order to sell them.
Man killed in accident
Jagraon, May 7
A man was killed in an accident while another got serious injuries yesterday. Amarjit Singh (45) of Shahpur village was returning to his home, along with another man Buta Singh, after doing his night duty at Rishab Thread Mill, Jodhan.
Youth's body found
Khamano, May 7
The body of an unidentified youth was found in the canal passing thorough the town, near rest house, this morning.