Punjabi Antenna
Extensive poll coverage
Randeep Wadehra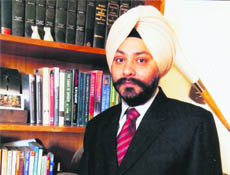 SP Singh comes across as a sharp, witty and well-informed anchor
IS the general election, 2009, going to be a watershed event in the brief history of Indian democracy? Have politicians been deliberately ignoring substantive issues and indulging in frivolous backchat (Amarinder v/s Badals, Manmohan Singh v/s Advani)? If so, what could the purpose be? More importantly, what does the increasing Naxalite violence indicate vis-`E0-vis the future of democracy in India?
These were some of the issues that the panelists on Zee Punjabi's talk show, Khabarsar — Prof Manjit Singh, senior journalist Gobind Thukral and trade union leader Chandershekhar — discussed threadbare. They pointed out how the focus on mainly urban middle-class issues, along with the vote-bank politics that marginalises the rural poor and the urban underdog, is causing resentment among the deprived masses. The Leftist discourse has been dominating the last few episodes of the show.
Whether it was the edition related to Punjab's developmental issues or young politicians' lack of ideals and vision, Leftist intellectuals were prominent panelists. One may not agree with their ideology but Leftists remain major legitimate repositories of idealism.
Khabarsar's moderator, SP Singh, is a seasoned, grassroots-to-treetops journalist. A product of 'Ludhiana's Punjabi medium schools, sitting in classrooms on mats, cross-legged,' he has worked on the national as well as foreign desks with the Press Trust of India. As a guest of the European Commission in 1996, he had toured various European countries with special interest in the EU's formation.
He has also been a fellow of the IIAS, Shimla, "working on the socio-cultural layers of the civilian discourse between conflict societies like India and Pakistan". He has been covering Punjab politics quite extensively. In the various episodes of Khabarsar, SP Singh comes through as a sharp, witty and well-informed anchor.
However, it would enhance the viewing experience if he eschews the propensity to cut off panelists in mid-sentences.
Coming back to the coverage of elections, Zee Khabran has been carrying extensive reports on individual candidates — their declared assets, past performances and current promises. On the other hand, PTC News has come up with quite a number of election-related programs. In its Faisla, 2009,`A0a special segment in the PTC news bulletins, it provides daily updates, several times a day. Poll Hour, an hour-long programme telecast Mondays to Saturdays, discusses latest poll-related developments.
The show has three segments — Chon Sargarmiyan, Campaign Trail and Halkeyan Di Choun Gatha. Chon Sargarmiya highlights daily special updates on Punjab elections, which is followed by Campaign Trail, following a contestant as he/she campaigns through the day. It also focuses on the problems faced by their respective constituencies and the steps they plan to undertake to resolve them. The last segment, Halkeyan Di Choun Gatha, profiles various locales in Punjab.
Another show, Chon Mudde, discusses issues that are of national importance with a potential to impact the region — the nuclear deal, agriculture-related problems like loan waiver, maximum support price & food security, and also internal security & terrorism, as well as recession. Of course, Masle remains the most thought-provoking talk-show with adequate gravitas.
Zee Punjabi telecast Taliban da Jazia on April 24. The medieval age has apparently arrived in our neighborhood where non-Muslims have to pay the extortionist tax Jazia (a tax that the Mughal emperor, Akbar, had reputedly condemned) to the Taliban in Pakistan's Swat valley and elsewhere. According to the TV report, recently Sikhs had to pay Rs 2 crore as Jazia. Many Hindu and Sikh families, who have fled to Amritsar to protect their life and honour, were interviewed by the channel. Is the region in for another humanitarian crisis like the one that had engulfed the country during the Bangladesh liberation war?