ĎMusic takes a lot of my timeí
Actor-singer Imaad Shah, who was recently seen in Sooni Taraporevalaís Little Zizou, speaks to Ritesh Sharma on films, music, his father and more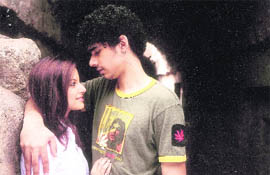 MULTIFACETED YOUNGSTER: Apart from music and acting Imaad Shah, Naseeruddin Shahís son, is also keen to direct films
You have always maintained that music is your first love.
It is and it will remain. I love expressing myself with my kind of music. But I love films too. I enjoy acting and I am always open to something that is good. I canít accept and do everything that comes my way.
Much like your father thinks?
I donít know really. He is a great actor. I might think like him but we are different people. He is a great father who has never stopped me from doing anything. I think thatís good. So long he has faith in me he wonít impose anything on me. He is happy with me, my decisions and the way I am doing. Even my mother (Ratna Pathak Shah) thinks like my father. We all are independent in our choices and decisions and thatís what binds us together.
How did Little Zizou happen?
There wasnít anything else that appealed me more than the role and the script. The script was simple`85very real life and moreover it had a brilliant cast. Sooni (Taraporevala) knows and understands films. This is one role I wanted to play.
You made your acting debut in your fatherís debut directorial venture Yun Hota To Kya Hota and then you acted in Dil Dosti Etc.
I will act in more films but the role has to appeal me. Also Iím still recovering from the near fatal accident I met with some time back. In fact, Sooni had to bring in a minor change in the script. I am shown limping in the film and that was after Sooni thought that to bring in a more realistic touch she should include it in the script. The train incident was something, which still gives me shiver down my spine. I almost stayed home for months after that. I read a lot of books, and practiced music. I wrote a lot of songs and a few scripts.
You plan to direct films?
I will for sure do that. May be soon, may be it will be delayed by sometime but certainly I will. Music takes a lot of my time.
So, where has music taken you?
It hasnít taken me anywhere. I am playing a lot these days`85at the colleges and city bars. Now my band is more established. We are focused. Letís see what happens next.
Your parents are actively into theatre and to a great extent you too are. Any plans of directing a theatre?
Our theatre group Motley is really doing fine. We still have 10 live productions and my dad and mom are happy with the way it is doing. I though intend to direct a film first.
Have you seriously taken a decision?
Of course but I canít promise the time. There are a few scripts. I havenít even decided which one to direct.
What about directing your father some day?
Why not? There are a few roles where I have him in my mind. I havenít spoken to him at length. It will be interesting`85 he is a great actor.
But your father has always said that he is a bad director?
Thatís because his only directorial venture didnít work. But I think the opposite. Yun Hota`85 didnít work because there were a lot many problems. It wasnít marketed well. Moreover, the producers had a completely different mentality from what my father has. At the end the film had only`85 say around 10 per cent of what was actually shot`85 Dad was upset. I know he has great potential as a director. He is better than many others today. But at the same time he is growing old and age has a lot to do with stamina. Maybe he is tired and has lost that enthusiasm. But I am always in the process of convincing him. I am sure I will succeed in making him direct a film some day.
Do you think that with realistic films being made today and actors like you, Abhay Deol, Rahul Bose, and Ranvir Shorey a lot of the industryís future depends on you?
Realistic films are being made but thereís a different side to it. Itís not only good roles but also the urge to try out something new. Be it films or the music in Bollywood, everything is changing. I think Abhay in that case has been lucky in getting good roles. He got a chance to work with some young talents who offered him good roles and he delivered his best. We couldnít have imagined such films as Dev D or Oye Lucky Lucky Oye or even Khosla Ka Ghosla a few years ago. So it is not the actors but the future depends on the new breed of directors who are doing a fantastic job.
ó TWF