TELEPROMPT
No more a pleasant experience
Mannika Chopra

The general election and various candidates may be getting wall-to-wall coverage on TV waves, but certain news stories have intrinsic ability to have much more impact. One such has been the expulsion of seven students from Lawrence School, Sanawar, for indulging in ragging and physically harming 11 boys. Ragging — a hangover of the British Raj, which encouraged the practice as a form of building character — has been a regular exercise, especially in educational establishments.
But over the years, in India it has taken on a more brutal, violent form, leading most recently to the death of Aman Kachroo, an MBBS student studying in Kangra. The recent incident in Sanawar was another example of how ragging, from being some sort of good-natured ribbing which aims at creating long-lasting friendships, even some sort of a cathartic experience, has become a tool to intimidate and injure juniors in the name of school traditions.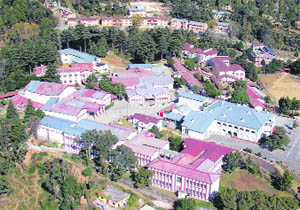 A view of Lawrence School, Sanawar
Sadly, it is not as if the channels covered the incident in a meaningful way. Certainly, the immediate event got play because of the expulsion and the fact that a very blue-chip public school was involved. NDTV's Vikram Chowdhury stood balefully outside the gates of Sanawar giving his piece to camera, and we saw umpteen file shots of the school with happy students milling around. A few parents of the affected children were also interviewed.
Initial reports even suggested that the parents were getting ready to file an FIR against the school but they then withdrew from that position after hearing that the bullies were being rusticated. But surely his story should have gone beyond the on-the-spot reporting. Not only in Sanawar but all over India ragging has become the staple of many schools and colleges. Unchecked, it has become one of the vilest forms of coercion, creating a completely negative experience.
Even if students are too scared to reveal all, it's surely not hard to get actual examples from children who have passed out or even those who preferred leaving school rather than being subjected to this ragging. It is not a Bofors type of investigation where the facts, at least according to the CBI, are non-existent. It would have been fairly easy to give some context, a history of ragging in schools, or how every one knows that educational establishments have conventionally turned a blind eye to these heinous acts of explosive anger.
Even though Lawrence School went into a lockdown mode, it would not have been difficult to get more instances, and hold it accountable. In fact, after the Sanawar case, one or two more incidents connected with the same school appeared in the print media the next day. But news channels for the most part did only a cursory job. There was, however, a bit of dark humour. Gustakhi Maph, NDTV India's daily satire spot, had Mrs Arora's son boxing and biffing around, learning the art of self-defence, just because he was about to join a boarding school.
With elections in Punjab on this week, coverage of the candidates is in full swing. There was Navjot Singh Sidhu, the BJP candidate from Amritsar, on the one hand laughing his way through his campaign, and on the other, surprisingly, talking of issues like corruption and development. Then there were the likes of Maneesh Tiwari, the Congress spokesperson and candidate from Ludhiana, who were holding forth. In his best folksy Punjabi, Tiwari was trying to rouse the crowds but there was no real connection.
For those who find the election coverage tedious and a complete waste of time, there are some silver linings that make sure that the defining line between politics and entertainment is lost forever. So if you guess who will become Prime Minister, NDTV is giving you a Skoda as an award. And if you can guess who are the pixilated politicians, Tata Sky is assuring you free trips and other assorted goodies.