SOCCER FAMILY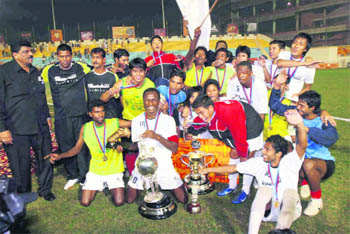 After fish curry, it's football for Churchill Brothers, writes Mayabhushan Nagvenkar about the club that has won the I-League
Churchill Brothers is one of those rare family-owned football clubs that has made it really big on the national football scene. Their maiden I-League win last month shows the passion with which the Alemaos of Varca have nurtured this club since its formation in 1988.
PLAYING FROM THE HEART: Family-owned Churchill Brothers club has made it really big on the national football scene Photos PTI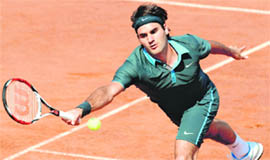 Is Roger losing grip?
Paul Newman
If someone calls Roger 'average' they had better be really, really, really good at what they do. People saying that has really been pissing me off all deserves....I'll take his 'average year' any time," says Andy Roddick. It was at the Tennis Masters Cup that Andy Roddick bridled at a question about Roger Federer's "average year".
Tiger set to prowl on Bethpage


Larry Fine
Tiger Woods is eagerly anticipating his return to Bethpage Black for next month's US Open, a venue where he will be defending the US Open title in familiar and successful surroundings. Woods won the tournament when it was first staged at the sprawling public course in 2002 and returns to Long Island as the champion after a thrilling 19-hole playoff triumph over Rocco Mediate last year at another public course, Torrey Pines.