Living on the edge
Stunt guru Alan Amin, on the lookout for a Stunt God, believes in living life dangerously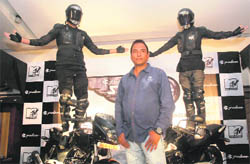 A 300 ft jump from a cliff, freezing waters rushing beneath, blowing-up high-rise concrete structures, smashing cars, sometimes even burning cars somersaulting over the other, high speed chases in air, water and on road and action packed face-offs with dangerous creatures. For most of us, these are flashes of a worst nightmare, but for Alan Amin, India's most celebrated stunt guru and the man behind the mindboggling stunts in Bollywood, it is everyday life.
An actor and a gentleman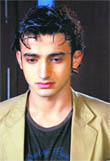 Romit Raj supports the cause of the girl child both in reel and real life
Romit Raj, the Yuvraj and Jeet of Maayka and Ghar Ki Lakshmi Betiayaan, respectively on Zee, got so much influenced by the portrayal of women issues on the small screen that he has joined hands with Kiran Bedi's Navjyoti India Foundation to support the woman cause. "When Zee started the campaign with the Navjyoti foundation to save the girl child through its new show Agle Janam Mohe Bitiya Hi Kijo, I as Zee cast was promoting the campaign.
Romit Raj
Signature style
A book titled Michelle Style: Celebrating the First Lady of Fashion, will talk about the First Lady's varied fashion sense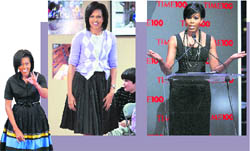 Michelle Obama is certainly one of the biggest fashion icons of recent times, and now a new book describing her fabulous fashion choices is set for release in the US. The book, Titled Michelle Style: Celebrating the First Lady of Fashion, is authored by former fashion magazine editor-in-chief Mandi Norwood and chronicles Mrs Obama's signature looks.

U.S. First Lady Michelle Obama attends a students' performance for the Cinco de Mayo at the Lamb Public Charter School in Washington, Michelle Obama speaks to the audience during the Time 100 Gala in New York Photos: Reuters
Together we exit!
Naomi Campbell refused to attend the Costume Institute gala because her friend Azzedine Alaia was not invited
Supermodel Naomi Campbell decided against attending a recent fashion event just because one of her close friend was not invited. The catwalk queen has refused to attend the Costume Institute gala at the Met only because her dear friend, designer Azzedine Alaia, has not got an invitation to the event. "Naomi, having supported this gala event for many years, planned to attend this year and even purchased a table. However, as she does not wish to be disloyal to Alaia . . ." a representative for the diva was quoted as saying. However, a spy said: "Please. She only decided not to go after Karl Lagerfeld decided against going." Sources have also revealed that Campbell hosted a "Supermodel" party at her Time Warner Centre apartment on May 3, where Vogue's Hamish Bowles showed up "begging her to come to the Met". Campbell's representative didn't comment, nor did a Vogue spokesperson return calls. — ANI
Ex-files
Hollywood actor Jennifer Aniston's representative has denied reports which claimed that the Friends star had a secret rendezvous with her ex-husband Brad Pitt. In Touch magazine had earlier reported that the ex-couple have been in touch through the phone and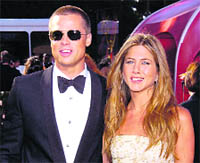 enjoyed a long drive through New York after Pitt picked Aniston from the sets of her new film The Baster. But Aniston's representative has dismissed the story as untrue, reported Femalefirst. "He (Pitt) pulled up in his black SUV. He arrived on the opposite end of the set from where Jen's trailer was, and Jen snuck into his car. They drove around New York City together, talking. They had to plan it meticulously so no one would find out" a source on the sets had told the magazine.The report also said that Pitt had driven from the set of Salt where he spent time with current partner Angelina Jolie and then went on to meet his ex.— PTI
Guess what?
Italian fashion house Gucci sues rival fashion and
leather goods label Guess Inc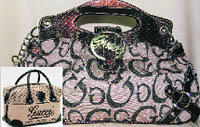 Gucci accused Guess Inc of imitating trademarked designs,including a green and red stripe, a repeated interlocking G Gmark and stylized G mark it emblazoned on accessories like handbags, belts, gloves, watches and glasses.The lawsuit, which was filed in Manhattan federal court and seeks unspecified monetary damages, also accused Guess of copying a dress featuring an interlocking GG diamond motif.
Taste bhi, health bhi
For the calorie conscious lot, iced tea has become a healthier option
Chilled, is the only word that sounds good in this blistering summer heat. It must have been on a hot summer day when Richard Blechynden, a tea plantation owner (during the 1904 World's Fair in St Louis), discovered an innovative way to serve tea—cold. While he poured the delicious beverage over ice to entice his guests, for the calorie conscious people of today, ice tea is definitely the preferred drink over the aerated colas. And more to what sets this tea apart from the usual cold drinks is a few health benefits it offers.
Bon Appetit
The hidden agenda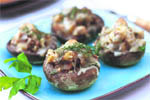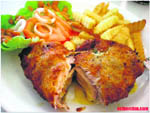 When we are about to transfer food into our bellies, we are tickled indeed when we find that the food itself is hiding some unexpected stuffing in its own belly! I was sorely tempted to name this column: "Get Stuffed", but it does border on abusive, doesn't it? At home, we will come across the ol'faithful kofta, stuffed with some crumbled cheese, or a dried plum, or a clump of tamarind.
It's finger licking good!


This summer season, KFC introduces its blockbuster new offering, 'BoxMaster', a complete meal that packs in your favourite superstar, Hot 'n' Crispy chicken along with the supporting cast of spicy hash brown, crispy lettuce, fresh and juicy tomatoes, pepper mayo and cheese wrapped in a warm toasted tortilla. This star-studded meal not only satisfies your appetite but also offers great value for money. Box-Master is available at a great price between Rs 105 to Rs 115.

So, prepare yourself and indulge in this scrumptious meal that will satiate your hunger; BoxMaster is now available at a KFC near you. — TNS

For moms with contemporary choices, arcades are brimming with youthful stuff with effervescent style and verve on Mother's Day, says Saurabh Malik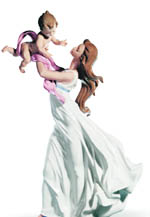 Move over, predictable salwar-kameez with imposingly unimposing floral prints. Pave way for smarter and sleeker glam-doll moms sashaying down the enchanting ramp of life in versatile spaghetti tops, and boyfriend jeans. The ones brimming with effervescent style and verve! Just in case you are wondering why this hullabaloo about mothers and their dressing styles, don't look perplexed.  Mother's Day is just round the corner and its time to grab some exceptional gifts for unconventional mommies.

Poster colours
Art for a cause has once again become the centre stage, with students of the Institute of Fine Arts-8 organising their annual

exhibition at the Government Museum and Art gallery-10. An event in its second year, the event has become a means for displaying the creative best of the classroom as well as carrying social messages across. It displays 80 works by 32 students and outlines issues like terrorism and child labour, sending a strong message through the canvas. Most of the works include posters and graphical illustrations, photographs, rendering work and even animated characters. "Last year we had taken up global warming as a theme. This time, in the wake of growing insecure environment, terrorism and child labour find place in the creativity of young minds," says Balbinder Basson, director of the institute. Samwartak Singh, director, tourism and DPI schools, inaugurated the exhibition. —TNS
On till May 10