'ART & SOUL
Memory of a city
A virtual reality show at Melbourne on Vijayanagar offers a strikingly different visual
and emotional experience, writes B. N. Goswamy
Except perhaps in our own blessed land, the nature of exhibitions and exhibition techniques is undergoing a change, everywhere. New ideas are being explored, new vistas established. Each time one travels abroad, one is struck by how differently, and innovatively, exhibition designers are approaching their task. The intention is to bring something new, and fresh, within the viewer's reach: theme, content, technology and ways of thinking. It may not always work but at least one knows that honest efforts are afoot. Everywhere, as I said, except perhaps here. An odd scientific exhibition or two might tend to be a little different because the subject lends itself more easily to imaginative or dynamic presentation. But others?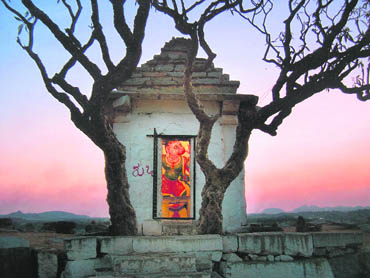 Hanuman Temple on the Hemakuta Hill at Hampi. Photograph by John Gollings

What has touched these thoughts off in my mind is what I read about a show currently on view in the Immigration Museum at Melbourne. It is a show about Vijayanagar: that great site which is now on Unesco's World Heritage list and was the locus of one of the greatest empires that two adventurers built up in southern India some 700 years ago. Everyone knows something about that 'Forgotten Empire', even if very little trace of its power and grandeur was left after its destruction in 1565. Today Hampi, the empire's capital, might be marked mostly by "granite boulders of varying tones of grey, ochre and pink", thrown together as if by "some primeval cataclysm", but once it was a bustling place the like of which did not exist in the entire region. Visitor after visitor who came to the kingdom — the Italian, Nicolo Conti, Abdul Razzak of Herat, Domingo Paes and Fernao Nuniz from Portugal, one a soldier and the other a horse-trader — saw the place with bedazzled eyes, unable to believe that such taste and such magnificence could exist all together at one place. The vivid accounts they left behind are almost breathless with wonder: the seven ramparts of the city, the towering temples and bazaars they saw, the imposing royal palace, the glitter of jewels and fabulous textiles, great festivals like the Mahanavami, phalanxes of soldiers and retainers.
But all, or nearly all, of that, ceased to exist, the combined Islamic powers of the Deccan having dealt a mortal blow to that Empire in one grand battle.
In our own times, however, Vijayanagar is back, in a manner of speaking: revived. The attention that this magnificent site has received at the hands of a team of dedicated scholars, the efforts of official agencies to restore what was left of the great monuments, the steady waves of pilgrims who keep turning to the great Virupaksha temple, the grandeur of the landscape with the Tungabhadra flowing at one end of it, are ensuring that. And now there is this exciting exhibition at Melbourne 'Ancient Hampi: the Hindu Kingdom Brought to Life', which is certain to keep drawing crowds. And, as far as one can tell from this distance, yielding them a strikingly different visual and emotional experience.
For, at the heart of the show, which features some stunning photographs of the site and the monuments, is a media-art installation titled: 'Place-Hampi'. It would be easy to term it simply as a virtual reality show, but it is in truth a "convergence of archaeology and dreaming", as someone remarked. Commissioned, interestingly, for the France-India Year sometime back, and shown first at the opera house in Lille, France, it clearly aims to 'elevate cultural heritage to a new level of experience', lead the visitor to 'a narrative re-discovery of a cultural landscape'.
As the visitor enters the circular display place, he/she is offered 3D glasses and encouraged to use a device on a central motorised platform to simulate movement around the site — as if by teleporter.
Panoramic images which were shot at the site with a pair of specially built cameras, one for the left eye and one for the right, start rotating through 360`BA; sound recordings made at the spot and digitised begin to play, great gods and local deities, who are believed to inhabit the temples and the landscape comes to life through animation techniques: Ganesha's great trunk lifts and slides, Garuda takes to wing, Hanuman leaps. The visitor is in the midst of it all, surrounded and enveloped, turning into a character in 'an embodied theatre of participation' in the drama that the past is.
I do not know how it all works in real life, not having seen the exhibition or the installation myself, but I can imagine the impact that this cultural imaginary could leave on the visitor, for somehow he becomes 'co-present' at the place. There are other aspects of the design, philosophical thoughts behind it, so to speak. No place is constant, the designers of the installation seem to say. Everything is in an ongoing state of re-definition, and every visitor, every pilgrim, every member of a different cultural audience, is entitled to hold a conversation with the past in his own manner.
It is not easy to argue with that premise.