M A I N N E W S
Don't have a pension plan? Go for NPS
Planning for retirement — when income ceases, but expenses continue — can be a challenging task. Investors must plan for retirement in a manner so as to ensure that their finances are sound enough to provide for their expenses and to help them in maintaining their desired lifestyles. This is where pension plans can play a vital role, writes Sanjay Khurana
What is New Pension System?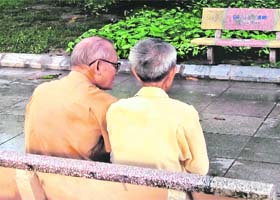 The New Pension System (NPS) is a scheme where individuals contribute for their financial security when they retire from their work. Those who decide to join the NPS will get a Permanent Retirement Account Number (PRAN).
A central record-keeping agency will maintain all accounts. Six different pension fund managers will share this common infrastructure. The fund managers will invest the money in three asset classes: E - investment in equities through index funds (either 30-share BSE Sensex or NSE's Nifty); C — investment in fixed income instruments; and G — investment in government securities.
Asset allocation
Two asset allocation options are available: Active Choice and Auto Choice. In active choice, a subscriber can manage the investment portfolio on his own. You can choose your own mix of asset classes with a maximum limit of 50 per cent in equities. In auto choice, a subscriber who cannot make his own investment decisions, the scheme offers a default option as well. Here, till the age of 35, 50 per cent of your investments will be made in equities, 30 per cent in C category, and 20 per cent in G. After 35, investments in equities and fixed income instruments will be gradually reduced to 10 per cent over the next 20 years while investment in government securities (G) category will be increased to 80 per cent.
Subscribers can retain their PRANs when they change jobs or residence, and even change their fund managers and the allocation of investments among the different asset classes.
Two types of accounts available
Tier-I account: Individuals can contribute their savings for retirement into this non-withdrawal account.
Tier II account: Under this saving facility, individuals are free to withdraw their savings whenever they require.
Tier I account is available for contribution from May 1, 2009, while Tier II account is expected to start within six months.
Where can people sign up?
Anybody aged between 18 and 55 years can subscribe to this scheme from any of 285 Points of Presence (PoPs) throughout the country. These are run by 17 banks — SBI and its associates, ICICI Bank, Axis Bank, Kotak Mahindra, Allahabad Bank, Citibank, IDBI Bank, Oriental Bank of Commerce, South Indian Bank, Union Bank of India — and four other financial entities, LIC, IL&FS, UTI Asset Management and Reliance Capital. A subscriber can shift his pension account from one PoP to another. Subscribers can choose from six fund managers - ICICI Prudential, IDFC, Kotak Mahindra, Reliance Capital, SBI and UTI.
How often should a subscriber contribute to NPS?
The minimum amount per contribution is Rs 500, to be paid at least four times in a year. The minimum amount to be contributed in a year is Rs 6,000.
Exiting the scheme
If a subscriber exits the scheme before the age of 60, he/she may keep one-fifth of the accumulated savings and invest the rest in annuities offered by insurance companies. An annuity transforms a lump sum spent on buying the annuity into a steady stream of payments for the rest of the annuity holder's life. Insurance companies offer flexible investment and payment options on annuities. A person who exits NPS when his age is between 60 and 70 has to use 40 per cent of the corpus to buy an annuity and can withdraw rest of the amount. If a subscriber dies, the nominee has the option to receive the entire pension wealth as a lump sum or continue with the scheme. In the latter case, the nominee will have to open a new account with NPS.
Tax implications
The offer document does not explain how much an individual will be taxed. All that the offer document offers is, "tax benefits would be applicable as per the Income-Tax Act, 1961, as amended from time to time". As per current provisions, withdrawals from the scheme would be taxed. Generally, long-term savings have three stages: contribution, accumulation and withdrawal. The NPS was devised when the government was planning to move all long-term savings to a tax regime called exempt-exempt-taxed (EET), which means exempt at the time of contribution, exempt during the period when the investment accumulates and taxed at the time of withdrawal. So, NPS comes under the tax regime EET. In any case, the amount spent on buying an annuity would be exempt from tax.
Comparison with mutual funds
Since the NPS is meant for post-retirement financial security, it does not permit flexible withdrawals as in the case of mutual funds. Fund management charges are ridiculously low (0.0009% a year), as compared with mutual funds. The cost of opening and maintaining a permanent retirement account (PRA), and the transaction charge on changing address, pension fund manager, etc, is around Rs 400 now.
Returns
The NPS generated an average return in excess of 14 per cent in the last financial year, the first one in which it operated, handling the corpus of civil service pensions.
Flexibility
Subscribers have the flexibility to choose between fund managers. The PFRDA will publish net asset value (NAV) of all funds every year in April. In case the subscriber is not satisfied with his fund manager, he/she may switch over to another.
FAQs
Would my personal information be confidential?
Yes.
Under what circumstances can the account be closed before attaining the age of 60 years?
The account can be closed under following circumstances: death, if account value reduces to zero and change in citizenship status.
Can someone else make contributions on subscriber's behalf, in case he is unable to make due to any reason?
Yes.
What will be the penalty in case a subscriber is unable to deposit the minimum annual contribution?
The subscriber will have to bear a default penalty of Rs 100 per year of default and the account would become dormant. In order to re-activate the account, pay the minimum contributions, along with penalty due.
What are the risks of investing in NPS?
As with every investment, there is a degree of risk under NPS also. The value of your investment in NPS may rise or fall. There are no guarantees on investment. NPS is a defined contribution plan and the benefits will depend upon the amounts of contribution invested and the investment growth up to point of exit from NPS. All investments are subject to market risks and there is no assurance or guarantee that the investment objectives will be achieved.
Value of your investment may go up or down depending upon the forces and factors affecting the financial markets.
The scheme appears to be attractive for employees of the unorganised sector and those who don't have any pension benefit after their retirement.