God willing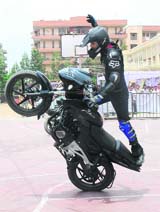 Tricity has no dearth of daredevils and MTV's hunt for the Stunt God at Panchkula proves just that
Follow your passion, break conventions, show the world that you have it in you; attitude and courage are on the sidelane, and of course fame will follow. A generation that eats, drinks and sleep adventure, there is nothing like The End. So, another thrill-ride for the fast and the furious cult of youngsters continues. Or, let's say it started with MTV Pulsar Stunt Mania auditions at Panchkula. Enfolding action-packed drama from the word go, the new stunt biking reality show will have India's 10 best bikers, at their daring best live on TV.
Debi's Aradhana
Winner of the President's Award Pandit Debi Prasad Chatterjee, an eminent sitar maestro, shares his vision on gharana tradition, fusion music and proliferation of Indian music abroad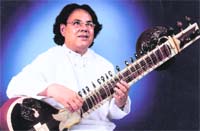 With its inviting depths of tradition in the primitive, folk, devotional and now popular, the Indian classical music has varied and enriching cultural contexts. Always open to innovations by the great masters from time to time, the unifying force of rich Indian music has transcended the barriers of geographical lines to enrapture the music lovers abroad," claims the Kolkata and Redmond, WA (USA)-based Pandit Debi Prasad Chatterjee, an eminent sitar maestro.
Paris in paradise
Socialite Paris Hilton is apparently determined to tell the entire world how much she loves her boyfriend Doug Reinhardt, for she is spending most of her romantic break with him posting messages on Twitter. She has left Twitter posts with titles like 'Loving life with my love', 'Lovers in paradise' and 'My smooches from a secret island'.
What a party!
Actor Demi Moore and her husband actor Ashton Kutcher pose for photographers upon their arrival on the red carpet for the annual black-tie White House
Om Shanti Om
Andrea Devi Forman, the lead singer of the only Sanskrit rock band of the world Shanti Shanti, married an attorney Joel A. Santos in a traditional Catholic church ceremony in Sparks (Nevada, USA) recently. Acclaimed Hindu statesman Rajan Zed, who was present at the wedding, will also bless the couple in customary Hindu way once they return from their honeymoon in Canada.
Befitting gift
Hollywood actor Gwyneth Paltrow is donating a session with her personal trainer Tracy Anderson to a celebrity charity auction. Tracy Anderson, who also trains Madonna, will give personal training session to bidders in a bid to raise money for the Clear Water Initiative, a charity seeking to provide clean water to those without it.
Mother's Day out!
American pop boy band Jonas Brothers' mum likes to spend Mother's Day cooking up a special treat for her boys. Denise Jonas gets her sons to drop their plans for Mother's Day, and instead asks them to help her out in the kitchen as she serves up Filet Mignon with Chinese Coleslaw.
Insomniac
Enrique Iglesias has revealed that his insomnia is proving to be troublesome, as the sleeplessness forces him to pop more and more sleeping pills in a bid to doze off. The Falta Tanto Amor hit-maker has revealed that his increasing sleeping pill intake has become a cause of worry for him. He says though he pops in more and more pills to get sleep, he wakes up with an annoying morning hangover.
BODY wise
Knee-jerk action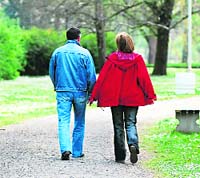 Weak knees are a common problem. Many of us have bad knees from too much running, high-impact aerobics and sport in general. Sometimes the problem is structural, and sometimes it's poor technique, bad shoes or inadequate conditioning. Bad knees are bad news when it comes to staying active. And once you have damaged your knee, you've compromised your ability to enjoy to the fullest whatever type of physical activity you love doing. You've also compromised your chances of having a vital and satisfying old age.
Randeep Hooda's fitness mantra

Feel good factor
This one is for all you boys pumping iron at the gym, running on the treadmill for hours, Getting into one or the other form of vigorous exercise, to get into those neat and chiseled six pack abs— It is no good. For, actor Randeep Hooda feels a good personality sans the abs is more appealing. "Women like men with a good sense of humour and that has nothing to do with extensive weight training. Nevertheless, it is important to be healthy and fit. More than this, one should feel healthy," he says. So, here we have, the actor star of Rang Rasiya shares his fitness regime, which has nothing strictly fit about it.


Grit your teeth


It's not impossible to have that perfect set of denture, says Dr Bimaldeep Singh, centre head of Dental Clinic, Fortis Hospital, Mohali
If teenagers in the city are rushing to dentists in droves these days, it's certainly not to get new braces fixed. The lifestyle these hip and happening youngsters lead are throwing up a multitude of dental problems caused by excessive smoking, drinking and bad food habits.
Yum's the word!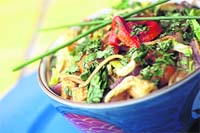 The best way to lose weight is to eat a little of the foods you crave, that's the suggestion of an Australian doctor. Dr George Blair-West, in the country for Diabetes New Zealand's annual conference, believes that he understands why diets don't work - and that the solution to effective weight cont rol is about getting around the psychological attachment to food. He says traditional diets that make people stay away from foods they love are ineffective and research shows ultimately people rebel against this deprivation and end up over-eating.
Kudi Chandigarh di
VJ Khushboo Kochhar Grewal is all excited about her act in Punjabi flick Munde UK De

Bubbly, energetic, full of life is how Khushboo sounds over the phone from Mumbai. Pretty excited about the release of Munde UK De in which she plays an NRI girl Candy, Khushboo shares the experience of being in the industry, her life and dreams. "Munde UK De was a fun all in all. The shooting happened largely around Chandigarh and the film unit was like a large family. The director Manmohan Ji, and the cast Jimmy Shergill and Neeru Bajwa were very cooperative."
Face the Sun
The 'fashionable way' to prevent skin cancer


Just applying sunscreen doesn't guarantee full protection in the summer, and thus researchers have now offered insight into how some of today's hottest fashion trends can help play it safe in the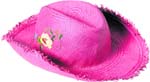 sun without leaving you feeling like a well-greased baking pan. Dr Susan Y. Chon, assistant professor in The University of Texas M. D. Anderson's Department of Dermatology, has explained how the hottest trends from the spring/summer 2009 runway shows can also provide skin cancer prevention and maximise clothing's sun protection power.