VC proposes grade system from next yr
Chandigarh, May 11
Panjab University from the coming session will switch to the UGC recommended grade system to evaluate the performance of students.
Man gets life term for killing wife
Chandigarh, May 11
Additional District and Sessions Judge Raj Rahul Garg today sentenced Sunil to life imprisonment for battering his wife to death. In one of the speediest trials, the court also imposed a fine of Rs 25,000 on Sunil, a resident of Indira Colony, Manimajra.
'Why can't Cong, BJP join hands?'


Chandigarh, May 11


He comes across as a "suave" politician but prefers to call himself a "Bihari babu". Retaining his superstar aura, Shatrughan Sinha, aka Shotgun, is indeed different from all others in his league. For who else could dare to raise the question as to why cannot the BJP and Congress come together to form a government in the Centre for stability in the country.
Shatrughan Sinha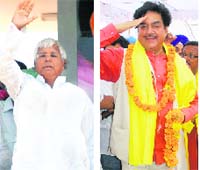 Lalu works magic on residents
Chandigarh, May 11
Thousands of voters residing in the city, mainly those hailing from Western Uttar Pradesh and Bihar, today witnessed what they would have only been wishing for.




Lalu Prasad Yadav and actor Shatrughan Sinha campaign for their respective party candidates in Chandigarh on Monday. Tribune photos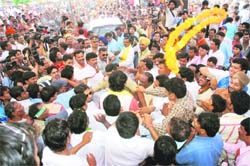 Shotgun fires his salvo
Chandigarh, May 11
His famous 'Khamosh' had made him a household name decades back. Years later, his charisma is no less. It has only grown and his political image has only added to it.




Actor-turned-politician Shatrughan Sinha swarmed by BJP supporters in Chandigarh on Monday. Tribune photo: S. Chandan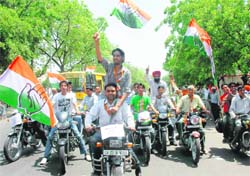 Road shows invite 178 challans
Chandigarh, May 11
Cocking a snook at the traffic rules, political parties today showed their strength on city roads. Both the supporters of the Congress as well as the BJP took out a road show in jeeps and on two-wheelers, holding party flags, in different parts of the city.



Bikers violate traffic rules during a Congress rally in Chandigarh on Monday. Tribune photo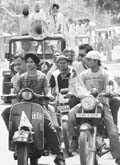 Road shows on last day of canvassing
Mohali, May 11
On the last day of the canvassing, senior leaders of the Congress and the Shiromani Akali Dal (SAD) canvassed for their respective candidates from the Anandpur Sahib Parliamentary seat while holding road shows in the city. The BSP candidate, Kewal Krishan Chauhan, held the road show in Nayagaon and rural areas around the town.

Lawlessness prevailed as youths without helmets could be seen in road shows organised by various political parties in Mohali on Monday. Tribune photo: Vicky Gharu
Candidates turn to polling booths
Chandigarh, May 11
With the campaigning din over for the last phase of the Lok Sabha elections, candidates for the lone seat of Chandigarh plan to spend the penultimate day of polling with their party workers, planning last-minute strategies for booth management.
Rising prices major plank, says BJP
Chandigarh May 11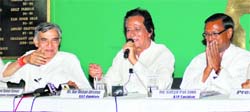 "Price rise is the single most important issue affecting everyone. If voted to power, the first endeavour of the BJP would be to check it," national secretary of the party, Kiran Ghai, said here today.
Pawan Bansal, Harmohan Dhawan and Satya Pal Jain during a debate at Chandigarh Press Club on Monday. Tribune photo
Vote and say cheers!
Chandigarh, May 11
A city-based liquor trader has offered an incentive to those who cast their vote in the city on May 13. "After showing their index finger, the voters can claim discount on liquor purchased from me," said the trader, Satya Pal.
Ban on sale, serving of liquor
Chandigarh, May 11
As the general election for the Chandigarh parliamentary constituency is scheduled on May 13, the District Magistrate has declared the period from 5 pm on May 11 to 5 pm on May 13 and complete day of May 16 as dry days.
2 companies for city police
Chandigarh, May 11
The Union Government has sanctioned two companies of paramilitary forces to the Chandigarh police for election duties.
Councillor's corridor of power
Panchkula, May 11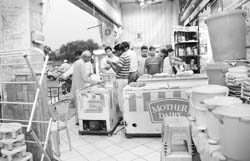 Finding it an opportunity, the shopkeepers once again have started encroaching upon the corridors in the markets of the town when the administration was busy in conducting the parliamentary elections. The corridors meant for the visitors were vacated last year after vigorous efforts by the former Deputy Commissioner Rajender Kataria following complaints from the residents.
A shop owned by a councillor has encroached upon a corridor of a market at Swastik Vihar in Panchkula. Tribune photo: Pradeep Tewari
Plan your trip in advance
Popular trains running jam packed this summer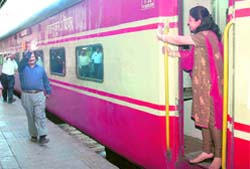 Chandigarh, May 11
If you presume a holiday plan with your family in this summer season will work out on the spur of moment, beware! Over confidence to get railway tickets can mar your plan.






With summer holidays, trains are running to capacity. Tribune photo: Monoj Mahajan
RBI seeks advice on currency notes
Chandigarh, May 11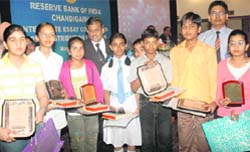 The Reserve Bank of India (RBI) is finally reaching out to the public. Concerned about the quality of currency notes in circulation, the apex regulatory bank has sought suggestions from schoolchildren across the region (by way of an essay writing competition), on how to keep currency notes clean and crisp.
Prize winners of an essay writing competition along with RBI regional director Dr J Saddakadulla in Chandigarh on Monday. A Tribune Photograph
Market suffers due to lack of amenities
Panchkula, May 11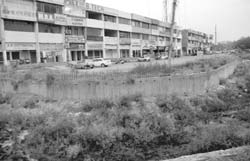 The shopkeepers of Swastik Vihar market, set up 15 years ago, have been left in lurch as the market lacks the basic amenities while the development agencies pass the buck on each other. Though the Municipal Committee has been charging lakhs of rupees as land rent from the shopkeepers, many of them have been not provided any direct access from the road.
The market set up on the bank of a nullah at Swastik Vihar, Panchkula, has no entry point. A Tribune photograph
Health dept seizes intoxicating drugs
Patiala, May 11
The Punjab health department has seized more than 1.2 lakh capsules, 10,731 injections and 228 vials of banned intoxicating drugs from a wholesale veterinary pharmacist's shop in Indira Market here today.
All set for 24-hr emergency ward
Chandigarh , May 11
Residents of the city can now look forward to additional healthcare services. The primary health centre in Sector 22, now upgraded to civil block hospital, is set to launch its 24-hour emergency ward.
Scientists discuss advances in bio-nano technology
Chandigarh, May 11
A brainstorming session on the role of Bio-Nano Photonics for healthcare and agriculture sectors marked the Technology Day at the Central Scientific Instruments Organisation (CSIO) here today. The session dealt with the use of molecular tools and molecular knowledge along with the technology of generating, transmitting and manipulating light to achieve scientific goals.
Health tips given to mothers
Chandigarh, May 11
On the occasion of Mother's Day, a free health check-up camp was organised yesterday at Sant Isher Singh Public School, Mohali, in collaboration with Simply Health Plus.
Pt Debi Prasad spells sitar magic
Chandigarh, May 11
The Baithak music concert at Pracheen Kala Kendra here today was a perfect union of melody and aesthetic potential as sitar maestro Pandit Debi Prasad Chatterjee, an alumnus and teacher from Shantinketan, spelt magic with his sitar.
SGPC member seeks probe
Mohali, May 11
Hardeep Singh, a member of the SGPC, yesterday said two distorted Birs containing Guru Granth Sahib and Dasam Granth in one binding was a matter of concern.
City Scope Letters
Urban masses should pitch in, too


Aptitude test fails to take off
No councillor to conduct exam
Chandigarh, May 11
Class X pass outs, who were keen to take the aptitude test in order to make a career choice, returned disappointed from the State Institute of Education (SIE), Sector 32, as the post of a permanent councillor is lying vacant.
Students from Mohali town not on merit list
Mohali, May 11
No student from Mohali town made it to the merit list of the middle standard examination of the Punjab School Education Board. However, five students from other parts of the district made it to the list.
Students run for peace
Patiala, May 11
A "Run for Peace" programme was organised by students of local schools. The programme was organised under the patronage of Patiala Sahodya School Complex.