What people want, need & believe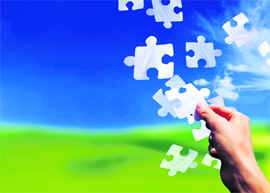 Market research collects info about consumers & their choices and analyses, interprets it to aid decision-making. As there are few takers for this branch of marketing, consider doing your own research on the career this summer
IN a few days we will know the actual outcome of the General Elections of 2009. But over the last couple of weeks there have been many market research studies conducted to figure out the direction of political winds.
Career Hotline
If you love math, this is your time


Q. I have done BSc (PCM). Now I want to do MA and PhD in mathematics. Is it right decision and what are the career opportunities available for me after this?
— Vivek Khanna
A. You don't realise how lucky you are that you love and enjoy math! After all, math and science hold the key to innovation and power in today's world. This is the Golden Age for masters and PhD degree holders in mathematics. Career opportunities are truly wide and varied for those who have a talent and passion for this multifaceted queen of sciences. If you love numbers, this is a subject you'll really enjoy. Moreover, the skills you develop while studying for a maths degree — such as the ability to think logically and methodically — will prove to be a great asset in any profession. No wonder it is called the queen of sciences!

Glittering Path
DESIGNING jewellery is a unique art and offers promising career prospects despite the economic climate. Individuals fond of Jewellery, possessing knowledge of it and having a creative mind can explore career prospects in the sphere. Imaginative people with a penchant towards jewellery and designing may find this career fulfilling and satisfying.


Careercature
Sandeep Joshi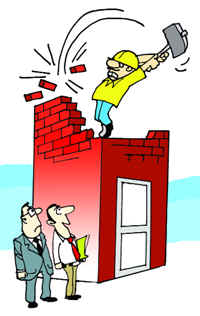 Sir, you want to restructure the company or reconstruct it?

Time for a skill upgrade
Employees fear skills will be outdated in five years: Women prefer on-the-job training, men professional development courses
NINE out of 10 Indian employees in an international workplace survey said they feared that their current skills would be outdated within five years and felt that more training was vital to remain competitive in the job market.
The meltdown
Job loss can really make you sick
With jobs shrinking, the odds of reporting fair or poor health are up by 54%
LOSING a job can lead not just to financial hardships but could also increase the risk of developing health problems such as high blood pressure and heart attacks, says a new study. Even when people find a new job, there is a raised risk of developing a new health problem as a result of the job loss, the study published in the May 8 issue of Demography claimed.
The meltdown
Men struggling more
MEN are struggling more to cope with the emotional impact of recession as compared to women, a new survey in Britain has revealed. According to the survey, almost 40 per cent of male respondents have admitted to feeling low with job security, work and money playing on their minds — yet, men are unlikely to talk about their feelings than women.