Names of many residents deleted from electoral rolls
Questions raised on working of admn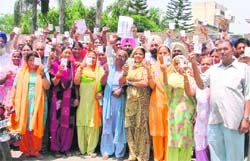 Ludhiana, May 13
Votes of hundreds of residents were deleted from electoral rolls in the Ludhiana parliamentary constituency, casting aspersions on the working of the election department here today.



Residents of Dabba Road, whose names were deleted from voters list, in Ludhiana on Wednesday. A Tribune photograph
Candidates ferry voters to polling stations
Violation of EC orders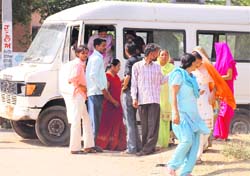 Ludhiana, May 13
In contravention of orders of Election Commission (EC), a number of residents were ferried by workers of various candidates to various polling stations here today.






A private bus being used for ferrying voters to a polling station despite the EC directions against this practice. Tribune photo: Himanshu Mahajan
Leaders violate poll code openly
Jagraon, May 13
Once again leaders of the area proved today that they were above law and the code of conduct does not apply to them. Gurcharan Singh Galib went to cast his vote at his native village Galib Kalan near here along with his family. He was accompanied by more than a dozen photographers who clicked then "memorable" photograph of his casting vote and making the victory sign thereafter. Not only this, a photograph of his family was also clicked by the photographers. Interestingly, a presiding office was stationed there to ensure free and fair election as per Code of Elections Rules 1961.
Cong, SAD activists arrested
Ludhiana, May 13
As many as 29 supporters, 16 of the Congress and 13 of the SAD, were nabbed by the police here while campaigning in the old city and Shimlapuri area today.
Ludhiana Calling
It happens only in Ludhiana
30-year-old man was spotted zooming down the city lanes in his brand new car in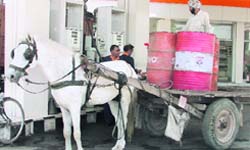 top gear. As the car kissed the air at the speed of 100 km per hour, a barricade put up at one of the city's busiest crossings blocked its way. The man behind the wheel was so annoyed at the sudden obstruction that he stopped the car right in the middle of the road and alighted from the vehicle. With an exasperated expression on his face, he walked towards the barricade and pushed it aside. Swearing at the one who had put up the hurdle, the man got into his vehicle and zoomed past the way he had cleared, much to the amusement of the onlookers. This surely happens only in Ludhiana.


| | | |
| --- | --- | --- |
| | | |
Departments show poor coordination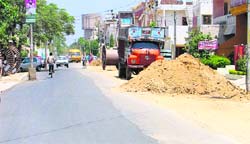 Ludhiana, May 13
When it comes to wastage of public money, it seems no one can beat Ludhiana as lack of coordination among departments is one of the reasons why the city still lacks basic infrastructure.



The road stretch in BRS Nagar where power cables are being laid by the PSEB. Photo: Inderjeet Verma
Petrol stations selling only premium variety of fuel
Ludhiana, May 13
Many petrol stations on the outskirts of the city are forcing consumers to shell out extra money for the premium variety of fuel. They do not give them other choice, making vehicle-owners to shell out extra money.
Power theft by Punjab Police continues
Ludhiana, May 13
The recent instance of a police post in Raghunath Encalve locality caught in the act of stealing power through two "kundi" connections is just the proverbial tip of the iceberg, and if highly placed sources in the Punjab State Electricity Board (PSEB) are to be believed, the Punjab Police has been indulging in massive power theft in the city as well as in the rural areas of the Central Zone, which included Ludhiana.
Airport project mired in controversy
Ludhiana, May 13
The establishment of Greenfield International Airport, Ludhiana, became a matter of controversy during the recent election campaigns. Both the Congress and SAD-BJP accused each other of failing to bring out the airport at the Ladowal seed farm.
'Food prices were highest in 2008'
Ludhiana, May 13
In 2008, normal prices of major food commodities reached highest level in nearly 50 years, while prices in real terms were the highest in early 30 years. This was revealed in a report of Bill and Melinda Foundation of USA. The report points out that the short-term visions were extreme, depletion of grain stocks, speculation, diversion of food crops for bio-fuels and the sky rocketing cost of energy and fertiliser. Behind these are long-term trends: changes the structure of food demands in rapidly growing economies, sluggish growth, emerging scarcity of water, continuing land degradation and the unfolding effect of climate change and decreasing investments in agriculture research. These factors suggest that high prices will continue for years to come.
Theatres make hay as Bollywood strike on
Ludhiana, May 13
As the cinema halls had to bear a great loss after the multiplexes had eaten up their major business, luck has finally smiled on these single-screen theatres for a short span of time, as film producers have decided to screen films in cinema halls now.
Villagers protest police inaction
Jagraon, May 13
Lamme Jatpura villagers today sat on a dharna at the Jagraon SSP office.
Villagers stay away from polling stations
Doraha, Sahnewal, May 13
It seems that election campaigns undertaken by various candidates failed to fructify, as only a small number of voters bothered to exercise their franchise here.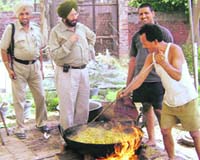 dmn puts best foot forward
Mandi Ahmedgarh, May 13
Unlike previous years when the poll staff was treated like "bonded labour", the administration treated them in a more humane manner this time.





SDM, Raikot, supervises langar preparations at SGG College near Raikot on Wednesday. Photo Mahesh Sharma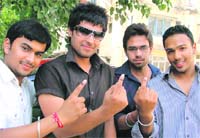 First-timers show excitement
Ludhiana, May 13
People voting for the first time enthusiastically participated in the electoral process here today.




First-time voters show their inked fingers after casting their ballot in Ludhiana on Wednesday. Photo: Inderjeet Verma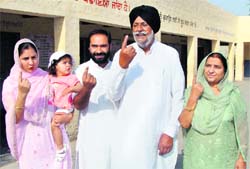 Gurcharan Singh Galib after casting his vote at Galib Kalan village near Jagraon on Wednesday. Photo: Rakesh Gupta
Elderly suffer as poll station set up upstairs
Ludhiana, May 13
While the Election Commission (EC) may have tried to help voters through various efforts, the elderly and some disabled, who had polling station at Public Model Senior Secondary School, Vishkarma colony, had a tough time climbing stairs.
Compulsory voting 'not possible'
Ludhiana, May 13
The low voter turnout in Mumbai and other urban constituencies has irked politicians. Prime ministerial candidate LK Advani has been reported to have said tha voting should be mandatory and those who do not vote should be fined.
Cops heave sigh of relief
Ludhiana, May 13
As the polling of the general Lok Sabha elections came to an end, the police heaved a sigh of relief.
Shops remain closed due to polls
Ludhiana, May 13
Business activity in the city came to a standstill due to the polling for the fifth phase of the general elections here today. Even the shopping malls and complexes remained closed throughout the day.
Journalists condemn attack on media
Mandi Gobindgarh, May 13
Members of the Punjab and Chandigarh Patarkar Parishad today, in a meeting chaired by its president Bhushan Sood, condemned the attack on a team of journalists in Ludhiana yesterday.
College farewell function
Mandi Gobindgarh, May 13
Students of MBA (part I) of the Desh Bhagat Institute of Management and Computer Sciences organised a farewell party for their seniors.
Nurses' Day celebrated
Khamano, May 12
The Nurses' Day was celebrated at the Victor Institute of Nursing and Paramedical Sciences, Ranwan, near here. The function started with the address delivered by Arvind Kaur, principal of the institute. Director of the institute BS Garcha emphasised the need of discipline and dedication in the profession and appealed to the nurses to follow the spirit of Florence Nightingale. Students of GNM wing participated in a debate.
'Spirit-2009' from May 15
Ludhiana, May 13
A three-day spots and cultural meet "SPIRIT-2009" will be organised by Lord Mahavira Homeopathic Medical College and Hospital, Civil Lines, from May 15 to 17. Participants from different homeopathic medical colleges of North Zone, including Delhi, Rajasthan, Haryana, Uttranchal, Himachal Pradesh, besides, host Punjab, will fight for top honours during the meet.


Softball trials today, tomorrow
Ludhiana, May 13
The Punjab Softball Association will conduct trials to select the Punjab women's softball team at Ramgarhia Educational Complex, Miller Ganj, Ludhiana tomorrow at 9 am and to select men's team at Amritsar on May 15 at 12 noon.