M A I N N E W S
Left sees red as US diplomat calls on TDP chief
Suresh Dharur
Tribune News Service
If the report that Peter Burleigh advised Chandrababu Naidu not to go with the Left parties is correct then it is highly objectionable. It is totally unwarranted on the part of the US envoy to make political comments and try to influence the decision-making of the political parties here. — CPM spokesperson YV Rao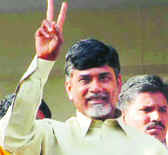 N Chandrababu Naidu

Hyderabad, May 14
The United States charge d'Affaires Peter Burleigh's meeting with TDP president N Chandrababu Naidu and actor-turned-politician Chiranjeevi has triggered a political storm in Andhra Pradesh.
Burleigh flew down here on Tuesday and called on several leaders, including Naidu, Chiranjeevi and state Assembly Speaker KR Suresh Reddy.
The American diplomat's meeting with Naidu triggered speculation that he was on a mission to persuade the TDP leader not to back the Left parties' efforts to form the Third Front government at the Centre.
Since Naidu is a key player in the Third Front politics, the meeting assumed significance and evoked strong reaction from Left parties.
While TDP sources maintained that it was a courtesy call and no politics was discussed, the CPM spokesman YV Rao said it was an attempt to interfere in the internal affairs of the country and influence the political decisions.
"Burleigh met with Naidu for routine consultations. The US categorically denies any attempt to interfere in India's democratic political process," a spokesperson of the US embassy said in a clarification.
Senior TDP leader K Rammohan Rao, who was present when the US envoy met Naidu along with deputy chief of the US mission in India Steven J White, said there was no political significance to the meeting.
"They also met Chiranjeevi and the Assembly Speaker and just made general enquiries about political scenario in the state. The meeting has been blown out of proportion by the media," Rao said.
However, the CPM leader was more caustic in his response. "If the report that Burleigh advised Naidu not to go with the Left parties is correct, then it is highly objectionable. It is totally unwarranted on the part of the US envoy to make political comments and try to influence the decision making of the political parties here. It is an infringement on the sovereignty of the country," the CPM leader said.
The CPI national committee member and MP S Sudhakar Reddy went a step further and demanded that the Centre take firm action against Burleigh for his interference in India's political affairs.
"The US has no business to give advice to political leaders on who should support whom. It is not proper on the part of the US officials to meet political leaders when the election process is on. They cannot influence the decision making of our leaders. I want to know from the US authorities whether they had taken any permission from the Election Commission or the Centre before meeting political leaders," Reddy said.