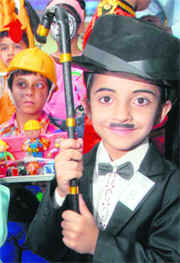 Classics@couture
What better way to relate to reading than revisit fictionís favourites, fashionably! Thatís what happened at the Dress Up Britain event, where Charlie Chaplin to Alice in Wonderland, characters from British classics and real life came alive
Princess Diana, Monty Panesar, David Beckham, Charlie Chaplin, Alice in Wonderland, Sir Newton, John Lennon, they were all there! All in the same league; not one less than the other. Whatís more? Thirty-seven of them! Donít trust? Then donít say! On Thursday, as part of its ninth anniversary celebrations titled, Best of Britain, British Library-9 kickstarted the event with a fancy dress competition: Dress Up Britain.
CHARLIEíS ANGEL: A tiny tot turns up as comedian Charlie Chaplin


A spiritual journey
Sardari Lal Prasher (1904-1990) - a master of English literature and India's most significant sculptor, painter, social reformer and art educationist. The name is not very familiar amongst the people like other Indian contemporary artists. As he never wanted to commercialise his creation, art was just a spiritual journey for him.


Itís a mad, mad world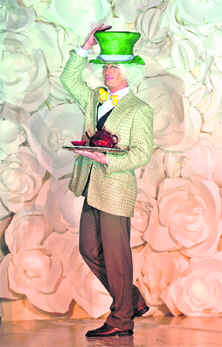 BONDING OVER BOOKS: Classics can connect, from one corner of the globe to another. For, this model at a recent fashion show at the 8th Annual Sweet Charity event in Washington too was inspired by Lewis Carrollís Mad Hatter from Alice in Wonderland.
AFP photo: Nicholas KAMM

History on canvas
Having drawn to the world of colours and creativity in early childhood, Amarjit Singh of Bathinda, has since then been passionately popularising Punjab's vibrant culture and history through art world. "My aim is not to put up exhibitions, but to educate the people of about our culture and traditions, which is fading away. I have taken up works of poets, writers, authors, and dramatists to visualise them and try to paint culture through the scenes of villages, cities and forests," said Amarjit.
Hello TUNEZ
It don't impress me much
99 (SA RE GA MA): The future of this film, like most others awaiting release, is caught up in the multiplex-producers controversy, but its music, which has been released will have nothing to blame if it does not click. Making a niche for itself is not going to be an easy task, considering that it is a mix of good (some) and bad (most). The overall impact is hardly encouraging.
Creative zone
Literary crusade
Predicaments of womanhood like gender disparity or secondary status, subjugation by demanding husband and prevailing male dominance in the modern social structure find an eloquent expression in the couplets of Urdu poet Rubina Shabnam. Born with the sensibility of a poet and literary temperament and living amidst realities of life Rubina has emerged as a crusader and literary exponent for socio-cultural reformation and women empowerment as amply reflected in her over half-a-dozen books in Urdu, Persian and Punjabi.
An evening in Cannes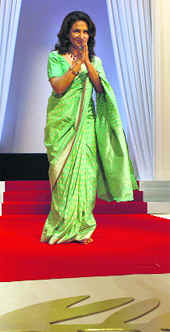 Member of the jury and Indian actor Sharmila Tagore arrives for the opening ceremony of the 62nd Cannes Film Festival on Wednesday. AFP photo: VALERY HACHE

Aishwarya looked a virtual Snow White on the Cannes red carpet
Passage from India
Bollywood diva Aishwarya Rai Bachchan stood out amongst the bevy of international beauties at the opening of this yearís Cannes Film Festival in her off-shoulder white Roberto Cavalli gown. The 35-year-old actor attended the premiere of the inaugural film Up at Palais De Festival in Cannes on Wednesday with the newly announced LíOreal world spokesperson, Elizabeth Banks.
Glitterati to causerati
Going beyond glitz, Ash campaigns for a cause
Aishwarya Rai, a regular at the Cannes Film Festival red carpet and LíOreal brand ambassador, is going beyond her glitz and glamour tag. She is beginning to reinvent herself on the global scene as an activist for social and humanitarian causes. As a step in that direction, the Bollywood diva will, alongside Queen Noor of Jordan, addressed a press conference on Thursday at Hotel Martinez at Cannes to announce the third edition of the International Tribunes Cinema Verite event that will take place in Geneva (Oct 6 to 8) and Paris (Oct 9-10) later this year.
Face in the crowd
Freida Pinto is new face of LíOreal
After Bollywood actors Aishwarya Rai and Sonam Kapoor, Slumdog Millionaire star Freida Pinto is the latest celebrity from India to join the star-studded line-up of cosmetic giant LíOreal Paris. The Mumbai native has been announced as the international spokesperson for the Paris-based beauty brand. The 24-year-old actor joins a long list of the brandís celebrity associations, which includes Hollywood A-listers like Jennifer Aniston, Beyonce, Scarlett Johansson, Penelope Cruz and Eva Longoria, reported Marie Claire magazine online.
Kites runner
Hrithik, Barbara head for Cannes to promote Kites
Bollywood star Hrithik Roshan is set to attend the special screening of his much-talked about film Kites with co-star Barbara Mori, said his father Rakesh Roshan, who also added that he will project the movie as his production houseís first truly international product. Director Anurag Basu will also be there with them at Cannes.
PEARL FINISH
Pearls ruled famous necks and fingers and ivory tones defined the star silhouettes on the inaugural nite of the film extravaganza

LEMON CLASS: Pearls and poise define member of the jury and Indian actor Sharmila Tagore at the opening of the Cannes Film Festival. AFP photo: VALERY HACHE


Carat couture:

Spanish model Eugenia Silva in her pearl and diamond neckpiece. AFP PHOTO / FRANCOIS GUILLOT


Floral fetish:

Jury member and Italian actress Asia Argento flaunts a diamond-encrusted cocktail ring. REUTERS/Regis Duvignau

IVORY TOWER(ING): Indian actor Aishwarya Rai is all pearls, puffs and pleats. AFP photo: CHRISTIAN HARTMANN