This Above all
I love free whisky, mangoes
KHUSHWANT SINGH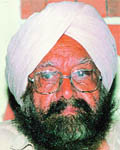 I have acquired some traits from my role model Mirza Asadullah Khan Ghalib. The first two are a taste for quality mangoes and premium brand Scotch whisky. The third is that both taste better when one doesn't have to pay for them. Like my ustad, I am a free loader. Ghalib had a passion for mangoes. He could eat a dozen a day. I can hardly cope with one. He had ingenious ways of persuading people to gift them to him.
He writes about one when he happened to be strolling with Emperor Bahadur Shah Zafar in Hayaat Bakhsh garden in the Red Fort. The orchard was heavy with ripening fruit. Ghalib said: "Your majesty, I am told that every mango has the name of the person who is going to eat it inscribed on its guthlee. I wonder, if any of these bear my name''. Bahadur Shah Zafar took the hint and a basketful was sent to the poet's home in Gali Qasim Jan in Ballimaran.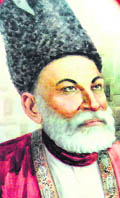 Ghalib made his admirers express their appreciation for him with bottles of good whisky
My mango season starts towards the end of April when alphansos arrive in Mumbai markets. At one time I used to receive three consignments every season—one from the Syedna sahib, another from Ajit Gulab Chand and Tavleen Singh, and the third from Saryu Doshi. For some years Syedna sahib has struck off my name. This year I got a packet without a card. I assumed it was from Tavleen, and wrote her a letter of thanks. It turned out to have been sent by Saryu.
But my misdirected letter of thanks reminded Tavleen to send me a crate. For me the real mango season begins when western UP mangoes come into the market—dussehris, langras, ratols and others. Two friends who own orchards see that I get the pick of their fruit. One is Parveen Talha, the other Abid Saeed Khan. Both are very generous with their products. I get more than enough for my family of three and neighbours. By then the mango season is over.
Ghalib made no secret of his getting his whisky on loan:
Qarz kee peetey thhey mai;
Par samajhey thhey haan;
Rang laayegee meree faqa mastee ek din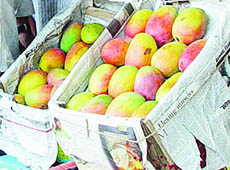 The real mango season begins when western UP mangoes come into the market
(On borrowed money I got my drinks, but I thought my penury will bring me glory one day. I am not penurious but reluctant to buy my liquor from the bazaar).
Like other free loaders, I find the OP (other people's) brand of whisky much tastier. I have a few friends who make it a point to come with a bottle whenever invited. When my stock runs low, all I have to do is to ask them to drop in for a drink. They replenish my dwindling stock. I am sure my hero, Ghalib, was also an ustad of the art of touching his patrons and admirers, and made them express their admiration for him with a bottle or two of good whisky.
Outsourcing prayers
Many years ago I happened to be in Nanded (Maharashtra) and went to Hazur Sahib gurdwara to pay homage to the last Sikh Guru, Guru Gobind Singh, who was assassinated there in 1708. It is one of the most sacred of gurdwaras and a place of pilgrimage. I came across something which baffled me. There was a row of cabins separated by thin walls of plywood in which a dozen akhand paths (non-stop reading of the Granth Sahib by a relay of paathees) were being performed with no one listening to them.
I sought explanation from the head granthi. He told me people from India and abroad sent money for akhand paths to be followed by Guru-ka-langar as thanksgiving or wish fulfilment. I could not comprehend how prayers recited by someone else could benefit a devotee who paid for them. However, I found such practices more prevalent in other communities as well. Hindus have havans performed at distant places. Muslims pay expenses to people going for Haj, hoping that benefits will accrue to them.
Even Mirza Ghalib pleaded with Emperor Bahadur Shah Zafar to take him along on Haj and he would give his tswaab (benefit) to his majesty. However, the British did not allow the Mughal king to leave Delhi.
What came as a big surprise to me was to find that Europeans, Canadians and Indian Christians are also into outsourcing prayers. Well-to-do English, Canadians and Americans, who can't be bothered to go to church, paid for holy masses in euros or dollars, outsourcing religious rituals to Kerala Christian priests.
I read about it in the latest Private Eye of May 15. To wit: "The outsourcing of American and European jobs to low-wage countries like India has been happening for years", Archbishop Jacob Thoomkuzhy told reporters in Kerala, "and religious outsourcing is no different. Because of shortage of priests in the industrialised world, prayers for the dead and holy masses are being paid for by the westerners, then offshored to India".
"It is a lucrative business for churches in Kerala. Mass intentions that are paid for in dollars or euros are carried out here by local priests. The prayers are recited, and the fees paid by westerners help cash-starved parishes here. So what's the problem? " asked the archbishop.
For example, when British newspapers whipped up a storm about David Beckham's affairs, a Beckham fan from London paid `A350 for a mass to save the soul of his hero. The holy mass, however, was not held in a London parish.
It was outsourced by the church authorities to a bishop in India, who passed it to a remote church at Anthikad in Thrissur diocese, where the mass took place. "We do not want to look at this commercially, but it is a huge boost to the local religious economy here,'' said the archbishop.