COLUMNS

THIS ABOVE ALL
TELEPROMPT
GOOD MOTORING
AUDIO SCAN
MUSIC ZONE
WEBSIDE HUMOUR

FOR CHILDREN

CROSSWORD
ROOTS
RHYME TIME

Earlier Feature
TELEVISTA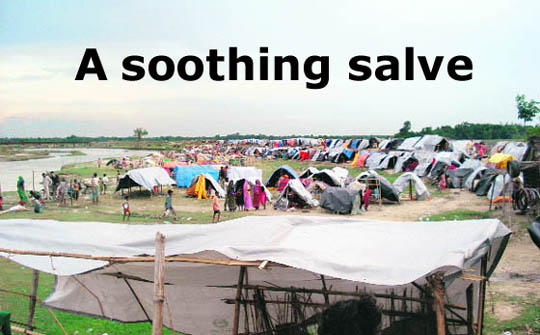 Bihar's 'river of sorrow', the Kosi, caused massive destruction to life and property during the monsoons last year. A group of NGO members undertook a unique boat yatra between the embankments to provide succour to the flood-hit. The Good Samaritans also framed their demands into a manifesto, writes Rimjhim Jain
The Kosi river is rightly called the "sorrow of Bihar" because of the widespread destruction and human suffering it has been inflicting upon the region for a long time. The monsoon months spell doom for the helpless masses in the region, who are resigned to their fate, and are solely dependent on the state and voluntary support for their very survival.
Battle of the bulge
Sonam Kapoor, Adhyayan Suman, Jackky Bhagnani and Mimoh Chakraborty have something in common apart from their Bollywood connection. All of them once belonged to the league of overweight celebrity kids who cut the flab to enter filmdom and match the A-listers.
Clean man, clean exit
I came to the Punjab cadre of the IAS in 1959 after a year of training at Delhi. I was going by bus one day from Ludhiana to Chandigarh, when I learnt that two of my seniors were camping in the Samrala rest house. I got off the bus and went to meet them. The IAS then was a close-knit family of Indians from all corners of the country, imbued with a sense of mission and service. In the old British rest house, I found PH Vaishnav and SK Mishra, one from Kathiawar and the other from UP.