Fan fair
Ashima Sehajpal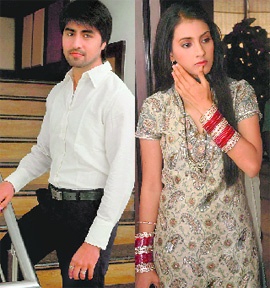 Harshad Chopda and Additi Gupta of Kis Desh Mein Hai Meraa Dil talk about their role preferences and more as they come hunting for the 'Star' fan
Act and retrospect. "Once you get into the skin of the character, it seldom leaves you. It becomes a part of the personality and merges into your original self," opines Harshed Chopda, who describes himself as a little of Prem of Kis Desh Mein Hai Meraa Dil , Ali Baigh of Left Right Left, Akshit of Amber Dhara and rest of Harshad.
The process is very gradual; "Changes in the behaviour aren't intentional. Just begin to live the character, the intermingling of traits will follow." And that helps him explore the actor within him. "But a lot of improvisation is still required which I do by watching movies."
He doesn't cling on a particular genre, "Art, commercial, regional, Bollywood and Hollywood. I try to lap up whatever is available as every cinema has something or the else to teach."
He was in town on Friday along with his co-star Aditi Gupta, aka Heer, to promote the Star Parivar awards and hunt the biggest fan of the channel."The test is going to be a bit tough. We will consider the number of soaps they watch on the channel and ask questions on them."
The winners will get the chance to meet their favourite stars at the award function in Mumbai. As for these awards, he says, "It's a mutual admiration of each other's talent. Awards are an incentive to work hard and an indication that audience love you." He won two of this last year in the category, Star Naya Sadasya and Star jodi along with Aditi.
Having an engineering background and hailing from a small town Gondia, near Nagpur, life changed after he participated in the Grasim Mr India. "I always wanted to be an actor and Grasim Mr India provided me the platform." Now, a four-television soap old actor, he feels it is time for television to reinvent in terms of content. "An expiry date for serials is a must to make the room for new experiments.
The television industry plays it safe by presenting the soaps with same story lines but that wouldn't work for long." As for his personal choice, "It is Sarabhai vs Sarabhai. It assured freshness, innovation and thorough entertainment in every episode."
Almost married once, twice, thrice…the count will continue till producers realise it's enough for Heer of Kis Desh Mein Hai Mera a Dil (KDMHMD). "All I can do is just hope it doesn't happen again, as finally, I am married to the opposite lead, Prem in the show," wishes Additi Gupta, aka Heer.
It isn't as if the 20-something girl hasn't done every bit of saas-bahu sagas, "Conspiracies, arguments, sobbing and, of course, marriages, I have been a part of all, but now I want to grow as an actor. Considering my age, I don't want to limit myself to these stereotypical housewife roles".
So, just when we thought, the truth about the tiring and boring family soaps was coming out, she changes her stance, "I am not saying my soap isn't being loved by people. The TRPs indicate the popularity and the loyal fans that still love to watch a mother-in-law fighting with the daughter in law, a villain marrying the heroine, the coming back of the hero from nowhere after his death, property disputes involving millions…"
The change in the television scenario cannot be ruled out though, "Now, that's inevitable. People's preferences change from time to time. They now like to watch serials on social issues, but that too might get enough after sometime." She goes on to make a decisive point, "But the soaps with a strong storyline will go on. KDMHMD began as a passionate love story and I hope it strives to remain that way."
A fashion design student of Symbiosis, Pune, she doesn't have to try too hard to get the lead role. "The team of KDMHMD came to my college for auditions and I went for it. In fact, after getting selected for the role, I was in a tizzy whether I should leave my studies or not.
But I guess the role of Heer was destined to happen." The actor, other than exploring her acting potential, has some more ambitions, "I desperately want to do fashion designing and even walk down the ramp as a model."
ashima@tribunemail.com