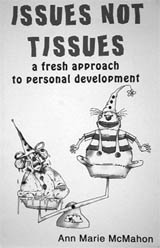 Back of the book
Issues not Tissues
by Ann Marie McMahon. Sterling.
Pages 86. Rs 99.
THE author, counseling psychologist Ann Marie McMohon, introduces a new down-to-earth approach to personal development. The fresh ideas offered in this book cover problems many of us experience in our daily lives. Whether dealing with troublesome relationships, lack of self-confidence, addiction or the blues, one is urged to deal with the issues involved rather than reach for the tissue box.
Issues not tissues takes an innovative and imaginative look at all aspects of life and provides practical advice on how to rejuvenate and re-evaluate our mental and emotional state. Ms McMahon reminds the reader that there are always options available, and shares some useful techniques for assessing which ones are most helpful.
Vital for everyone who thinks they're perfect and for those of us who know we're not.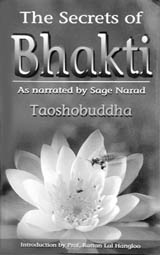 The Secrets of Bhakti
by Taoshobuddha. Sterling.
Pages 198. Rs 350.
With mastery of language and phonics, clarity of thought, and the understanding of the subject matter, Taoshobuddha overflows the inner secrets of Bhakti as revealed by Sage Narada. The entire classic is the poetry of the being. Sing and dance your way to being, along this voyage with Taoshobuddha as he unravels these Secrets of Bhakti.
The entire overflow is like a pristine elixir gushing from the being of the master, Taoshobuddha towards you. Drink it to your heart's content.
Life will attain a new meaning.