Nature vs development
Ambika Sharma
Ecotourism
by Dr Kulwant Singh Pathania and Dr Arun Kumar.
Regal Publications.
Pages 290. Rs 980.
Presenting a quintessence of what the ecosystem can offer to a traveller as well as a student of tourism, this book is a repository of information. Penned by an academician and a bureaucrat serving in Himachal Pradesh, the writing compiles the nitty-gritty which tourism offers as a subject to a student and also to an investor who wishes to take up tourism as a professional venture.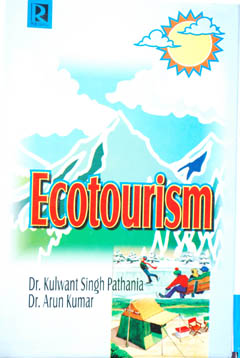 Interestingly, though the ecology offers a vast scope for eco-tourism, it is often the conflict between the need to conserve the environment and yet undertake development that the issue attains a controversial direction. With a discernable economic upsurge, the writers dwell upon the point that this would be a contributing factor to boost tourism growth. This receives an impetus from various factors, including political thrust, promotional measures taken by the government, increased leisure, enhanced spending power, etc.
Foreseeing a bright future as far as this industry is concerned, the writers see a particularly encouraging scenario, especially in East Asia and the Pacific region, which they perceive would surpass even South America in attracting tourists.
While clearly stressing the need to support the local economies, the writers assert that building partnerships amongst the locals would help develop sustainable developmental models. Similarly, harnessing tourist flow through effective marketing as well as making tourism an activity encompassing other local level activities would help reduce fluctuations and over-dependence on the natural resources, thus making tourism a sustainable venture. What is equally significant is the need to strike a balance between marketing—whereby information is disseminated about tourist places—and informing—whereby a visiting tourist is granted information about a place which he is visiting.
The industry is however marred by various threats, like undertaking tourist activities in the protected areas, which otherwise are enlisted high among the places of tourist interest. Suggestions have been put forth to strike a balance between tourism and conservation at such sensitive places. Introducing fee for the visitors would help generate funds, which would help disseminate environmental education to carry out sustainable development. Several such examples across the world have been cited where collection of such cess has helped serve this purpose.
Tourism has no longer remained an activity confined merely within the precincts of a tourism centre and a visitor. Dwelling on the role of Non-Government Organisations, governments, local communities, etc: the writers feel a concerted effort by all can make tourism a successful commercial venture.
The use of illustrations through various flow charts and tables has added some vivacity to the publication which is otherwise loaded with facts on various aspects of the industry, including markets for ecotourism, its planning and management, its impact, threats as well as its benefits. However, the repetition of facts at several places has added monotony to the book and has reduced it to a compilation merely for those studying this subject.
The book will serve as a complete guiding material for an entrepreneur as well as a student pursuing tourism education while it fails to offer much to an avid reader.