HOLLYWOOD HUES
Missing fireworks
Storyline of Dennis Lee's Fireflies in the Garden lacks coherence and leaves
the viewer confused, writes Ervell E. Menezes

THE locale is the American mid-west, Texas and thereabouts, and the focus is on a dysfunctional family, a stern, despotic dad Charles (Willem Dafoe), an equally stubborn and rebellious son Michael (Ryan Reynolds), who is an author and a distraught mother Lisa (Julia Roberts) who acts as a buffer between the father and son.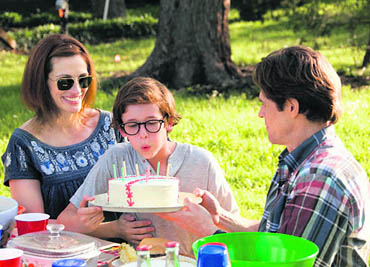 Julia Roberts (Lisa Waechter), Cayden Boyd (young Michael Waechter) and Willem Dafoe (Charles Waechter) in a still from Fireflies in the Garden

That's the crux of Fireflies in the Garden. The film's title is taken from a poem by Robert Burns that also figures in the film.
With 20 years separating the present and the flashbacks (Cayden Boyd is the young Michael), the viewer is given more evidence of Charles' brutal behaviour towards Michael. Lisa's younger sister Jane (Emily Watson) lives some distance away and Charles and Lisa are driving to Jane's house for her daughter Leslie's (Brooklyn Pronix) graduation. Michael's alcoholic ex-wife Kelly (Carrie-Ann Moss) is also invited for the function.
It is expected to be a grand American family reunion but as this family is seething with suppressed emotions there could well be fireworks, Suddenly Charles, who is driving recklessly, meets with an accident. In order to save Jane's son Christopher (Chase Ellison) he hits a tree and Lisa dies on the spot and a pall of gloom falls. But it doesn't last long.
The family goes about with its recriminations. Michael tries to mend fences with his ex-wife. He also takes his nephew and niece out fishing. The past merges with the present and Michael's new book has skeletons in the family cupboard.
Director-scriptwriter Dennis Lee's story is full of sexual undertones and incest seems to be the order of the day. But his moving back and forth in time is somewhat confusing. Lisa's death creates a thaw in relations and a somewhat changed Charles raises hopes of a reconciliation. Jane, too, has problems of her own.
Though it brings out convincing performances by a promising Ryan Reynolds (who looks like Kiwi cricket captain Daniel Vittori) and the star cast of Willem Dafoe, Julia Roberts and Emily Watson the story is less convincing. There are gaps in the storyline. The actions do not always gel but they keep the viewer going for most of the time.
It is only when the curtain finally comes down on the show that one is left with a feeling of déjà vu. It flatters only to deceive but for an insight into this modern-day Peyton Place it is well worth a dekko.