Straight with all the curves
Celina Jaitley talks to Ritesh Sharma about gay activism, films and her mentor
Feroz Khan, who passed away recently
WITH as many as seven releases lined up in the next few months, you are getting ready to shoot for your second international venture, The Quest Of Sheherzade and are awaiting the release of the first Love Has No Language. So it seems to be pretty busy time for you?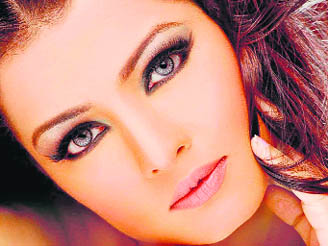 Yes, I am really busy even though my last film Golmaal Returns was released last year. Itís more than six months now but thatís fine. I think this is the right time for my next film to hit the theatres and I am all geared up. I am busy shooting for another film. The last few days have really brought quite a change in my life.
It must be for Feroz Khanís death. You must be very saddened.
I am really saddened. Mr Khan was not only my mentor but much more than that. He was like a father figure to me. He is the man because of whom I am here today and I can never deny that. I was like his family member and his family was like my local guardian in Mumbai. He was someone I always looked up to. There wonít be another one like him and I will always miss him.
No wonder that you were one of the first persons to reach his residence in Bangalore leaving behind your shoot.
Though we had this knowledge over the last two years that he was slowly going to succumb to cancer and we were mentally prepared but such news is always a shock. I was shooting in Delhi and got the news at midnight and in the morning there wasnít anything else but to fly down to his residence. I still remember how strong he was during his last days. He was the same as I have known him since the days of Jahnasheen. He wanted to remake Qurbani with Fardeen (Khan) and me and the last time I met him two weeks ago he said, "Celine Baby, I want to make Qurbani with you but see what have the doctors done to me." I will never forget his affection towards me.
You also had to receive a lot of flak after you showed you support towards gays during the launch of Bombay Dost.
I really donít care what people are saying. I have always displayed my affection and concern towards gays and I donít think thereís anything wrong about it. Why canít they lead a normal life like us? I have always been a gay rights activist`85for long since my modelling days in Kolkata. People have even started calling me gay and are sending me hate mails but I think itís because I am the first celebrity in India to stand by their side. What I want to say that I am always with them and will always be with them. I am a straight person with lots of curves.
Itís quite some time now that you have completed Love Has No Language and had an international premiere in Auckland last year. When will it release here?
Soon. Very soon. Itís all because of this strike and once it gets over the theatres will be full of me in the coming months and there will hardly be a month where you will miss me from the theatres.
And how was it shooting for Love Has No Language?
Great. My co-star Ben Mitchell was simply great. I play a Bengali something which I love to because I started my career in Kolkata.
What about your film Quest Of Sheherzade? It is said that you are cast opposite Sean Connery and Orlando Bloom.
There are a few things I am not allowed to speak about. Yes, Itís a big film for me and we have a fabulous star cast but I am not allowed to speak about the cast yet. There have been a lot of speculations being made but we will speak as and when things progress, which means as the shooting starts.
You have quite a few Hindi projects, too. So where do we see you next?
In Shubash Ghaiís next, Paying Guest. Itís a comedy and then thereís Run Bhola Run.
And that too is a comedy.
There are more comedies and to be honest, I will tell you that I have really fallen in love with comedies after films like No Entry, Apna Sapna Money Money and Golmaal Returns worked at the box office. Then there is Chai Garam, Hello Darling. The big one is Showman opposite Govinda.
So itís all comedy.
No I am doing a thriller, Accident On Hill Road, based on a real life incident that took place in USA in the 1980s. Itís produced by Nari Hira. ó TWF