M A I N N E W S
Historic rally: Only 1 minute of trading
Sensex poll vaults, crosses 14,000 mark
Shiv Kumar
Tribune News Service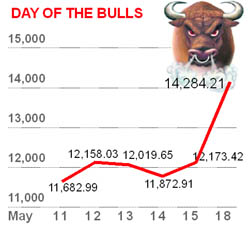 Mumbai, May 18
For the first time in the history of Mumbai Stock Exchange, circuit breaker was applied today to stop trading after just 30 seconds. This was done to cool down an over-heated market as a buying spree pushed the sensex up. When trading resumed after a two-hour gap at 11.55 am, it had to be stopped again after 30 seconds as the upward surge of the sensex continued.
The entire day's trading lasted just one minute on Monday and the investors are estimated to have made Rs. 10,000 crore every second. Total market capitalisation of all the listed companies grew by about Rs. 6,50,000 crore---said to be the biggest gain in the history of stock markets, not just in India but in the world.


A note of caution from fund managers
n The surge is unjustified and irrational
n The rise in valuation has made shares less attractive for buyers.
n Foreign portfolio investors could be wary of entering the market.
n Fundamentals will take time to improve
n European and US market still sluggish
n Corrections are inevitable
What is a Circuit Breaker : A measure by which trading is halted at specified ceilings in order to check panic selling, as was done in 2004, 2006 , 2007 and 2008—or frenzied buying as was done for the first time on Monday, May 18, 2009. Circuit breakers were introduced by SEBI in 2001.
Re stronger by 152 paise, gold tumbles
Mumbai/New Delhi: Tracking the trend in local stocks, the Indian rupee surged stronger by 152 paise or 3.08 per cent to a five-month high of 47.88/89 against the dollar on hopes of heavy capital inflows. Meanwhile, gold lost some of its shine today as its prices plunged by Rs 380 per 10 gram.
The market response was anticipated following the reassuring performance of the UPA alliance in the general election, promising stability and continuity. But while hope for reforms and faith in the ability of Dr Manmohan Singh to steer the government through the recession was expected to send the sensex zooming, the unexpected surge today left the investors gasping.
Today's 2,111-point surge in the Sensex has forced even long-time bears to turn bullish and predict greater gains from the markets in the coming months despite fundamentals remaining unchanged.
"This (election) win is the ultimate game-changer for the country…this gives us a chance to climb our way somewhat out of the bear market…" Shankar Sharma, vice-chairman, First Global, was quoted as saying by a television channel. Only last week, Sharma warned investors about the poor fundamentals of the global economy.
Others are predicting a flood of foreign funds rushing into the markets propelling stock prices to further highs. Earning upgrades by various companies will follow over the medium term and liquidity will come into various sectors, Falguni Nayar, managing director of Kotak Investment Bank has been quoted as saying.
However, veteran players in the markets are warning small investors against being caught up in the frenzy and buying at highs. Incidentally, brokerages who put out reports saying RIL was over-valued at above Rs 1,800 a share have turned cautious as the scrip has breached the Rs 2,300-mark. Technical analysts, who chart the price of shares using various formulas, are now predicting further highs in the Sensex scrips to short-term traders.
"Retail investors who exited the markets after the crash were afraid to enter when stocks were quoting at attractive valuations in March last," says Anil Wilson, a certified financial planner. People who bought frontline stocks and fundamentally sound mid-caps would have more than doubled their money by now, says Wilson. However, most retail investors chose to stay away in the margins. So did most mutual funds who were sitting on cash. "Most funds turned out a poor performance while the Sensex shot up from 8,000 points to 12,000 points," says Wilson.
Some of the veterans point out that markets could go in for a sharp correction after the initial exuberance dies down. A few are warning of the markets correcting by as much as 20 per cent due to global and domestic factors.