M A I N N E W S
Lankan army claims LTTE chief dead
Chandani Kirinde writes from Colombo
The man considered one of the world's most ruthless terrorists, the chief of the Liberation Tigers of Tamil Eelam (LTTE) was killed by the Sri Lankan army along with his top aides as the army took control of all areas in northern Sri Lanka on Monday, according to the statement issued by military officials.
The news of V Prabhakran's death, which was announced shortly after noon on Monday, was greeted with the sound of fire crackers as people took to the streets and celebrated. In the run-up to yesterday's celebrations, roads have been lined with national flags while vehicles and homes flew the flag to herald the end of the bloodiest era in the modern history of the country.
Sri Lankan armed forces have militarily defeated the LTTE and freed the nation from three decades of terror, Army Chief Lieutenant General Sarath Fonseka said in an address over national television.
Among others killed along with Prabhakaran were his son Charles Anthony and LTTE intelligence chief Pottu Amman, who along with the LTTE leader was the mastermind behind the assassination of former Indian Prime Minster Rajiv Gandhi. Also killed were Sea Tiger leader Soosai and Nadesan, the leader of the political wing.
A journalist from the state-run television station that is with troops in the north said that the guns have fallen silent and troops were engaged in mopping-up operations. President Mahinda Rajapaksa will address Parliament today and will officially announce the end of the war against the LTTE.
PTI adds: Prabhakaran, who led a ruthless movement for a Tamil Eelam in Sri Lanka that decimated a score of Sinhalese and Tamil leaders and former Prime Minister Rajiv Gandhi, was shot dead by Sri Lankan special forces as he tried to stage a dramatic breakout from the army encirclement, a military spokesman said. With his killing, the army brought the curtains down on the 30-year-old war that claimed over 70,000 lives.
Prabhakaran and his top aides were driving in an armour-plated van accompanied by a clutch of rebels in a bus and approaching the Special Forces. A two-hour exchange of fire followed and the forces fired a rocket at the van brining an end to the battle, army sources said. Prabhakaran's body was pulled out from the van and identified, they said. Prime Minister Ratnasri Wickramanayake said the army says they have killed him. "The next step would be to undertake development in the north (Tamil areas)," he said.
Celebrations broke out in the capital here as news spread of the death of Prabhakaran, who led the longest armed struggle in South Asia for nothing less than a separate homeland for Tamils.
Major assassinations carried out by LTTE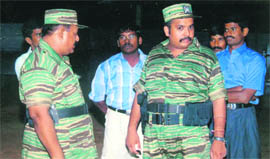 An undated file picture supplied by the Sri Lankan Ministry of Defence shows LTTE leader V. Prabhakaran (left) and his eldest son Charles Anthony from a collection of photographs that government soldiers said were discovered recently in a hideout in northern Sri Lanka. — Reuters
July 27, 1975: Jaffna Mayor Alfred Duraiappah, a fellow Tamil, was shot dead by Velupillai Prabhakaran and two of his close associates, in what is believed as the first killing of the guerilla leader.
May 6, 1986: Siri Sabaratinam, founder of the Tamil Eelam Liberation Organisation, and a number of his cadres were eliminated.
July 13, 1989: A Amirthalingam, TULF leader, and another moderate Tamil leader Yogeswaran were shot dead.
June 19, 1990: K Padmanabha, Secretary-general of Eelam People's Revolutionary Liberation Front, was shot dead along with 13 others in Chennai.
March 2, 1991: Ranjan Wijeratne, Minister of State for Defence, was assassinated sing a remote-controlled car bomb.
May 21, 1991: Former Indian Prime Minister Rajiv Gandhi was killed by a suicide bomber in Sriperumbudur near Chennai.
May 1, 1993: Sri Lankan President Premadasa assassinated.
Oct 24, 1994: Gamini Dissanayake, UNP Presidential candidate, was killed.
July 2, 1997: A Thangadurai, TULF MP was killed in a bomb attack at a public function in Trincomalee along with five other civilians.
May 19, 1998: Sarojini Yogeswaran, Jaffna Mayor was killed. Her husband was killed earlier along with Amirthalingam.
Nov 7, 2000: N. Soundaranayagam, TULF MP, another moderate Tamil leader, was shot dead by Prabhakaran's death squad.
August 12, 2005: Lakshman Kadiragamar, Foreign Minister, was killed by a LTTE sniper. — PTI