M A I N N E W S
Manmohan appointed PM
Swearing-in on Friday, UPA's tally touches 322
Vibha Sharma
Tribune News Service
New Delhi, May 20
Amid hectic lobbying for key Cabinet posts by "pre-poll" UPA constituents, Manmohan Singh and Sonia Gandhi on Wednesday met President Pratibha Patil and staked claim to form the new government. The oath-taking ceremony of the new UPA government will be held on Friday (May 22).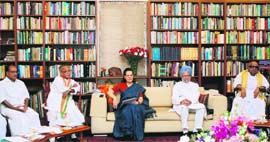 Congress president Sonia Gandhi, CPP leader Manmohan Singh, party leaders Pranab Mukherjee and AK Antony and DMK chief M Karunanidhi at the UPA meet in New Delhi on Wednesday. — Reuters
Earlier in the day, the UPA members met to take crucial decisions regarding format of the new Cabinet, distribution of ministerial berths and to re-elect Sonia Gandhi as chairperson of the grouping.
The Congress chief's name was proposed by DMK supremo M Karunanidhi and seconded by Trinamool Congress chief Mamata Banerjee at the meeting attended by all key pre-poll partners.
Later, Manmohan Singh and Sonia called on the President and handed over letters of support from allies and Independents. The UPA, along with the outside support, now touches the figure of 322. Apart from pre-poll allies, the alliance has received unconditional and solicited as well as unsolicited support from parties like the SP, RJD and BSP.
The BSP, the SP and the RJD are giving support to the UPA from outside, the Prime Minister said after he came out of the Rashtrapati Bhavan. Flanked by a beaming Congress President, he read out the President's letter, congratulating him for being the leader of the largest party.
The PM said the coalition had 274 members, including four Independents who were part of the Congress-led pre-poll alliance. "We have the support of SP, BSP and RJD whose number adds up to another 48. All this adds up to 322," he added. When asked about the details of composition of the ministry, he said "we will talk in greater detail later".
While the wish list of partners like the Trinamool and the DMK are still uncertain, party sources say two key allies are demanding sizeable chunk of ministries in the new Cabinet.
The council of ministers will naturally be dominated by the Congress, which may keep plum portfolios. But allies also want their pound of flesh. Apparently the DMK is pitching in for seven Cabinet Berths and Mamta's demand includes portfolios like steel, mines, civil aviation and health. The fate of Lalu, who acted tough during the elections and has since been trying make to amends for his "mistakes" remains undisclosed, but the tone and tenor of the UPA has more or less decided his fate.