THIS ABOVE ALL
Saviour of the girl child
KHUSHWANT SINGH


KHUSHWANT SINGH
When Sqn Ldr Prem Kumar Khullar retired from the Indian Air Force, instead of looking for another job to supplement his pension, he decided to devote the rest of his life to helping the helpless. He bought some land in Palwal (Haryana), turned it into green fields, growing wheat and Basmati rice. He set up the Association for Blindness and Leprosy Eradication (ABLE). With his own resources and help from his friends, he set up a hospital where the peasantry of the region could get medical assistance and medicines at a minimum cost or free of charge.
He later added a lending library because books other than textbooks were not available, or beyond the pockets of village folk. That is when he got in touch with me. I gave him books I no longer needed for his library. In due course of time the word spread that Khullar was a do-gooder and would help anyone in trouble. He was in for a surprise.
One early morning he found a newborn girl left at his doorstep. Then another. And another. They were not wanted either because they were illegitimate, or simply because they happened to be girls. Haryana and Punjab have a shameful record of aborting female foetuses or simply burying them alive on birth.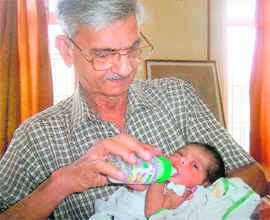 Sqn Ldr Prem Kumar Khullar (retd) feeds an abandoned baby girl

Believe it or not, in both states the ratio is 725 girls to 1,000 boys. In many districts, one out of four girls is killed before or soon after birth. Religious leaders make a lot of pious noise against this evil practice, quote scriptures about the need to respect women as mothers, wives, sisters and daughters but to no avail.
Destroying females is a hoary tradition. In many agriculturist families, brothers shared a wife because all could not afford to get one for themselves. Remember five Pandava brothers who shared Draupadi between them? What can we do to put an end to this vile custom? I, for one, do not have the foggiest idea.
Hindu prayer
Jai Dev Bajaj of Pathankot usually sends me pieces about his experiences. Here is a small piece in a lighter vein, which I want to share with my readers: "Till 1944 our commerce college in Lahore was the only college with no girl students. Perhaps commerce was too mundane a subject for girls.
"So, highly romantic and irrepressible oglers and Romeos of our college would either loiter around the nearby SD College, or Fateh Chand College for Girls, or some more adventurous would cycle away to unchartered waters of far off Kinnaird College for Women, which they said had the most beautiful girls in Lahore. Some would return even with minor head injuries caused by sandal attacks by the unwilling Juliets.
"But then the prayers of these boys called loafers were heard, and a miracle happened. Three girls from Baroda joined our college because their railway officer fathers were transferred from Baroda to Lahore. Their names were typical old names. One girl was Shakti (power). The second one was Shanti (peace). The third one was Vidya (education). In looks the trio was far below average but in days of youth, even they looked ravishing.
"But then a tragedy struck before the comedy had even started. Principal Kapoor and Vice-Principal Ahmed Hassan, both educated from Oxford but highly orthodox in their outlook, entered our class and declared: 'Girl students will sit in the separate front row, and no boy students will talk to girl students. Anybody breaking the rule will be rusticated'.
"For a day or two a pall of gloom descended on the college corridors. But boys will be boys, specially Lahore boys. So a suitable prayer (bhajan) was coined and sung in chorus as the girls entered the classroom. 'O God, grant me Shakti so that I can acquire Vidya, and then live with Shanti forever'. Alas, Prof Ahmed Hassan could not interfere in this Hindu prayer ".
Water, the villain?
Brandy and water injure the kidney; rum and water are bad for the liver; gin and water clog the brain; whisky and water infect the heart; is it water that creates all health problems?
Dinner card
In a marriage, Banta was eating for a long time. Santa asked him: "Banta, you have been eating for a long time. What is the matter ? " Banta said: "Even I am tired of eating but I can't help. It is mentioned in the card 'Dinner from 7 pm to 10 pm' ".
(Contributed by J.P. Singh Kaka, Bhopal)