Punjabi antenna
Polls and promises
Randeep Wadehra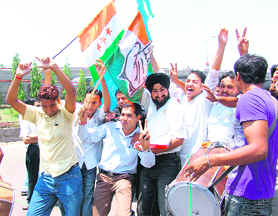 DD Jalandhar provided rich insights into the region's political scenario

Although the din and bustle of the general election, 2009, would have tapered off by the time this review is published, the echoes will take some time to fade away. We witnessed the spectacle of perfectly sophisticated-looking sons, sons-in-law, daughters and daughters-in-law from Punjab's two dynasties—including associated clans—indulging in a not-so-genteel blame game while seeking aashirvaads of the hoi polloi in the earthy lanes of their constituencies.
During the political hubbub at Ludhiana, NDA politicians made tall claims and promises to an uncomfortable-in-the-sun and visibly bored audience. Accusations, justifications and explanations mingled to provide the Punjabi TV viewers a mélange of rhetoric. No wonder the electorate overwhelmingly voted for the Congress.
Kudos to Doordarshan, Jalandhar, for providing detailed and real-time analyses of the election results as they unfolded on May 16. Politicians and political analysts were invited to the Faisla 2009 show to provide perspectives to the emerging poll result scenario. Although Akali Dal's Mahesh Inder Singh and a Congress representative did try to lower the standard of discussions by indulging in unwarranted tu-tu-main-main, the various senior journalists and other intellectuals from the region provided a balanced view, peppered with Pannu's earthy humour.
Before that Doordarshan, Jalandhar, had telecast its regular Khaas khabar ik nazar wherein Pannu's pithy and impartial comments provided rich insights into the region's political scenario. We would like to have more of Pannu's wisdom-filled wisecracks in future talk shows.
The only other channel that came up with a serious programme on the election results was PTC News, which had quite a few senior journalists and editors from the print media as panellists—Vipin Pubby, Sidhu Damdami, Gobind Thukral, Vinayak etc. The analyses were informed and in-depth.
Masle, anchored by Ritesh Lakhi, exemplified the manner in which our politicians manage to avoid substantive issues by indulging in shadow-boxing, accusing each other of such, by now clichéd, wrong-doings as betraying the interests of Punjab, encouraging unemployment, indulging in corruption and what not.
A discussion, however well meaning, loses its credibility when it becomes one-sided. It is the media's bounden duty to present pros and cons of an issue without prejudice. It should never appear to be having become an instrument of partisan politics. Two examples are cited below.
PTC News telecast a special discussion, CBI gawah atey clean chit, having Davinder Pal Singh as moderator and HS Phoolka, along with the former CBI Director, Joginder Singh, in the panel. The CBI was denigrated without any counter-argument from the ex-CBI chief.
Even though Faisla was supposed to deal with updates and issues related to the general election—with Punjabi perspective—on May 12, it came up with a special edition dealing with Prime Minister Manmohan Singh's statement in Amritsar regarding the 1984 riots issue. The panellists—this time Phoolka with the former Minorities Commission Chairman Tarlochan Singh as co-panelist and Davinder as anchor—seemed to take umbrage at the PM's remarks.
Phoolka's emotional outburst and intemperate remarks made one feel terribly let down. One expected weightier proposition from a trained and experienced judicial mind like Phoolka's. Tarlochan Singh, too, held the Congress alone as guilty for the 1984 carnage. In a debate, when panelists agree with each other, and the anchor loses perspective and contra-points are deliberately ignored, it takes on the hues of partisan propaganda and ceases to be a debate.
There is a need for keeping things in perspective— no matter how odious this may prove to be. Let us ask ourselves a question—has any effort been made to analyse the events before 1984?