On equal footing
Bollywood seems to have overcome the gender divide. While the women film makers refuse to remain limited to women's issues, men have ceased to portray women characters as weak, oppressed or objects meant to titillate, writes Derek Bose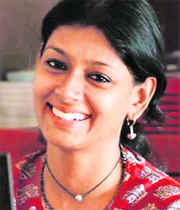 Director Nandita Das's Firaaq (extreme left) was a dark, exploratory essay on the communal divide post-Godhra, in Gujarat

With Nandita Das's Firaaq, Bollywood has pulled off a hat-trick of films by female directors making their debut this year. The first, Luck By Chance by Zoya Akhtar, was an insider's take on the "glorious uncertainties" determining the career of aspiring movie stars.
The second, Little Zizou by Sooni Taraporevala, was an energetic but poignant comedy on an 11-year-old football-crazy Parsi boy in Mumbai. And the third Firaaq was a dark, exploratory essay on the communal divide post-Godhra, in Gujarat.
Varied as their themes may be, the three films uniformly reveal an uncompromising sense of honesty that comes with personal conviction and the desire to raise the bar in filmmaking. These films do not make great cinema, but they do have their moments. They are spunky, non-formulaic and thought-provoking, much in keeping with the spirit of filmmaking these days.
However, nothing about these films would suggest that they have been made by women. The "feminine sensibilities" associated with women filmmakers, in terms of structuring a narrative, characterisation, shot taking, unravelling a plot and so on, are totally missing. Had these women attempted an action thriller or romantic comedy, their approach and treatment of subjects would have been no different from that of any of the male filmmakers currently in circulation.
This is not such a bad thing though. A female filmmaker does not have to do a Prema Karanth (Phaniyamma) or Aparna Sen (Paroma) to gain public recognition. She might as well be a Pooja Bhatt (Paap), Tanuja Chandra (Zindagi Rocks), Farah Khan (Om Shanti Om) or any of the filmmakers who refuse to be limited to women's issues.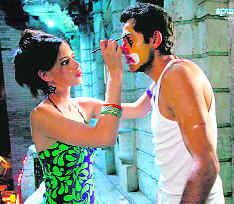 In Anurag Kashyap's Dev D, unlike the emotionally dysfunctional hero, both women come across as principled, honest and upright characters
Or for that matter, she could well choose between Parvati Balagopalan (Straight) and Deepa Mehta (Videsh), the two other women directors currently in the news. The former has done a comedy around a guy desperate to lose his virginity to a woman if only to be reassured that he is not gay. And the latter is flogging the issue of domestic abuse many hapless brides from India face in the West – a subject that invites instant comparison with Jagmohan Mundhra's Aishwarya Rai-starrer, Provoked.
So what are the special "feminine sensibilities"' expected of women filmmakers?
Many describe this as the female gaze – a feminist expression that challenges the conventional (read male) approach to filmmaking from a man's point of view with women particularly, being reduced to objects of desire and performing for the camera as exhibitionists. For a woman filmmaker, the voyeuristic tendency is replaced by understanding, patience and acceptance – attributes that are supposed to be absent in men.
Thus, while the camera of a male filmmaker tends to "look down" upon women, portrays the hero (vis-a`-vis the heroine) as larger than life, makes a meal out of a woman's anatomy, like climbing up the cabaret dancer's legs a woman filmmaker does not control, objectify or manipulate the visual elements. How this generalisation should translate into the current crop of films would be worth examining.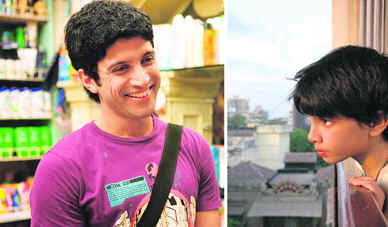 Luck By Chance (left) was an insider's take on the uncertainties determining the career of aspiring movie stars and (right) Little Zizou was an energetic but poignant comedy on an 11-year-old football-crazy Parsi boy in Mumbai

Three well-known examples will do, starting with Ghajini. It is the biggest Bollywood blockbuster in recent times. Ostensibly a revenge drama, it presents Aamir Khan as a lean, mean murdering machine with a well-oiled, well-chiselled body, complete with tattoos of names and telephone numbers. The camera objectifies Aamir. The tattoos draw attention to his rippling muscles, the six-pack abs`85 the naked machismo that is said to have found an instant connect mainly with women viewers.
At the same time, there is an equally appealing softer side to the man, represented by Asin, the woman he loves and loses. Her death awakens the beast in him and sets him on a killing spree. The film is directed by a man – A. R. Murugadoss.
Then there's Anurag Kashyap's Dev D, released soon after Ghajini. Rarely, if ever, has an Indian film so effectively celebrated women empowerment as this post-modernist version of Devdas. The protagonist's childhood sweetheart, Paro (or Parminder) is self-assured, sexually demanding and assertive. The other woman in his life, Chandramukhi (or Chanda) is just as strong in character, even as she has suffered a traumatic childhood and is a sex worker. Unlike the emotionally dysfunctional hero, both women come across as principled, honest and upright characters. This film also is directed by a man.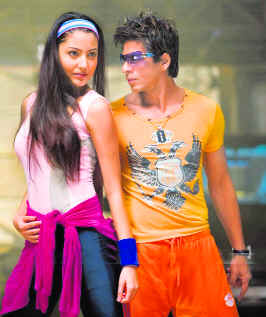 Suri is a mild-mannered, geeky introvert, as opposed to the beautiful and vivacious Tania, his wife. Suri's alter ego, too, is all brawn and bluster, out to woo the woman

The third recent film that deserves mention is the Shah Rukh Khan-starrer, Rab Ne Bana Di Jodi. Like the other two films, it has an unusual storyline with the hero's role sublimated for the best part. Khan's Surinder Sahni (or Suri) is a namby-pamby, mild-mannered, geeky introvert, as opposed to the beautiful and vivacious Tania (or Taani), his wife. There is, of course, an alter ego of the Suri character, all brawn and bluster, out to woo the woman. But ultimately, it is the image of the shy and awkward Suri with his headstrong Tania that remains with the audience long after the film is over. Once again, the director is a man – Aditya Chopra.
Clearly, if anything has changed in Hindi cinema, it is the approach to the medium by male filmmakers. More than the women adopting a male gaze, the men are increasingly taking a feminine point of view. They have done away with rape scenes, needless drenching of the heroine (in white sari) under a waterfall, the strip tease and cabarets, rain dances the usual stock-in-trade in potboilers of the past.
More than ever before, women characters are treated with a degree of sensitivity, even respect. Most of the filmmakers have ceased to portray women characters as weak, oppressed or objects meant to titillate. If at all anybody is being objectified, it is the hero – be it Hrithik Roshan or Shah Rukh Khan, Aamir Khan or John Abraham.
This shift of focus is, however, not deliberated. No filmmaker is consciously seeking to make a point, one way or the other, on gender primacy. Unlike yesteryear greats such as V. Shantaram (Duniya Na Mane), Mehboob Khan (Mother India) and Sshobana Samarth (Humari Beti), nobody is interested in sending out messages on women's emancipation and empowerment. Today's filmmakers, both men and women, are merely trying to capture a social reality whereby women have become more self-assertive in their outlook and demanding in attitude. A size-zero Kareena Kapoor in Tashan or a gym-toned Bipasha Basu in Aa Dekhe Zara is a reflection of this reality. More importantly, this is what audiences are able to identify with – not damsels in distress, weeping widows or Helen-like characters in body stockings. The feminine orientation we now see on screen is an outcome of this new sensibility. And the filmmaker being female, or male, is only incidental.
Quite clearly, it is a level playing field out there.