TELEPROMPT
NDTV takes the cake
MANNIKA CHOPRA


MANNIKA CHOPRA

So now that the election hurly-burly is over, TV critics can sit back, chew up various news channels and then spit out the pieces. The day election results are announced is perhaps the biggest for all news networks. This is the acid test; the day that separates the men from the boys, the Barkha Dutts from the Anjali Joshis. Who? Well, never mind. You get my point.
First, it is about which channel gets the results out in the most comprehensive manner; then it is about the channel with the most intelligent and relevant analysis. And, so sorry ji, to be superficial but it is also about looks—which channel has the better sets, and who are the anchors with the more sophisticated sartorial sense. On a scale of one to 10, in the most technologically accomplished department, I think NDTV takes the award.
At one given time, and I must say sometimes at a far too dizzying speed, the channel through golden rectangles kept feeding us results at four levels—individual constituencies, then state, party and alliance positions. Then smartly it also used Google Earth maps to give an all-India picture to indicate where the various parties had won. Of course, it wasn't as clear as the American election results where neatly demarcated states are either red or blue, but still we got the drift.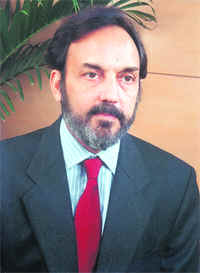 Prannoy Roy kept touching the computer screen and adding the results of potential allies represented by blocks on to the UPA's tally

Of course, a lot of it was very touchy feely. NDTV's Prannoy Roy was like a kid with building blocks. He kept touching the computer screen and adding the results of potential allies represented by blocks on to the UPA's tally. On the other end of the spectrum, for a more basic approach, one had to revert to every critic's favourite whipping boy, India TV, which simply placed the results clearly on the left hand side of the screen. The slots were divided into the UPA and the NDA, and under them were the various party positions.
Times Now screen looked too confused, too red and blue with too many boxes, while CNN-IBN's decibel level was playing havoc with my volume control. Funnily enough, from one channel to the other, the figures almost never matched. After the results, the analysis. Though experts, analysts and spokespersons of all channel hopped with a vengeance, there were some constants. Journos Vir Sanghvi and Shekhar Gupta and author Mukul Keshavan stayed with NDTV 24 ; Nandan Nilekani and Ram Guha with CNN-IBN; Mahesh Ranarajan with Times Now.
Considering the enormity of the occasion, the tone on NDTV sounded comparatively a little too languid. The excitement and energy, very evident on CNN-IBN, Star News, Aaj Tak and also Times Now, somehow didn't come through. It was very much an indulgent, old boy's network type of interaction with stray comments about Doon and Mayo thrown in between the number announcements.
Sanghvi unnecessarily kept harking back to his various interviews with Rajiv Gandhi and highlighting Rahul Gandhi's similarity to his father. Thankfully, Shekhar Gupta brought the focus back to election, 2009, and Keshavan, though articulate, seemed to be there as a counter to CNN-IBN's Ram Guha. On Times Now, Duleep Padgoankar was perhaps first off the mark when he spoke of how anti-incumbency and regional affiliations were not going to play a role in these results.
My favourite channel for an in-depth discussion and probing questions was NDTV India, with Vinod Dua holding the fort. No channel tried to explain why it failed to capture the mood of the voter. No channel analysed how far off it was in its own exit polls. CNN-IBN got it the most right, a fact it kept tomtoming through promos of Vilas Rao Deshmukh and Omar Abdullah. It was left to politicians to gently rib the channels.
Jyotiraditya Scindia, in his interview, vicariously kept reminding Roy how he had said that it was looking "increasingly difficult" for the UPA to get a majority. Then there was DMK's Dayanidhi Maran, who said that thanks to some media reports, people were told that his party would fare miserably in the elections. But, he added, quite frankly, they forgot how the DMK had distributed 60 lakh television sets and rice at Rs 2 per kilo. Talk about candid confessions.
Easy on the eye was CNN-IBN'S set with clean lines. Not so easy on the eye was Dutt's clothes sense. She was shimmering so much—heavy make-up, hanging silver earrings, pink, mirror-worked kurtas— that one forgot to listen to what she was saying. Guys, less is more. Seriously.