Australia's Matthew Hayden is the batting mainstay of Chennai Super Kings

Captain of the Deccan Chargers Adam Gilchrist, is still high on energy Photos AFP

The Vintage punch
Amit Khanna
Age is an issue of mind over matter, if you do not mind it does not matter". A tribe of players, who have, for all practical purposes, retired from international cricket, seem to be hell bent on proving this famous saying right in the ongoing IPL extravaganza in South Africa. Actually the so-called superannuation of some of the top players has only enhanced the quality of competition in the second version of the IPL with the game of cricket being the biggest beneficiary.
A stitch in time
Jasmine Singh chats up Ali Irani who believes that hard work pays if you are in a state of good health
Sometimes we are like angels with only one wing. We need the other wing of another angel to keep flying." This is what Dr Ali Irani, president of the Indian Association of Physiotherapists and HoD, Physiotherapy and Sports Medicine, Nanavati Hospital, Mumbai, has done all this while.
New-look centre court for French Open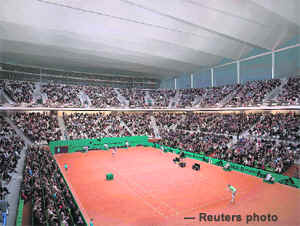 Chrystel Boulet-Euchin
A new centre court, equipped with a retractable roof, will be used at Roland Garros for the French Open by 2013 or 2014, tennis officials said recently. The court, with a capacity of 14,600, was supposed to be ready for the 2012 Olympics but France's failure to secure the Games has delayed the project. "This project is very important for French tennis, our tournament's future depends on it," French Federation president Jean Gachassin told reporters.