Forthight and fearless
Humra Quraishi
Why I supported the Emergency — Essays and profiles
by Khuswant Singh.
Penguin Viking.
Pages 296. Rs 450.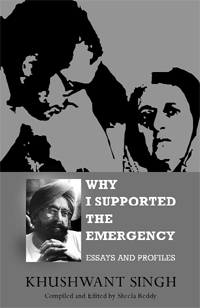 Perhaps, in the very introduction to this volume, journo Sheela Reddy best sums up that very special characteristic to Khushwant Singh — "Khushwant isn't afraid to be himself. His writing is very much like him. Just as it is a matter of honour for him to stay uncompromisingly himself, no matter where or with whom, he refuses to dress up his writing — or his thoughts, even — to suit the occasion. He says exactly what comes to his mind, and doesn't give a damn what others think. It takes courage to write in this exposed way. He has also mastered the art of capturing the many stray thoughts that the rest of us reject even before we are conscious of them.
And this volume carries those essays and profiles that Khushwant Singh has been writing all these decades. Writing rather fearlessly and absolutely honestly on why he supported the Emergency to why he's become a strong critic of L. K. Advani and much more.
Many would argue that with the Emergency long gone, why does he rake it up again and again. But, then, wasn't the Emergency one of the turning points in the course of modern day India. In fact, that particular phase affected not just the lives of hundreds of Indians but even changed the very outlook of political and academic heads. Talking to Kuldip Nayar recently and asking him to comment on the 'turning point' of his life he surprised me by stating that it wasn't the Partition that affected him so much as the Emergency.
And why did Khushwant support the Emergency? In fact, the very thought of this baffles one and before you sit in a heap of daze it's best to read his views on it. Its, of course, a longish essay and because of space constraints, I will not be able to fit in all possible details. Just about enough to give an idea — " With some reservation I supported the Emergency proclaimed by Mrs Indira Gandhi on 25 June 1975. Let me explain why. I concede the right to protest is integral to democracy. You can have public meetings to criticize or condemn government actions. You can take out processions, call for strikes and closure of businesses. But there must not be any coercion or violence. If there is any, it is the duty of the government to suppress it by force, if necessary. By May 1975, public protests against Mrs Gandhi's government had assumed nationwide dimensions and often turned violent. The unquestioned leader of the anti-Mrs Gandhi movement was Jayaprakash Narayan, a man for whom I had enormous respect and admiration. He had become the conscious keeper of the nation. But it was Lok Nayak, as he came to be known, who had crossed the Lakshmanarekha of democratic protest. His call for 'total revolution' included preventing elected members of state legislatives from entering Vidhan Sabha buildings. He announced his intention to gherao Parliament House and even asked the police and the army to revolt against the government. I wrote to Jayaprakash protesting that what he was advocating was wrong and undemocratic. He wrote back justifying his stand `85"
In fact, he has also tucked in another essay on the Emergency and this one is based on "The diary of a bureaucrat". And this bureaucrat happens to be Bishan Narain Tandon who was a joint secretary in Prime Minister Indira Gandhi's office for seven years (from 1969 to '76) and he was one of those bureaucrats who got "a taste of Mrs Gandhi's vengefulness after he was reverted to service in UP."
Another readable essay is the one on Kasauli. Each little detail of the description of his home, the caretakers, the surroundings, the marketplace, the mountains, that prevailing atmosphere of solitude stood out as once I did travel down to Kasauli and spent a weekend with him. It was the perfect getaway far away from the maddening rush of New Delhi. More details kept coming in as I began reading this essay — "A welcome addition to Kasauli's landscape are refugees from Tibet. There are only about a dozen families who have opened up small kiosks made of gunny sacks, tarpaulin and wooden planks along the most frequented stretch of road extending Jakki Mull's building housing the main provision store, run by Guptaji, a tailor and photographer, to Kalyan hotel with its statue of a black cocker spaniel and liquor vend."
As one goes through this volume it's not just the sheer range that stands out but even the ease with which he gives details — be it those essays focusing on the political personalities to just about the very everyday routine no matter what the topic is, no matter who he focuses on, it's those details that flow out in that immensely readable format that stand out.