"Tagore's songs lose essence in remixing"
Even at 75, Asha Bhonsle has the energy of a teenager. Bubbly and gracious, she puts you at ease with her down-to-earth attitude. Sreya Basu catches up with the music diva during her visit to Kolkata after 16 years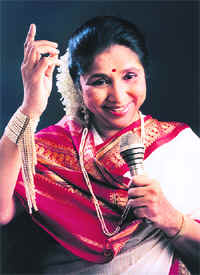 Asha Bhonsle will release a Bengali music album at Durga Puja
You are back in Kolkata after 16 years for a show...
I am here to sing at Panchkanya. It's a show organised by Indo Occidental Symbiosis and Juhu Cultural Association (Mumbai) on the occasion of Rabindrajayanti. I would have said 'no' to this show too if it had not been for Gurudev. It is against my character to refuse to sing his songs on his birth anniversary. When the organisors contacted me, I said, 'I don't want anything I just want to pay my respect to Rabindrababu.' And this is not just Asha Bhonsle's, but also entire Maharashtra's tribute to Tagore.
You have sung Rabindrasangeet after a long time...
Singing Rabindrasangeet is very difficult on stage. I was very scared initially. Last time I sang Rabindrasangeet was some 19 to 20 years back. So, I thought I would need a number of rehearsals. But thankfully, after only one rehearsal, everything fell into place.
When was the last time you sang a Bengali song?
Hemantdada (Mukhopadhyay) made me sing quite a number of Bengali songs. He even made me sing Mahalaya once (the first day of Durga Puja).
How fluent are you in Bengali?
I am a Marathi but I am half-Bengali too ami apnader bou (I am your daughter-in-law). I want to speak fluent Bangla, but can't do it now. When Burmansahab (Rahul Dev Burman) was alive, I used to speak a lot of Bangla but now I have forgotten the language. But ami bhalo bangla bolte chesta korbo (I will try to speak good Bengali).
You are planning a Bengali album this year?
I will be releasing my new album this Durga Puja. After a long long time I will be doing a full Bengali album. It will be released by Mahua Lahiri's Asha Audio. Mahua has named her company after me.
We heard that you have read all Bengali classics?
Not all, but most of them, including Tagore's Gora and Sarat Chandra Chatterjee's Chandalika. I have also read Ashapurna Devi. I have the entire collection of Rabindranath and Saratchandra at home.
Now-a-days Tagore's songs are being remixed. What's your opinion about that?
This is not good. An artiste goes through so many difficulties to make or sing a particular song. To change it or remix it is not right. For example, if every one remixes Lata's (Mangeskar) songs, they will lose their essence. Every Bengali should remember that they should stick by whatever Rabindrababuji had written, or else it won't be Rabindrasangeet, but something else.
Are you singing with Lataji?
I don't know... we started together, but at the moment there are no plans of singing a duet with her.
You have sung for almost every genre. Personally, what do you enjoy singing the most?
I love singing light classical music.
Like Lataji said Vyjantimala best suits her voice on-screen, who is your favourite?
There are quite a few of them. But personally, I like Rekha, not only because she suits my voice, but also because she perfectly understands my psyche while I was singing the song and reacts accordingly.
You are 75.. still you are bubbly as a teenager. How do you do that?
Suspense! (laughs) Arre baba, whatever is in your mind reflects on your face... I always believe in enjoying life to the brim and so that enjoyment of heart overflows on my face. — TWF