M A I N N E W S
SP gives Azam marching orders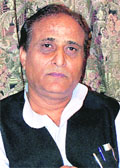 Lucknow, May 24
Samajwadi Party today expelled senior leader Mohammad Azam Khan for six years for anti-party activities, capping weeks of bitter feud with SP leadership over its closeness with former BJP leader Kalyan Singh and its choice of Jaya Prada as candidate from Rampur.
"Azam Khan was involved in anti-party activities for a long time. Despite the national leadership's request he continued indisciplined behaviour and did not attend party meetings due to which he has been expelled from the party for six years," SP state president Shivpal Singh Yadav said.
The 60-year-old Khan, SP MLA from Rampur and a founder-member of the party, had actively campaigned against cine actor-turned-politician Jaya Prada in the constituency and made adverse comments against Amar Singh.
Khan had raised banner of revolt against the party leadership after declaration of Jaya Prada's candidature from Rampur and also Mulayam Singh Yadav's friendship with former BJP leader Kalyan Singh, who was the Chief Minister of Uttar Pradesh during the 1992 Babri mosque demolition.
He had termed Yadav's closeness with Kalyan Singh as against the sentiments of Muslims.
Khan alleged in Rampur that "the SP has been transformed into a party of brokers and capitalists, who have amassed black money to nurse their interests."
Khan, who has resigned from the post of party general secretary, member of the parliamentary board and the post of deputy leader in assembly, attacked his rivals Amar Singh and Jaya Prada, who has been re-elected as MP from Rampur.
He also raked up the issue of CDs which Jaya Prada had termed as "morphed" and had said that these were circulated to tarnish her image.
The estranged SP leader, who was accused by the party of campaigning for Congress, appealed to UPA Chairperson Sonia Gandhi to fulfil her commitments made in Rampur during electioneering and also take up the case of Jauhar university, which could not start functioning after BSP came into power in the state.
Khan also asked the Centre to waive off loans for Muslims on similar patterns as granted to farmers and said that if the Congress is really concerned about the community's plight it should announce interest-free loan schemes.
"Our dishonest politicians don't approve of anger. It is the party's loss. I will just keep distancing myself from them now," Khan said reacting to the expulsion.
Khan's tirade against Jaya Prada and party General Secretary Amar Singh had grabbed the headlines in the run-up to the Lok Sabha polls.
Amar Singh virtually threatened to quit SP if its chief Mulayam Singh Yadav does not rein in Azam Khan and also approached the Election Commission demanding action against him for issuing "threatening statements". — PTI