Pak Hindus, Sikhs rubbish jazia reports
Want to return to Swat after peace returns
Varinder Walia
Tribune News Service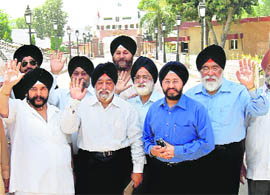 Members of the DSGMC at Attari-Wagah joint check post after their return from Pakistan on Sunday. Photo: Vishal Kumar
Amritsar, May 24
The 13-member Indian delegation, led by Paramjit Singh Sarna, president of the Delhi Sikh Gurdwara Management Committee (DSGMC), which returned from Pakistan today after meeting Hindus and Sikhs displaced from the Swat valley, rubbished the media reports that Taliban had imposed jazia (protection tax) on the members of the minority communities there.
After meeting the displaced Hindus and Sikhs at Gurdwara Panja Sahib, Hassan Abdal, Sarna said most of the Sikhs did not want to migrate to India since they love Swat, considered paradise on earth. Swat is an administrative district of the North-West Frontier Province (NWFP) of Pakistan. In December, most of its area was captured by Taliban.
Sarna said more than 22 lakh Muslims had fled from Swat. Most of the 3,100 displaced persons, who had taken refuge at Gurdwara Panja Sahib, only 50 or 60 families were of Sikhs. The government of Pakistan has been taking extra care of the displaced persons belonging to the minority communities. "Each displaced family has got at least Rs 30,000 each relief from the government so far," said Sarna. The Pakistan government and a number of non-government organisations have joined hands to collect donations in the name of Internally Displaced Persons (IDP) by placing donation boxes at the reception of major hotels and other business establishments. Many relief camps for the Muslim IDPs have mushroomed in Pakistan to accommodate about 22 lakh Muslims.
Many displaced Hindus and Sikhs wanted to go back to Swat after normalcy since they consider the valley not only a land of attractive beauty but also historically significant.
The delegation also met senior officials of the Government Pakistan government to seek permission to send relief worth Rs 2 crore. Sarna has urged the government to allot land to the displaced Hindus and Sikhs at Nankana Sahib.
Sarna told mediapersons at Attari today that Pakistani Sikhs were happy over the election of Dr Manmohan Singh as Prime Minister for yet another term of five years. He said Pakistani Sikhs wanted that any of the family members of Dr Manmohan Singh should visit Pakistan to meet them who had prayed to Almighty for giving Dr Manmohan Singh to serve the country for another term.
To a question, Sarna said the DSGMC would definitely participate in the coming general elections of the Shiromani Committee. He alleged that the SGPC and the ruling SAD failed on all religious fronts as they did not bother to visit Pakistan to know the plight of the displaced Sikhs.