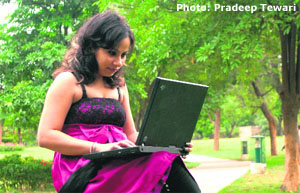 A report on online living by Norton places Indians on top spot when it comes to flirting on the net. Lifestyle checks out what makes virtual relationships really click
Let's face it. It's difficult to find 'love' without a loaded wallet. And even if a miracle happens, getting hooked up to a sassy girl means a continuous credit crunch —exorbitant phone bills, lavish gifts and pricey dinners —in your life. But not anymore. Dating online is the new buzzword in the life of young Indian men and women, who are effectively warding off recession blues without compromising on their need for a partner.
Hooked on books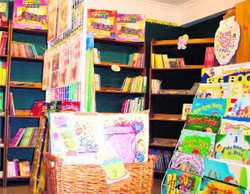 Summer is the season when the sale of books surges
Everything has been lined up. Travel planners are ready with various packages — adventure holiday, camping and chlorophyll baths. Pogo has an entire entertainment package called Oye Summer, Summer Oye ready for the kids. Of course, summer holidays are just around the corner and admit it, without that usual school and homework routine it is a tad difficult to kill time. Not just for the kids, but for those moms who equally chip in their bits in the homework front.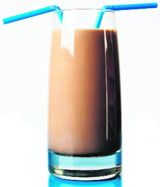 Desirable bacteria
Bacteria-laden probiotic food can be the answer to stomach problems
Who says there is no shortcut to keep fit? We do appreciate people who exercise, go gymming, jog, diet, meditate and do whatever is needed for a fit body. But those who cannot undertake these strenuous fitness regimes, needn't worry. There are options available that would help us stay healthy and keep the body functioning well even without straining ourselves. One such easy way out is the probiotic products available in the market.
Vision accomplished

Dr S.P.S. Grewal, CEO, Grewal Eye Institute, talks about LASIK treatments for various eye problems
If wearing spectacles or contact lenses is a pain, then LASIK is just the right solution, says Dr S.P.S Grewal. "People commonly suffer from refractive errors like shortsightedness, long sightedness and astigmatism. LASIK surgery shapes the cornea with excimer laser by using state-of-the-art computer technology with advanced precision. Corneal tissues are treated and reshaped, so as to reduce myopia (minus power), hyperopia (plus power) and astigmatism (cylindrical power)," says he.
Body wise
In the swim of things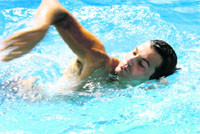 Swimming is great fun and also a great heat buster. When you swim, you get a total body workout that combines cardiovascular and strength benefits. You work your heart and lungs as well as getting a strenuous workout for your upper and lower body. It is one of the best workouts you can give your body, because it works almost all of your major muscle groups at the same time. Since you're floating in the water and not in contact with any hard surfaces, there's less pressure on your joints and bones.
Fast and furious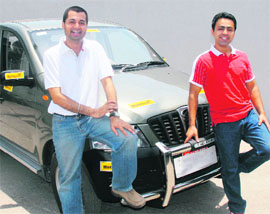 The trio tries for the fastest drive from East to West to enter the Limca Book of Records
Three adventurers Bhalinder Singh Sangha, Karanbir Singh Bedi and Harinder Singh Sandhu are all set to attempt a world record for Limca book for the fastest drive from East to West. The drive will start in Tezu, Arunachal Pradesh (Eastern most tip of India) and culminate in Koteshwar, Gujarat (Western most tip of India).


Bhalinder Singh Sangha and Harinder Singh Sidhu

His pehchan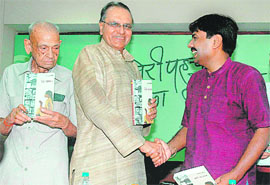 Barsana aag ka, pathar ka ham ko yaad rehta hai
Duaaon mein bhi hota hai asr, ham bhool jaate hein
The couplet captures the soul of bureaucrat author Manoj Singh as he solicited blessings of the prominent litterateurs here on Sunday. The whole literary fraternity from the tricity converged at the PHD Chamber of Commerce to grace the release ceremony of Manoj's fifth book Meri Pehchan.


Summer break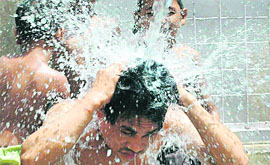 Boys enjoying a splash on a hot afternoon. Lifestyle photo: Parvesh Chauhan
High on fashion
The most powerful resource that is currently riding the nation is the youth. While the general elections proved the point, another area that believes in cashing in on youthful energy and creativity is fashion. "The future of fashion in India is defined by the young talent," feels Nandini Bhalla, editor, Grazia. The fashionista along with designers Gautam Raka and Raman Vij were jury members at the annual design display of the NIIFT- Mohali. The event had budding designers at their creative best.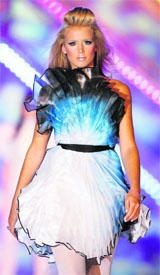 Butterfly effect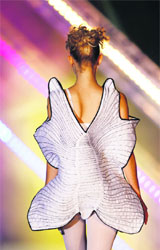 A model presents a creation by Maltese fashion designer Caroline Hili during the Malta National Fashion Awards. Photo: Reuters/Darrin Zammit Lupi
Art mart
Students of the department of Indian theatre, PU are conducting a theatre workshop in Punjab Kala Bhawan-16, Chandigarh and Bal Bhawan, Phase-4, Mohali. With a view that every child is a born star but need a little polishing Siddhant Verma and Harjeet Singh, Chander are going to cover art and craft, martial arts, body movement, guitar playing, dance, voice modulation, scene work improvisation, gatka, and personality development.
Popular platter
The more the merrier. It isn't as if we don't have enough multi cuisine restaurants in the city, but who would mind another one. So, here we have, Voodoo's Zaika, a fine dining restaurant offering a la carte menu, "We have tried to include as many popular dishes as possible to cater to people with different tastes and choices," informs Alok Bharadwaj, GM, Zaika. The interiors of the restaurant are done in beige and other pastel colours.
Gisele's secret
Supermodel Gisele Bundchen is said to be expecting her first child with footballer hubby Tom Brady. According to sources, the 28-year-old beauty has told her close friends that she's pregnant.
Food for thought
Jennifer Aniston turns to comfort eating to make herself feel better when she is upset. The Along Came Polly star said she lets go of her control when she is left facing disappointment.
Puppy love
Legendary actress Elizabeth Taylor has found love in Twittering. The 77-year-old actress' latest love is Twitter, spokesman Dick Guttman says, who added that the beauty has "entered the hospital for a routine visit and is doing fine."
Sun Shields
A spot on her face worries Brooke
American actress Brooke Shields has revealed that she was left terrified after a spot on her face turned out to be pre-cancerous. The 43-year-old star, who used to love spending time in the sun, said the incident served as a wake-up call to her as she 'used to think it was the best thing in the world to be baking in the sun.' "I had a spot on my face. The doctor scraped it, and it turned out to be precancerous," she said.
Beyonce's basics
Pop superstar Madonna might be vowing by the 'gym look' but singer-actress Beyonce Knowles believes that she is sexier when she is curvy.