PUNJAB
HARYANA
JAMMU & KASHMIR
HIMACHAL
REGIONAL BRIEFS
NATION
OPINIONS
LETTERS
BUSINESS
SPORTS
WORLD
Advt
Own the most prestigious address in Ludhiana.
Exclusive residential
Studio Apartments / Villas & Plots at reasonable prices. For details contact: 9815007979, 9815000122

Tuesday, May 26, 2009, Chandigarh, India
Updated at 3:00 am (IST)

Army out to restore peace
l Three killed in day-long violence
l 4 cities under curfew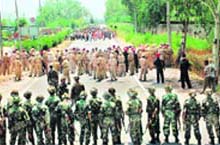 Chandigarh, May 25
Punjab plunged into angry protests, violence and vandalism today before recovering by evening. The violence followed reports that Sant Ramanand ( 57), shot in Vienna on Sunday, had succumbed to his injuries.

Punjab page: Varsities defer exams
Army and police personnel deployed near Jalandhar on Monday. Tribune photo: Pawan Sharma
Rail traffic to Punjab disrupted
Ambala, May 25
Rail traffic to Punjab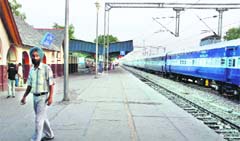 was disrupted today after protests broke out in the state due to the death of Ramanand, deputy chief of the Guru Ravi Das Sabha Gurdwara in a shooting incident in Vienna.
The Karnal railway station wears a deserted look on Monday. Tribune photo: Ravi Kumar
CAST YOUR VOTE
Do better-than-expected corporate quarterly results show that India's economy is facing the global recession well?

Advt
India's Renowned Astrologer, Palmist, Tell your DOB,
0172-4372411, 09316048411.
BRIDES WANTED
GROOMS WANTED
OTHERS
HOW TO PLACE ADVTS
EDUCATION
JOBS & CAREERS
HEALTH & FITNESS
SCIENCE & TECHNOLOGY
REAL ESTATE
SPORTS
TRIBUNE CLASSIFIEDS
Violence disrupts 18 trains
New Delhi, May 25
The violence in various parts of Punjab in the wake of the killing of chief of Dera Sachkhand Sant Rama Nand in a shooting incident in Vienna affected the movement of trains through the state in a major way today.
PM appeals for calm
Badal calls all-party meeting
New Delhi/Ludhiana, May 25
On practically its first working day in the office, the Manmohan Singh government was grappling with the violent situation in Punjab with the Prime Minister appealing to the people of the state to maintain peace and harmony.


Editorial: PM's appeal
Cyclone Aila batters Bengal, 21 killed
Over a lakh affected; Army summoned for rescue operations
Kolkata, May 25
Cyclone 'Aila' made a landfall in West Bengal today, killing 21 persons, affecting over a lakh and leaving behind a trail of destruction before gradually weakening.
NDA 60 Glorious Years
1857 The First Challenge
E - Revolution 2005:
A Two-day IT conclave
Assembly Elections - 2005
Turbans
Chandigarh is 50
125 Years of The Tribune
India: The Tasks Ahead
India at Sixty
A Tribune Supplement
EARLIER FEATURES
Alert sounded in North-East; flights diverted
Guwahati, May 25
All outbound flights from Guwahati were cancelled in the wake of the cyclonic storm 'Aila' that hit Kolkata and other parts of West Bengal this afternoon. As many as six Kolkata-bound flights from different parts of the country were diverted to airports at Guwahati and Bagdogra in North Bengal.
Gold, silver coins worth crores looted from cargo terminal
Daylight robbery at Mumbai airport creates scare
Mumbai, May 25
Despite enhanced security following 26/11, armed robbers struck inside the Mumbai airport cargo terminal today and escaped with 145 kilograms of gold and silv
Reinstate sacked cops: SC
Snubbed UP govt says it will comply with court orders


New Delhi/Lucknow, May 25
The Supreme Court today refused to stay an Allahabad High Court order asking the Uttar Pradesh government to reinstate by May 27 about 18,000 constables sacked on the ground that their recruitment was embroiled in a major scam.
Row over: DMK to join govt
May 25, 2009

Team Manmohan gets going
May 24, 2009

Manmohan Singh sworn in as PM
May 23, 2009

DMK, Didi keep Cong on toes
May 22, 2009

Manmohan appointed PM
May 21, 2009

Time-bound targets for poll promises
May 20, 2009

Sensex poll vaults, crosses 14,000 mark
May 19, 2009

Cong may stick to old faithfuls
May 18, 2009

UPA returns to power
May 17, 2009

BJP, Congress wake up to Nitish's Bihar
May 16, 2009