Cosmetic procedures behind 'skin revolution'
Dr Gurinderjit Singh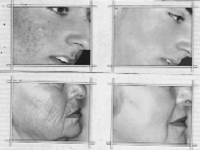 There has been a tremendous change in the scenario of cosmetic dermatology and dermatosurgery during the last one decade.
Fresh treatment protocols, newer surgical techniques and advanced lasers have all played a significant role in the modernisation of aesthetics.
The recent procedures, the introduction of which has definitely brought about a sort of "skin revolution", have an edge over the earlier ones. Some of these are:
Vitiligo surgeries
Different types of vitiligo surgeries include punch grafting, suction blister grafting, split thickness grafting and autologous cell suspension transplantation.
The most important factors for the success of the vitiligo surgery are the stability of the disease and the rapidity with which the results can be obtained.
Instant results can be obtained by injecting artificial skin-coloured pigments into the white patches by a technique called tattooing.
Follicular unit hair transplantation
The art and science of hair transplantation have come a long way since its
introduction in 1959.
Follicular transplantation is a one-day procedure which gives permanent replacement of lost hair with new hair roots that grow and can be cut, shampooed and styled.
Restoration of eyebrows, eyelashes, beard, moustache and cleft lip is best done with follicular grafts.
The most rapid method of treatment of baldness is biofibre implantation, when long artificial synthetic fibres are fixed into the skin surgically.
These fibres look like natural hair, but need 20 per cent replacement every year to maintain the crowning glory.
Laser hair removal
Laser assisted hair removal is relatively new, with numerous lasers and light sources currently available for the treatment of unwanted hair.
The patients must realise that multiple treatment sessions are required for hair reduction in the targeted area.
This is because of the fact that not all hairs are actively growing at the same time and actually go through three distinct phases: growth, regression and resting.
Lasers work by disabling the hair that is principally in the active growth phase at the time of treatment.
Since other hairs will enter the active growth phase at different times, additional treatments may be necessary to disable all of the hair follicular in a given area.
Botox
It is a non-surgical approach to face-lift. It erases forehead lines, glabellar frown lines, crow's feet and perinasal lines, giving a youthful and refreshed appearance.
Botox is a toxin derived from a bacteria and, when injected, it works by paralysing muscles. The effect begins to show in three-seven days and lasts four-six months.
Fillers
Dermal fillers fill in deep creases or furrows and the treatment involves injecting hyaluronic acid using a fine needle inserted at several points.
Superficial lines such as worry lines, periorbital and perioral lines as well as deep folds like nasolabial and glabellar folds can be corrected by this treatment.
Non-surgical face-lift
A current is applied to the facial muscles and it stimulates and contracts them. It
is done every week for about 10 weeks and a radical change is observed in the look
of the face.
This is the best way to get rid of the jowls, which are formed on the face as one gets older. All the procedures need the skill of a specialist.
Never ever submit yourself to any untrained so-called practitioner for any cosmetic procedure (including laser) since the consequences could be disastrous.
No dermatologist will be able to do any good to your face once it gets disfigured at the hands of an untrained person.
The writer is Chief Dermatologist, Mohan Dai Oswal Cancer Treatment & Research Foundation, Ludhiana.