Undertrial drugs HP cops, flees
Chandigarh, May 27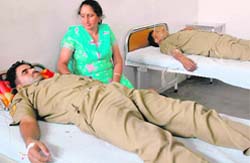 An undertrial, who was being escorted to Mandi after a court hearing in Delhi, escaped from the Sector 43 ISBT here late last night after allegedly drugging three head constables of the Himachal police.





The head constables at the Sector 16 General Hospital, Chandigarh, on Wednesday. Tribune photo: Manoj Mahajan
Adulteration
Dairy, sweet shop in soup
Chandigarh, May 27
Baba Dairy at Sector 21 and New Krishna Sweets at Sector 23 are in the dock as the Chandigarh administration today decided to prosecute the owners for selling adulterated milk products.
Admn to act tough against encroachers
Chandigarh, May 27
UT Home Secretary Ram Niwas has directed senior officers of the administration to take strict action against people encroaching upon the government land. Presiding over a meeting here today, the Home Secretary asked the officers to strictly follow the rules and initiate legal process against the violators.
Robbers said: We are professionals
Sought apology from victims for inconvenience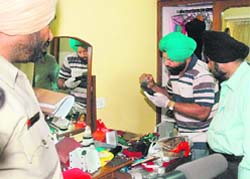 Chandigarh, May 27
"We are not small time robbers but professionals going in for a big booty," the Haryanavi-speaking robbers in their early-twenties told Lalit Behl on their way to his Sector-33 residence.




Police personnel and forensic experts examine the victims' house in Sector 33, Chandigarh, on Wednesday. Tribune photo: Parvesh Chauhan
Target flashy cars
Chandigarh, May 27
It's no more safe to travel on the Chandigarh-Delhi highway in high-end cars as the highway robbers judge the affluence of the occupants from their vehicle and target it.
P'kula robbery: Handiwork of same gang?
Panchkula, May 27
While the police still gropes in the dark over the identification of highway robbers involved in the attempt to loot the family of Panchkula BJP chief Sham Lal Sachdev on April 25, it apprehends the incident of looting at Chandigarh today was the handiwork of the same gang.
Adulteration: CITCO in dock
Chandigarh, May 27
CITCO authorities could well be in for trouble with "paneer" and "khoya" samples of one of its major suppliers failing the quality test.
Canadian-Indian is fellow of CRSI


Chandigarh, May 27
Former president of the Academy of Science of the Royal Society of Canada Ashok K. Vijh has been elected as one of the four new honorary fellows of the Chemical Research Society of India (CRSI). Founded in 1999 as a part of celebrations of the 50th anniversary of Independence, CRSI is committed to promote research at the highest level.
Ashok K. Vijh
Rush at tehsil office as deadline nears
Mohali, May 27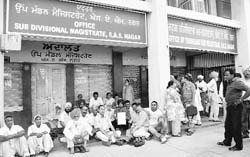 The Mohali tehsil office has sought police help to function in a proper way as the authorities concerned are finding it very difficult to handle the great rush of persons converging at the office to get their property registered at allotment prices before the deadline expires on June 2.


People wait outside the Tehsildar office in Mohali on Wednesday. Tribune photo
Co. official accused of misbehaviour
Zirakpur, May 27
High drama prevailed when the officials of the GMR, the company undertaking maintenance of the Ambala-Chandigarh highway, objected to the installation of electricity pole by the Punjab State Electricity Board (PSEB) on the median dividing the national highway here today.
NGO Lifeline honours three doctors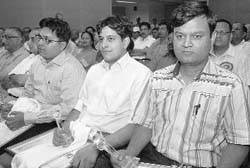 Chandigarh, May 27
Praising the efforts of non-governmental organisation Lifeline for helping accident victims, Punjab Governor and UT Administrator Gen S.F. Rodrigues (retd) said such a noble cause should get people's support.





Doctors who were honoured by NGO Lifeline in Chandigarh on Wednesday. A Tribune photograph
Audit of mega projects, IT park on
Chandigarh, May 27
The controversial mega projects and the Rajiv Gandhi Chandigarh Technology Park continue to be under the scanner of the Ministry of Home Affairs (MHA).
'Clear backlog of vacancies for disabled people'
Chandigarh, May 27
There is a backlog of 228 vacancies of physically challenged persons in various departments of the UT administration.
Meat sellers told to install ACs
Chandigarh, May 27 The Chandigarh Municipal Corporation has directed the meat, fish and chicken shop owners to upgrade infrastructure with three months.
Identify flood-prone areas: DC
Mohali, May 27
In a meeting held here today, Mohali Deputy Commissioner Prabhjot Singh Mand has asked officials concerned to identify the flood-prone areas and prepare estimates in connection with maintenance works.
Protesters submit memo to DC
Panchkula, May 27
Protesting against the incidents at Vienna in Austria, the members of Guru Ravidas Sabha took out a march here today. Hundreds of protesters gathered at Guru Ravidas Bhavan in Sector 15 and marched towards the deputy commissioner's office amid tight security at 11 am.


RTI cell for PU mooted
Chandigarh, May 27
Panjab University may establish an independent RTI cell soon to cater to RTI-related queries.
AIDS awareness programme for school dropouts
Chandigarh, May 27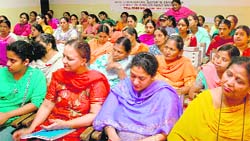 In order to sensitising school dropouts to HIV/AIDS awareness, Chandigarh State AIDS Control Society has taken an initiative to start a life skill programme for them.





Participants at an AIDS awareness workshop in Chandigarh on Wednesday. A Tribune photograph
Prize distribution at Doaba college
Kharar, May 27
Doaba College of Education (DCE) organised the fourth annual prize distribution function on its campus here today.
GC-11 celebrates founder's day
Chandigarh, May 27
Postgraduate Government College, Sector 11, celebrated the founder's day here today. Haryana Chief Minister Bhupinder Singh Hooda was the chief guest on the occasion. A number of alumni of the college representing education, civil services, public life, business, industry and media participated in the celebrations. — TNS